Chairperson Higher Education Commission Shahnaz Wazir Ali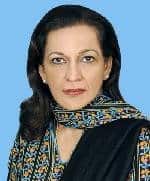 Begum Shahnaz Wazir Ali was born in Rawalpindi, Pakistan. Shahnaz Wazir Ali is a social activist and a Special Assistant to the Prime Minister of Pakistan. She is the chairperson of Higher Education Commission (HEC).
Education
She holds a Master's Degree in Education from the University of Arkansas, USA and a Master's Degree in Education Administration from Trenton College, New Jersey. She has a Diploma in Principal's Certification from Harvard University, Cambridge, USA. Her Bachelor's degree in Mass Communication is from the American University, Washington, D.C. All her basic schooling was in Rawalpindi and Karachi.
Career
She was the Executive Director of the Pakistan Centre for Philanthropy (PCP), in Islamabad, Pakistan before becoming member of national assembly of Pakistan on a reserve seat for women.
Shahnaz Wazir Ali career spans 35 years of experience in policy and practice in government and the private sector. Currently she is the Executive Director of the Pakistan Centre for Philanthropy (PCP), in Islamabad, Pakistan. The Centre was established in late 2001 to support and promote philanthropy in Pakistan, with the specific objective of enhancing development and promoting social investment. From 1997-2001, she served as the Senior Education Specialist at the World Bank in Islamabad.
Her principal assignment was to provide policy, program and technical advice and assistance to the Federal and the 4 Provincial governments to facilitate the implementation of the countrywide Education Sector Social Action Program (SAP). It was in this period of her career that she was very actively involved in the planning for transforming the concept of an institutionalized National Education Assessment System (NEAS) within the Ministry of Education into a reality, for monitoring and improving the quality of education in Pakistan.
From 1988 to 1990 and again from 1993 to 1996, she had the unique opportunity to serve in key decision making positions in government, in the first term as Member of the National Assembly and Federal Minister of State for Education and subsequently, in the second term, as Special Assistant to the Prime Minister on Social Sectors. Her career in and commitment to education can be traced back to 1965, when she commenced teaching primary school children of deprived communities in Karachi, and subsequently spent about 15 years in teaching and administrative positions in the private sector, which included being Principal at the Lahore American School. She is also a Trustee of the Education Trust which runs Nasra Schools for children of low-income families in Karachi and provides K 10 education to more than10,000 students.
Shahnaz Wazir Ali Pictures
| | | | |
| --- | --- | --- | --- |
| Special Committee meet … | | | |
Shahnaz Wazir Ali Videos