Begum Nusrat Bhutto Pakistani Politicians Leadre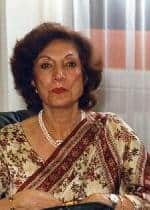 Begum Nusrat Bhutto was born on 23rd March 1929 in the Isphanis of Karachi. She belongs to Esfahani family in Esfahan, Iran. Nusrat Bhutto is of Kurdish descent, despite the fact of her family originating from the Kurdistan province in Iran. Some claim that the Kurdish connection only comes from her grandmother who had married into the Hariri family Iranian Kurds. She was born to a wealthy and culturally rich Iranian businessman whose ancestors had settled in Karachi and had a vast network of roaring business across the subcontinent at the time of the Partition of 1947.
Many senior politician of Pakistan say, she was more beautiful and intelligent everyone wanted to close her but she never talked to others.
One of senior politician passed remarks on her; she was lucky star in life of Mr. Z.A. Bhutto otherwise he was nothing I think now, Mr. Bhutto done something good that was he got such lady.
Background
Nusrat Ispahnie was born in 1929 in Esfahan, Iran, hailing from the wealthy Hariri Esfahani family in Esfahan. She was said to be of Kurdish descent.However, the Kurdish connection only comes from her grandmother who had married into the Hariri family. Her father was a wealthy Iranian businessman who migrated to Karachi, Pakistan before partition.Before emigrating to Pakistan, Nusrat attended and was educated at the University of Isfahan where she obtained a Bachelor of Arts (B.A.) in Humanities in 1950. Nusrat met Zulfikar Ali Bhutto in Karachi where they got married on September 8, 1951.She was Zulfikar Ali Bhutto's second wife, and they had four children together: Benazir, Murtaza, Sanam and Shahnawaz. With the exception of Sanam, she outlived her children. Benazir's widower and Nusrat's son-in-law Asif Ali Zardari is currently serving as the President of Pakistan.

Family and political career
As first lady from 1973–77, she functioned as a political hostess and accompanied her husband on a number of overseas visits. In 1979, after the trial and execution of her husband, she succeeded her husband as leader of the Pakistan Peoples Party as chairman for life. She led the PPP's campaign against General Muhammad Zia-ul-Haq's regime. Alongside her daughter Benazir Bhutto, she was arrested numerous times and placed under house arrest and in prison in Sihala. Nusrat Bhutto was attacked by police with batons while attending a cricket match at Gaddafi Stadium in Lahore, when the crowd began to raise pro Bhutto slogans.
Mrs. Bhutto met and got married with Z.A Bhutto (Shaheed) on September 8, 1951 in Karachi. It was Zulfikar Ali Bhutto's second marriage.
She has had four children Ms. Benazir Bhutto (Shaheed), Mir Murtaza Bhutto (Shaheed) Shah Nawaz Bhutto (Shaheed) three of whom martyrdom and one daughter who is alive Sanam Bhutto currently lives in London.
Mrs. Bhutto proved herself as real life partner if we want see meaning of life partner then we can peep into her life because she walked with Z.A Bhutto in house-life and Political-life. When Z.A Bhutto entered in politics that time politics was only for men, after Z.A Bhutto, took part ladies in politics by his own home.
She was first lady who went grass-root level and collect women's problem to present in United Nations, here we see; what was she? She was first lady, why did travel at villages and door to door? Only for gathering data of women's problems and suggestions.
She could have ordered but she was not typical rich lady. She has sense of consciousness and importance of common people.
She introduced politics among women in Pakistan by her deeds.
After her husband Trail 1979, she fought with Dictator General Zia and condemned his ill-ruling. She lost her husband, two sons were exiled, one daughter imprisoned with her and second daughter sanam was moving here and there.
She faced such horror chapter of life. In 1982, ill with cancer, she was given permission to leave the country by the military government of General Zia Ul Haq for medical treatment in London. Where she received second died body her little second son Shah Nawaz Bhutto, She was lived in abroad not like luxury but on road of loneliness under rain of tears.She remained Chairperson from 1979 to 1983 of People's Party Pakistan.
After returning to Pakistan in the late 1980s, she served several terms as a Member of Parliament to the National Assembly from the family constituency of Larkana in Sindh. Also, during the administrations of her daughter Benazir, she became a cabinet minister and Deputy Prime Minister.Horror chapter of life did not take rest, again tsunami wave arose in her life when Ms. Benazir Bhutto (Shaheed) and Mrs. Bhutto got reservation with each other in 1990.This time her son Mir Murtaza Bhutto (Shaheed) returned to Pakistan, and Mrs. Bhutto took his side.
Those who already were wanting divided Bhuttos, they got beautiful chance and never gave them space for uniting.
Being a Mother, Mrs. Bhutto divided it was hard to decide for one even though Mrs. Bhutto supported her son.
Later, Begum Nusrat Bhutto got third time died body in her cradle Mir Murtaza Bhutto was no more, it was shocked for her.
After her son martyred, people have not seen again Mrs. Bhutto.Mrs. Bhutto lost her elder daughter fourth time.A lady who loved and given birth to children and seen them martyred.
What has this country done with her? This question always needs answer. Question is what has her family done for? Sadly, none of them have done any thing, recently daughter of Mir Murtaza Bhutto (Shaheed) Ms. Fatima Bhutto wrote letter to the Chief justice Iftikhar Ahmed Chuadhary where she requested to him to bring her grandmother to 70clifton.
Unfortunate, all are beating drum in fallen love her, none of them cover her life story or remember her in writings. Mrs. Bhutto is not only wife of late Z.A Bhutto.
She is lady who has given up her entire life her beloved and seeing her children in martyred.
Begum Nusrat Bhutto
By Wajid Shamsul Hasan. March 24, 2007

Unaware of what horrendous things are happening to Quaid and her martyred husband ZAB's Pakistan, Begum Nusrat Bhutto's (March 23 is her 78th birthday) gaze is stuck on the horizon. One cannot read her mind. Though she appears overly blank but her once beautiful mien still retaining its noble grace—is full of tales that catalogue not only her eventful and yet tragic life and a catalogue of crimes and follies of undemocratic rulers that have scarred the pristine face of her country.
March 23 is a landmark day in the life of Pakistani nation—if at all a people fractured and divided by its rulers—can still be described as a nation. It is, indeed, a historic coincidence that in the year 1929 on March 23 Isphanis of Karachi were gifted by Allah, the Most Generous, with a daughter—Nusrat Khanum—who was chosen by destiny to be the great woman behind a colossus of man that her husband Zulfikar Ali Bhutto grew to be.
An Iranian Kurd by origin tracing her ancestry to the legendary Islamic hero, statesman and a great soldier Salahuddin Ayubi—Nusrat Bhutto was surfeit with compassion, grit, dauntless determination and courage from the days of her childhood. And her dynamism, love and care for humanity blossomed her into a young lady who would strive, seek and not yield at a challenging time when loads and loads of trains packed with refugees from India were pouring into Karachi in the aftermath of partition of the sub-continent.
Begum Nusrat Bhutto Pictures
| | | | |
| --- | --- | --- | --- |
| Begum Nusrat Bhutto wi … | Begum Nusrat Bhutto wi … | | |
| | | | |
Begum Nusrat Bhutto Videos