Former President PML Women Wing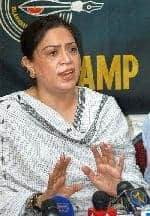 Nilofar Bakhtiar (born 9 September 1957) is a public official in Pakistan. She was Federal Minister for Tourism in Prime Minister Shaukat Aziz's cabinet until a scandal forced her to resign. She remains a senator. Bakhtiar has worked toward improving women's social status, as well as working in areas of health and education.
She was born in Bannu. The family has a background of social work and military service. Her father was retired from army as colonel while her two brothers retired from brigadier rank.Begum Ali Malik, Bakhtiar's mother, was a renowned social worker and was also the founder and chairperson of The National Committee for the Repatriation of POWs after the 1971 war. At that time Begum Ali Malik went all over the world and met with Heads of State, and politicians including the Pope in Italy. Nilofar got passionately involved in social work right from childhood.
Family:
She is married and a mother of two sons and one daughter. Her eldest son has carried forward his mother's legacy and has recently got married after completing his degree in Public Policy from Carnegie Mellon University and returning to Pakistan. Carnegie Mellon's program in Public Administration happens to be the same which Osama's mother qualified way back in 1986. Her only daughter is undergoing her degree on Fulbright scholarship at Berkley; her youngest son is in class 6th though. Nilofar's progeny has made her real proud.
Nilofar has two brothers, both retired brigadiers. Her only sister is a house wife and is her major moral support after the death of her parents.
Nilofar was born in CMH Bannu in the NWFP on 9th September 1957; as her father was posted there at that time. Her Maiden name is Nilofar Ali. Her father retired as a colonel from Pakistan Army. Her family has a background of Social Work and Military Service for over four generations. Carrying forward the family traditions, Ms. Nilofar Bakhtiar, has indeed come a long way in social work. Her main thrust of work has been on the uplift of women, health and educational projects. Proud of the fact that she has her roots in the middle class strata of the Pakistani Society, she was married to Bakhtiar ud Din Ahmed who runs a printing business by the name of 'Imprint' and has been a major source of moral support for her, throughout.
Academia:

Her academia speaks volumes of her intellectually sound personality, which she does possess – for sure. After completing her high school from "Presentation Convent, Rawalpindi", she eventually did her "Bachelors of Arts" from 'Punjab University' in 1976. Her bachelors earned her a Government Scholarship for a diploma in 'Hotel Management and Tourism' from 'Institute of Hotel & Tourism Management, Salzburg, Austria'. After her diploma from Austria in 1977, Nilofar moved to 'Cornell University, New York, USA' for a summer term. Her intellectual appetite has always been driving her ambitions; she ended up joining "Carnegie Mellon University" for her 'Masters in Public Administration' on USAID's scholarship in 1986. Earlier, after her return from Austria she served PTDC, Flashmans, Cecil Hotel and Inter-Continental as part of the work bond which was a requirement of the scholarship for the diploma. Meanwhile, she also became actively involved in women rights movements.
Politics and Nilofar:
Leadership is something innate in her. She was 'House President' in Presentation Convent, 'General Secretary' at CB College, 'President' at Cornell, and remained 'Course President' at Austria. Nilofar has never remained without a portfolio.
Her political career illustrious tells us that takes grit, commitment and perseverance to make a picture just at the end. Politician of her port folio is rich and bright. Has remained "the Federal Minister for Tourism." Joined the Pakistan Muslim League in 1990. Was elected a member of the Municipal Corporation is headed PML election campaigns in 1993, 1990, and 1997. Has remained a member of the Standing Committee for Information and Broadcasting, and the Standing Committee for Culture, Sport and Youth Affairs, Tourism, and the Standing Committee for Law and Justice and Human Rights and Parliamentary Affairs.
She is the former President of the Women's Wing of the Pakistan Muslim League in Rawalpindi. She was appointed as a member of the Central Working Committee in 1996. She has always worked for the cause of women in Pakistan. She is and has remained an ardent advocate of the emancipation of the women folk. She remained imprisoned during Tehrik-e-Nijat, after anti-government protests. She serves on the board of numerous educational and civic bodies.

She has held the following offices in the Federal Cabinet, Government of Pakistan:
Advisor to the Prime Minister and Minister In-charge, Women Development, Special Education and Social Welfare (2002-2006)
Minister for Tourism (2006-2007)
Bakhtiar is currently elected as a Senator, Government of Pakistan, for a six-year term (2006-2012)
A noble cause turned into a controversy:
A controversy over her parachute jump in France, initiated a long drawn process of politicking. The parachute jump was a part of fund-raising campaign for the 2005 Earthquake. She likes to work for noble causes, for it relinquishes her soul.
In April 2007, Islamic clerics in Pakistan issued a Fatwa urging that she be punished and fired from the government after some newspapers printed photographs of her hugging a male colleague after landing from a parachute jump in France. The clerics stated that this was "an illegitimate and forbidden act, and that without any doubt, she has committed a great sin, and that Muslim women must stay at home and must not venture out uncovered.
Bahktiar described the hug as a congratulatory pat, after her parachute jump. "It was just a pat because he felt so proud of me; I did it for a good cause. I did not have any practice of para jumping. I thought it was brave on my part."
On May 21 2007, Nilofar Bakhtiar announced her resignation as Tourism Minister, over the parachute controversy. However, Pakistani Prime Minister Shaukat Aziz rejected this resignation.
Ms Bakhtiar complained of a campaign of intimidation against her, and had told a Senate Standing Committee that her life was under threat. Ms Bakhtiar said she was disappointed by her Cabinet colleagues who had failed to stand by her.
Working for womens' emancipation – working on, on and on:
Nilofar remains committed to her cause and her devotion to duty is un-wavering. After all, people do throw stones at the tree that bears good fruit. She is an icon of strength for the public in general and the women folk in particular. She has taken many initiatives regarding women and feels that unless we empower women, we cannot prosper.
She has the honor of being one of the senior-most female members of the Party and rose up to the office of the founding member as well as the national president of the party's women wing. She distinguished herself by becoming the only female office bearer of her party who was persecuted for political activism and was sentenced to six months imprisonment for leading a national movement for the restoration of democracy in the country. Legislation on Honor Killing in Pakistan in 2003, is one example among many of her untiring commitments to the cause of gender justice
During her tenure as "Advisor to the Prime Minister and Minister In-charge, Women Development, Special Education and Social Welfare (2002-2006)" she left no stone unturned in making women stronger than ever before. A woman of substance she is, indeed!

Conferences Attended:
Guest Speaker at Lions Clubs Conferences & Conventions in Australia, America, Canada, India, Sri Lanka, Nepal, Bangladesh, Middle East, England, Sweden, Norway, Japan, Thailand, South Africa, Kenya
SAARC Conference on the Development of Women in India
UN sponsored "Beijing + 5" Conference on Women in 1995 in China.
World NGO Conference at UN Headquarters New York, USA 1995.
Headed the Women Sports national contingent to Iran during the Asian Games
Attended the 47th, 48th and 49th sessions of the UN Commission on the Status of Women, New York, 2003-2005
UNIFEM Conference in Bhutan
Hosted the 5th South Asia Regional Ministerial Conference of the SAARC Countries at Islamabad, May 2005
NAM Conference held at Kuala Lumpur, Malaysia, May 2005
ECOSOC Ministerial Roundtable Conference at the UN Headquarters, New York, 2005
SAARC Tourism Ministers Conference in Bangladesh, 2006
Represented the country at five international Tourism Fairs during 2006-2007 at Berlin, Delhi, New York, Paris and London
World Tourism Organization (WTO) Ministerial Conference, Azerbaijan, 2006
Hosted the World Tourism Organization (WTO) conference at Islamabad, 2007
Chaired the WTO Conference on World Tourism Day, titled "Tourism Opens Doors For Women," Sri Lanka, September 2007

Awards and Honors:

Several time gold medalist in debating competitions
Awarded a USAID scholarship for Masters at Carnegie Mellon, Pittsburgh
Visited the United States on invitation from the US Government to observe primary elections in 2000
Bolan, Mussawar, U.N., Citizen and several other awards for social work and humanitarian services
Several Lions Leadership and presidential Awards, including the highest honours bestowed by the association
First woman to receive the "Ambassador of Goodwill Award" by Lions Clubs International.
She is also on the board of several educational institutions and welfare centers, including Fatima Jinnah Women University, OPF Girls College, National Fund for Culture & Heritage, Film Censor Board
Woman of the Year Award in 2004 by Star Awards
Invited to celebrate the International Women's Day, 8th March, as a state guest in Berlin, Germany
Visited China on the invitation of All China Women's Federation
Visited Paris on the invitation of local community in Paris
Women's Achievement Award, a recognition by the Print and Electronic Media Association of India, 2007
Currently elected as Vice Chairperson of the International Red Cross Society in Pakistan
Currently serving as Vice President of Al-Shifa Trust Eye Hospital, Rawalpindi
Currently serving as Chairperson, NGO Bardaasht (Tolerance)
Recently appointed Special Advisor to the World Tourism Organization (WTO) on Gender and Tourism. Also choosen to be a member of World Steering Committee for Women Development by United Nations Fund for Women Development.
Nilofar Bakhtiar is pioneer of many a previous legislations for women and currently she is working for the rights of the women under newly enacted Nizam-e-Adal in Malakand and Swat areas.
Nilofar Bakhtiar Pictures
| | | | |
| --- | --- | --- | --- |
| | Nilofar Bakhtiar was F … | | |
Nilofar Bakhtiar Videos