Nominated Prime Minister of Pakistan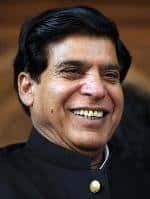 Born on December 26, 1950 in Sanghar, Sindh, Raja Pervez Ashraf has been elected MNA as a PPPP candidate. After completing a B.A degree from University of Sindh in 1970, his professional occupation has been that of business and agriculture. He is currently the Secretary General of the PPPP.Raja Pervez Ashraf has remained Chairman of Social Action from 1994-1996. Married with two sons and two daughters, he has travelled to Saudi Arabia, U.K, France, Germany, Holland, Ireland, U.A.E, China, Belgium and North Korea.
Early life
Raja Pervaiz Ashraf 1st (Current) PAKRAL RAJPUT PM OF PAKISTAN. Raja Pervaiz Ashraf was born on December 26, 1950 in Sanghar, Sindh.He graduated from University of Sindh in 1970 and worked in agriculture before entering politics.
Political career
Ashraf was twice elected as a Member of the National Assembly of Pakistan from his constituency of Gujar Khan, Rawalpindi District.Most recently, he won re-election in the February 2008 elections. He became the head of the water and power ministry in the coalition government of PPP, PML-N, ANP, JUI-F and MQM formed after 2008 elections. In the position he faced heavy criticism for repeatedly promising the country's power crisis would be over "by December" as the country suffered regular blackouts. He oversaw expensive "rental power" projects that generated very little power, earning the nickname "Raja Rental" in the Pakistani media.He has been accused of receiving kickbacks in the rental power projects, and of using illegal money to buy foreign property. He has denied wrongdoing, and as of June 2012, is defending himself before the Supreme Court.No official charges have been made against him. However, the Court did revoke his power as the minister for water and power in February 2011. Subsequently, he was appointed to the ministry of information and technology.
On 26 April 2012, Prime Minister Yousaf Raza Gillani was convicted of being in contempt of court for refusing to bring charges against President Asif Ali Zardari On 19 June 2012, he was retroactively ruled ineligible to hold the office by the Supreme Court. The ruling Pakistan People's Party nominated textile minister Makhdoom Shahabuddin to replace Gillani, but the nomination failed when the military issued a warrant for Shahabuddin's arrest on drug charges. Ashraf was then selected as the party's next option.
On 22 June 2012, Raja Pervez Ashraf was elected as the 17th Prime Minister of Pakistan by a 211-89 vote. Ashraf and his cabinet were sworn in on the same day. His selection as Prime Minister restored the country's government after several days of turmoil where official the country was without a government. The Associated Press said Ashraf's election was "unlikely to calm the tensions roiling the country" and noted that many observers expected him be eventually be ousted like his predecessor. Political analyst Raza Rumi said Ashraf was likely choosen by the PPP because they knew he would not last long.
He must lead the ruling Pakistan People's Party (PPP) into general elections due by February 2013 at a time when the civilian government is at loggerheads with Pakistan's judiciary and its powerful military.He is a senior figure in the party and has twice been a minister in the PPP-led government, which has been in power since 2008.
Like many Pakistani politicians he is dogged by allegations of corruption, which is endemic in the country.Critics call him "Raja Rental" because of the kickbacks he is alleged to have taken while water and power minister – he denies the claims but left the post in 2011.
Immediately after his election, Ashraf said that the economy, inflation, and the country's power crisis would be his top concerns. "Our country cannot afford politics of confrontation at this time," he said. He also said he wanted to deal with the United States on "an equal footing."However, he will likely have to deal with the court's demands to charge Zardari before doing much else.
Nominated Prime Minister of Pakistan:
After the official disqualification of Yousuf Raza Gilani on June 19, the allied parties nominated Qamar Zaman Kaira, Makhdoom Shahabuddin, Chaudhry Mukhtar Ahmed and Raja Pervaiz Ashraf for the position of PM.However, the allied parties unanimously nominated Ashraf as the new prime minister of Pakistan.The lower house of parliament has been summoned to vote in the new prime minister at 5:30 pm on Friday which will decide Ashraf's fate as the PM.
Raja Pervaiz Ashraf, the nominated prime minister of Pakistan, was born on December 26, 1950 in Sanghar, Sindh. He formerly served as the federal minister for water and power and information and technology in the coalition government led by Paksitan People's Party (PPP), Mutahidda Qaumi Movement (MQM) and Awami National Party (ANP).He was elected twice as the member of National Assembly from his constituency of Gujar Khan, Rawalpindi.
Ashraf has been accused of receiving kickback in a rental power project and is currently defending himself in the Supreme Court of Pakistan. He has also been accused of buying foreign property from illegal money. The Supreme Court declared him involved in the rental power project scam and revoked his power as the minister for water and power. However, when the federal cabinet expanded, he was given the ministry of information and technology.
Raja Pervez Ashraf elected Pakistan's 25th Prime Minister
Islamabad, June 22: The Pakistani Parliament elected former cabinet member, Raja Pervez Ashraf, as the 25th Prime Minister of the country. He was able to get 211 out of the 365 total votes, gaining 57 % majority votes. Mehtab Abbasi of the PMLN was able to get 89 votes, while the JUI (F) Chief, Maulana Fazal-ur-Rehman withdrew his candidature right at the beginning of the voting process.
Raja Pervez Ashraf takes the seat of government at an embattled time where the democratic institutions are under tremendous pressure of the Supreme Court. Raja Pervez Ashraf will, most likely, be asked by the Supreme Court to write a letter to the Swiss authorities to open hearing of graft charges against President Zardari. Former PM, Yousuf Raza Gilani, lost his seat after refusing to comply with the Court's Order.
Raja Pervez Ashraf also faces tremendous pressure because of his bad image. He had failed the nation as Minister for Power and Energy. He is also accused of corruption and kick-backs in the so-called RPP (Rental Power Plant) case.
Islamabad—Newly elected Prime Minister Raja Pervaiz Ashraf took oath of Office at a ceremony in Aiwan-e-Sadr on Friday night.

President Asif Ali Zardari administered the oath.
Twenty-seven Ministers and eleven Ministers of State also took oath. President Asif Ali Zardari administered the oath to them.
The Ministers who took oath include Rana Farooq Saeed' Sardar Al-Haj Muhammad Umar Gorgage' Firdous Ashiq Awan' Hina Rabbani Khar' Samina Khalid Ghurki' Makhdoom Shahabuddin' Syed Naveed Qamar' Farzana Raja' Engineer Shaukatullah' Syed Khursheed Shah' Mir Hazar Khan Bijarani' Babar Khan Ghauri' Israrullah Zehri' Arbab Alamgir' Ghulam Ahmad Bilour' Qamar Zaman Kaira' Farooq H Naek' Ch Pervaiz Elahi' Makhdoom Amin Faheem' Abdul Hafeez Shaikh' Ch. Ahmad Mukhtar' Mian Manzoor Watto' Nazar Muhammad Gondal' Dr Farooq Sattar' Haji Khuda Bakhsh Rajar' Maula Bakhsh Chandio and Changez Jamali.
The Ministers of State who took oath are Tasneem Ahmad Qureshi' Chaudhary Imtiaz Safdar Warraich' Abbas Khan Afridi' Dost Muhammad Mazari' Saleem Haider Khan' Nawabzada Malik Ammad Khan' Moazzam Ali Jatoi' Malik Azmat Khan' Syed Samsam Ali Bukhari' Dr. Nadeem Ahsan and Raheela Baloch.
President Asif Ali Zardari congratulated the new Prime Minister Raja Parvez Ashraf and called upon him to give foremost attention to address problems of the people.
Addressing swearing in ceremony of the Prime Minister at Aiwan-e-Sadr, he asked him to give attention to resolution of power shortage and address on priority basis other issues of concerned to the people including inflation, unemployment and law and order.
The President congratulated PPP, coalition partners and Speaker and all members of the National Assembly for taking part in the democratic process of election of the new Prime Minister.
The President placed on record deep appreciation of former Prime Minister Syed Yusuf Raza Gilani for upholding supremacy of law. The President said despite so many difficulties and challenges in doing so, he stood firmly to protect democratic principles and supremacy of Parliament and Constitution.Syed Yusuf Raza Gilani has held high torch lit by Shaheed Zulfikar Ali Bhutto and Shaheed Benazir Bhutto. He said the party and democratic forces would always remember his contribution.
The President said the ultimate court is court of people and ultimate verdict is to be pronounced by history and people and history and people would give their verdict sooner than later.
The President noted that today's election took place on the eve of Birthday of Shaheed Benazir Bhutto. He said there is greater reason to celebrate her birthday.Earlier, PPP candidate Raja Pervez Ashraf has been declared the new prime minister of Pakistan after the members of the National Assembly summoned to vote for the new premier on Friday. He secured 211votes.
Ashraf's competing candidate Sardar Mehtab Abbasi, from Pakistan Muslim League – Nawaz (PML-N) lost with 89 votes. Jamiat Ulema-i-Islam's (JUI-F) Fazlur Rehman was the third candidate, but he withdrew his nomination as soon as the National Assembly session began.
Ashraf was the joint candidate of the PPP and its allies, including the ANP and the Muttahida Qaumi Movement (MQM).Before the voting, the special session of the National Assembly began in Islamabad to elect new leader of the house under the chairmanship of Speaker of the lower house of the Parliament Fehmida Mirza.Jamiat Ulema-e-Islam-Fazl chief Maulana Fazlur Rehman announced to withdrew from contesting for the seat of the prime minister and said his party would abstain from voting.The Maulana said he decided to withdraw keeping in view political situation. He said his party would remain impartial and would not vote for any candidate.Raja Ashraf went to the Opposition members and shook hands with them. He also embraced Maulana Fazlur Rehman.
Faisal Saleh Heyat also voted in favour of Raja Ashraf. Earlier in a statement Faisal had said that he would not vote for Ashraf.It must be recalled that it was Faisal Saleh who took the rental power corruption case to Supreme Court.Raja Pervaiz Ashraf Friday telephoned MQM chief Altaf Hussain and thanked him for his support.On the occasion, MQM Chief Altaf Hussain congratulated Raja Pervez Ashraf while Ashraf thanked Altaf Hussain for his support.Altaf Hussain said that those who stay with their party during tough time earn laurels and successes loyalty with one's party is basic thing. He said that country is facing multiple challenges.
Raja Pervaiz Ashraf Pictures
| | | | |
| --- | --- | --- | --- |
| administered oath to n … | PPP To Consolidate Dem … | Raja Pervez Ashraf as … | Raja Pervez Ashraf ele … |
| Raja Pervez Ashraf tak … | | | |
Raja Pervaiz Ashraf Videos