Inzamam-ul-Haq Pakistan cricket player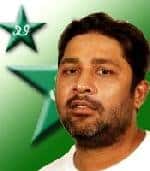 Inzamam-ul-Haq was born on 3rd March 1970 in Multan, Punjab Province, Pakistan, also known as Inzamam, nicknamed Inzy or the Sultan of Multan, is a former Pakistan international cricketer who was national captain between 2003 and 2007. He is a right-handed batsman who has been regarded as one of the leading cricketers from Pakistan in modern times.
On October 5, 2007, Inzamam retired from International cricket following the second Test match against South Africa, falling three runs short of Javed Miandad as Pakistan's leading run scorer in Test Cricket. Following his retirement, he joined the Indian Cricket League, captaining the Hyderabad Heroes in the inaugral edition of the Twenty20 competition. In the ICL's second Twenty20 competition he captained the Lahore Badshahs, a team composed entirely of Pakistani cricketers.
Career
One Day International cricket
Inzamam made his One Day International (ODI) debut in a home series against West Indies in 1991, and made a good start with 20 and 60 in two matches against West Indies, followed by 48, 60, 101, and 117 against Sri Lanka.
Handpicked by former Pakistan captain Imran Khan for the 1992 Cricket World Cup in Australia and New Zealand, 22-year-old Inzamam was relatively unheard of before the tournament. To the surprise of many he was persevered with throughout the tournament, coming in at various positions in the batting line-up, despite not being very successful early on. Yet it was his performances at the most crucial stage of the competition that made fans and summarisers take note. Inzamam rose to fame in Pakistan's dramatic semi-final against New Zealand at Auckland. With his side in a precarious position, chasing 262, against an impressive New Zealand side, he hit a fiery 60 from only 37 balls to rescue his side and guide them into the final The innings was regarded as one of the finest World Cup performances. A massive six he hit in that match was described by David Lloyd as the shot of the tournament.
inzamam made an equally vital contribution in the final of the World Cup, scoring 42 off just 35 balls, helping Pakistan reach a score of 249 after a sluggish start. These innings established Inzamam's billing as a big-game player, although he was unable to replicate his World Cup success in later tournaments. Another World Cup career highlight included a semi-final innings in the 1992 World Cup.
In total, Inzamam set a record for scoring the most fifties in One Day Internationals, 83 – though this is now surpassed by Sachin Tendulkar. He also became the second batsman to score 10,000 runs in One-day Internationals (again after Tendulkar) and was named in the World Team XI for both Test and One-day Internationals in the 2005 ICC Awards. In his final ODI for Pakistan, playing Zimbabwe in the 2007 Cricket World Cup, he took three catches whilst fielding, including the last one of the match, ending his One Day career.
Test cricket
He got little opportunity to make an impact during his 1992 Test debut against England at Edgbaston, with a score of eight not out. However, in subsequent matches he demonstrated a vulnerability against swing bowling which resulted in him being dropped for the final Test after averaging a lowly 13.20 runs per innings. Pakistan went on to secure a famous win in the match, taking the series 2-1.
After the England series, Inzamam aimed to establish himself in the Test side and he achieved this successfully, helping the side to many memorable victories. One of particular note came against Australia in Karachi, 1994. He often batted with the tail and his 58* helped Pakistan to a one-wicket victory and a 1-0 series win. As well as helping his side to become the top-ranked side in the world for a brief period he achieved personal success by becoming the ICC's number one ranked batsmen in 1995 He later went on to reclaim top spot in the rankings in 1997. He remained amongst the top 20 ranked batsmen up until his retirement. He was the number one batsman in the world three times as well as the three batsman several times in his career, the last time being after his twin fifties at Lords against England in 2006. The tour of England in 1996 was a particular success for both Inzamam and Pakistan, where Inzamam transformed his batting against seam bowling, averaging 64, with scores of 148, 70, 65, and 35.
Test career highlights include 329 against New Zealand in Lahore in 2001-02 season, and the second highest Test score by a Pakistani and the twelfth highest overall. He also scored a century (184) in his 100th Test, becoming only the fifth player to do so (after Colin Cowdrey, Alec Stewart, Gordon Greenidge and Javed Miandad; Ricky Ponting subsequently emulated the feat). Inzamam got a century in each innings of the second Test match against England in 2005, to become Pakistan's leading centurion with 24 centuries, breaking Javed Miandad's record, and his 25th century in the 2nd Test against India on 22 January 2006 made him the 10th player to score 25 or more centuries. He also managed 138* while facing a humiliating defeat against Bangladesh, eventually saving the Test match and leading his team to victory. He scored a century against the West Indies in 2005. His 92* against South Africa in late 2006 showed his ability to bat in a crisis again in a match winning effort. He scored twin half centuries when all appeared lost to draw the first test in Mohali against India in 2005, and also scored a 184 (in his 100th test match) in the same away series and drew the series. He still holds the record for most consecutive half centuries against one country with nine in nine innings against England. This streak started from May 31, 2001 to July 13, 2006. He scored a century and half century at Lords in 1996. His 118 against Australia in Hobart all but won the test for Pakistan but Adam Gilchrist's match winning 149 not out was the difference. His average in matches won is second only to Donald Bradman and Kumar Sangakara. After announcing his retirement after the second Test against South Africa, at the stadium where he made his international debut, Inzamam needed 20 runs to surpass Javed Miandad for the record of most runs for a Pakistani Test cricketer. After falling for 14 in the first innings, he was dismissed for 3 in his final innings by Paul Harris, out stumped, leaving him three runs shy of the record. He needed only 70 more career runs for a batting average of 50.
County Cricket
Inzamam made his debut in English county cricket in August 2007 at the age of 37. He joined Yorkshire County Cricket Club as a replacement for Younus Khan who left to play for Pakistan in the 2007 ICC World Twenty20. He was disappointing on the whole, making eight on debut at Scarborough's North Marine Road against Warwickshire before making nine and seven in his opening Pro40 games.
Indian Cricket League
In 2007, Inzamam joined the unsanctioned Indian Cricket League. In the inaugural competition, Inzamam captained the Hyderabad Heroes and scored 141 runs in 5 matches. In the 2008 competition in March, Inzamam captained the Lahore Badshahs, composed entirely of Pakistani cricketers.
The move to the ICL has proved to be a controversial one for Inzamam. The PCB's stance on players joining unsanctioned leagues has meant that he has been banned from playing in any domestic competitions in Pakistan or any involvement with the international team. However, given Inzamam's recent retirement, this is unlikely to affect him.
It is reported that he was paid PK Rs. 10 Crore (US $1,100,000) which was the highest salary for any player participating in the league along with the likes of Brian Lara
Playing style
Inzamam has been known to be a very destructive batsman in both One Day Internationals (ODIs) and Test matches. He has the ability to pick the length of a delivery very early and play very late. His footwork is generally considered to be fast, enabling him to position himself early for shots. He averaged just under 50 runs per innings in Tests and nearly 40 runs in ODIs, with a strike rate of 54.03 and 74.23 respectively. Inzamam is especially strong playing shots off his legs and has been considered to be amongst the best employers of the pull-shot in world cricket.
His batting style has brought him fans from all over the world. He was called "the best batsmen in the world against pace" by Imran Khan, because "he seems to have so much time on his hands before the ball reaches him".
Inzamam does, however, have a reputation for being a poor runner between wickets. He has the dubious distinction of being run-out the second highest number of times in ODIs having been run-out 40 times.
Captaincy
Inzamam captained Pakistan in 25 Tests, winning eight, drawing eight and losing nine. Only three players have captained Pakistan in more Test matches, but all have better win-loss records, and only Imran Khan has a lower win percentage than Inzamam. However, Inzamam held the captaincy until March 2007, the longest captaincy tenure since 1992 when Imran Khan retired.
Captaincy had a positive effect on Inzamam's batting, often leading by example in pressure situations, averaging greater as a captain (52) than without (50). In ODI's Inzamam used to have the highest average as captain and is currently second on that list behind Ricky Ponting. After early failures in Australia, he took a depleted Pakistan side to India in 2005 and was important in securing a draw, winning the final test match from an unlikely position with 184. He subsequently lead his side to an ODI success against West Indies (away), England (home) and Sri Lanka (away) as well as Test Series victories against England (home), India (home), Sri Lanka (away). Inzamam had seemed to have united the Pakistan side and victories lead them to 2nd place in the ICC Test Rankings and 3rd place in the ICC ODI Ranking. The latter part of Inzamam's tenure as Pakistan captain was less successful and the team was embroiled in many controversies culminating in a disappointingly early exit from the 2007 Cricket World Cup at the hands of lowly ranked Ireland.
In the 2007 Cricket World Cup, Inzamam captained the Pakistani team to its first loss to associate ICC member Ireland (on St Patrick's Day). This result and their previous loss to West Indies, led to them being knocked out of the tournament. A day later he announced his retirement from One Day International Cricket and resignation as Test captain. The announcement was made the same day that Bob Woolmer, Pakistan's coach, died in his hotel room in Kingston, Jamaica. He dedicated his final ODI to Woolmer to whom he shared a good relationship with for three years and affectionately called 'The Bob'.
Controversies
Toronto incident
In a 1997 Sahara Cup match against India, Inzamam assaulted a member of the crowd, Shiv Kumar Thind, a Canadian-based Indian, who had been comparing Inzamam to several kinds of potato, on a megaphone. According to eye witnesses a cricket bat was brought out by the Pakistan team's 12th man, Mushtaq Ahmed, who then waited at the boundary with the bat. Television replays confirmed those statements. The Guardian newspaper quoted another eyewitness as saying "If not for the spectators and security staff curbing him, he would have broken the head of that guy. The guy with the megaphone was no match for Inzamam and got mauled. Even when Canadian police took Inzamam back on to the field, he was trying to get back to the stands."
After reviewing footage of the incident Canadian police arrested Inzamam and charged him with two counts of assault and one of assault with a deadly weapon. He was released on bail of $3,000. Two days after Inzamam was charged, the Pakistan team lodged a formal complaint, to the 32nd Division of the Metropolitan police in Toronto against Thind, claiming that Thind had thrown his megaphone at Inzamam. Both Inzamam and Thind eventually dropped the charges against the other. Match referee Jackie Hendriks, banned him for two ODIs with a suspended ban of one further game.
Oval test incident
On Pakistan's 2006 tour of England, Inzamam captained a team that refused to re-enter the field, after tea, on 20 August 2006 at The Oval after allegations of ball tampering from umpires Darrell Hair and Billy Doctrove. The umpires awarded England five penalty runs and the choice of a replacement ball, after ruling that Pakistan had illegally altered the ball.
Inzamam and his team organized a protest against the decision. During the protest against the rulers, after he tried to persuade Inzamam out of the locker room, and decided that the game can not continue. Upon his return to the field with his team, only to find all of the England team and governors absent, Inzamam was informed of this situation. After further discussions between the teams and the referees and officials, Cricket Council was agreed in the end it is not possible that the game will restart. Thus, the captain Inzamam became the first in history to give a test match. The accused later Inzamam with tampering with the ball and bringing the game into disrepute (the charge associated with the recent protest teatime), although he strongly denied the accusations. On September 28, 2006 is denied allegations manipulate the ball, but his conviction to bring the game of cricket, and due to the reputation of one game on 4 international ban on the spot

* Inzamam's disciplinary record is as follows:
1. v India at Toronto, September 14, 1997 – assaulted a spectator. Banned for two one-day internationals, suspended ban of one further match.
2. v South Africa at Newlands, April 23, 1998 – dissent at umpire's decision. Fined 50 percent of match fee, with a suspended ban of one limited overs match.
3. v Sri Lanka – March 12–16, 2000 at Karachi – criticising the attitude of the Sri Lankan players. Received severe reprimand.
4. v West Indies – May 25–29, 2000 in Antigua, West Indies – dissent over umpiring decision. Fined 50 percent of match fee.
5. v England – June 23, 2001 at Lord's – showing dissent at the umpire's decision. Fined 50 percent of match fee and suspended for two one-day internationals.
6. v India, March 16, 2004 at Rawalpindi – conduct contrary to the spirit of the game. Fined 50 percent of match fee.
7. v West Indies – February 1, 2005 at Perth – for not controlling his players as captain. Fined 100 percent of match fee.
8. v India – March 24–28, 2005 at Bangalore – showing dissent at an umpire's decision by action or verbal abuse. Fined 30.5 percent of match fee.
9. v India – March 24–28, 2005 at Bangalore – charging or advancing towards the umpire in an aggressive manner when appealing. Banned for one Test match.
10. v India – April 5, 2005 at Visakhapatnam – abuse of cricket equipment or clothing, ground equipment or fixtures and fittings. Reprimanded.
11. v England – August 17–21, 2006 at the Oval – bringing the game into disrepute. Banned for four ODIs.
12. v Ireland – March 17, 2007 at Jamaica – failure to ensure that his team met the minimum over rate requirements. Fined 50% of match fee.

Interview
Inzamam has just given a long television interview and is in no mood to sit down for another chat. I try to persuade him: "I have travelled three and a half hours to get to this place bhai." The man known for his reham-dili sighs and asks me to keep it short. A couple of chairs materialise, and so do a bunch of kids who swoop in for autographs with outstretched notebooks and pens. Inzamam smiles and asks me to fire away as he humours them.
We start with where it ended for him: That charge down the track at Lahore a little over a month ago as he tried to get past Javed Miandad's Pakistan record of 8832 Test runs.
"Actually, I wanted to break the record with a boundary," Inzamam says. "And that was my last Test match. It was playing on my mind that if I finished with a good innings and took the team to a win with positive cricket, nothing like it." We know what happened instead. Would he play it any differently if he could rewind the clock? Inzamam shrugs and says with a chuckle, "Zahir si baat hai ki ab kheloonga to different kheloonga (It's obvious that I would play differently if I could).
"[Paul] Harris was bowling a restricting line from over the wickets. I had played that shot so many times in my career, and over 90% of the time, it would have gone for a six."
He leaning back in his chair and seems far away in the distance at nothing in particular. Are small we are in the land, surrounded by a fence of wire. Children are still hovering, and behind them the sun is sinking.
"I think the record was not in my destiny", Inzamam continues, "I think Yeh Hai Ki Sahi (is this right) it stays with Bhai Javed, and was the best player out of me." This humility remains in the lead when I try and get him to compare himself with Sachin Tendulkar and Brian Lara. "Both are great players, the best of me. Performance was better than me."
I try a different angle. What about the tremendous ability to pull off the robbery, with his team to win from difficult situations? "Han … I am happy with my performance. Important thing you can do for your team. And even if you score 30-40, if it contributes to his team win, then it is always memorable. I would not say I have won many games, but I was keen to just play my part, and perhaps strike a short or long, whatever the captain and the need at the time. "
Often his team needs him in the crease and had to be rescued from a tight angle. Far too many times to mention, Inzamam was the boy on the burning deck. One can stay sane, calm and dare to think directly in those cases, or one can react spontaneously to throw the ball, or act according to a predetermined plan based on the idea of ​​where the ball should go? View Inzamam, I felt that everything that is planned. No, it was not planned.
It is fast to break down the idea. "It's not as if you never used to get pressure, and this is nonsense. It's just that my looks gave the appearance, and people do not think I was nervous." Anyone who wants to grow his beard, and try to look like a philosopher, note.
I ask him to talk with me through roads of Karachi against Australia. Fifty-six runs to win the 0.11 Australians in the throat, and only another man, Mushtaq Ahmed, of the company: forget the butterflies, it's enough to make your stomach feel like a forest.
It's not as if you never used to get pressure. This is nonsense. It's just that my looks gave the appearance, and people do not think I was nervous
"I still remember that day," Inzamam warmth. "It was Shane Warne, May Tim and Joe Angel bowling. I would like to play with four balls softly and field, and to come. I thought," I can reach one or two to hand over the infield, pressure, and swing. "
"Mushtaq Ahmed also gave me confidence that he could play the spinners and stay out there. He had settled down by then and I started giving him strike and taking singles. As the runs come down, we knew the opposition captain was going come under pressure."
And then it happened. With three runs to win, Inzamam dashed down the track to Warne, the ball dipped rapidly and Inzamam missed. But so did Ian Healy. Game over.
Rewind. Shane Warne, in consultation with Mark Taylor, leaves a gap at midwicket. The trap is simple. "See Shane Warne is a great bowler. It was his plan to make me play across the turn through that gap. I knew what the plan was, but I saw that gap as an opportunity and decided to back myself. Ye batsmen aur bowler ki luck ki baat hai, kaun kamyab hota hai. Kaun apni nabz mein kitna control rakh saktha hain (It is about the luck of batsmen and bowlers – who is successful. It's about holding the nerves)."
"Ho sakta hai ki main vahan pey panic ho gaya hoon (Perhaps I panicked then). I could have done it in singles also. But that is the whole charm of the battle. I just backed myself to play that shot."
And thus that and other escapes were crafted: shots and areas picked, situations assessed, the bowlers to be hit chosen. Can this temperament be acquired? Can a blueprint be developed? Inzamam offers hope.
"Confidence comes from planning in those situations. Trust yourself in tight situations, but you need to have a plan. You might fail once, twice, but you will get better at it.
"First is trust, self-belief that you can do it. It's not as if you will do it all times – there is another team planning. But if you can keep at it, the success-rate will go up. It's not as if I won many matches from those situations, but I gave myself the best chance by having a plan.
"If you panic, the performance will go down. I saw Yuvraj Singh last season. He never panicked and his performance went up. He was never so calm before. See, he is learning and changing. Natural talent can only take you to a point and it then stops. With hard work, you can even change attitude and temperament."
More fans arrive. Cell phone cameras flash furiously. Digital evidence for personal "I was there with him" moments is collected.
What are Inzamam's own "I was there" moments from his career? "Apart from that Australia game, the Bangladesh match was important for me. And the one-day game against West Indies in 1993; that was very special." That game was Pakistan's first win in West Indies. Inzamam hit an unbeaten 104-ball 90 with eight fours to steer his team to the target of 260.
"The 184 in the Bangalore Test was very special. Of course, that 1992 semi-final and 329 against New Zealand too …" he trails off. "There are lots of other moments." Too many to count.
What about battles within wars? What about a famous tussle with a bowler?
Inzamam's eyes light up as he proceeds to talk about an innings against Warne. "In a Gujranwala ODI, Australia had made 250. Saeed Anwar and I made a plan to tackle Warne.
"Aapko pata hi hai ki voh beech ke over mein aake uska kaam kar deta hai, theek hain na? (You know how he comes on in the middle overs and does his work.). We had decided ki hame is pey hamla karna hain (we were going to attack him). As soon as he came on, we went on the attack. Anwar bhai and I played our shots. He hit a century, I got a 90." Pakistan won the game by nine wickets with 11 overs to spare. "That was a special moment, too. We had a plan and we carried it off. It gives tremendous satisfaction as a batsman when you do that."
Why did he decide to shed the pure-batsman skin and take up captaincy after he had rejected it at least twice before?
"I was never after captaincy. Kabhi shauk nahi tha ki main captain banoon, meri team pey hold ho (I never desired to be captain or have a hold over the team). PCB had already offered it to me twice, but I had refused. But this time I thought, the team was full of young boys. They needed some experienced guy to guide them. I thought it was my duty to take up the role."
Inzamam-ul-Haq was the most enviable young cricketer when he arrived on the international stage. India's Sachin Tendulkar had already captured the imagination of the cricketing world, while Inzamam, a strapping strokeplayer from Multan, was making news with his attractive brand of batting.
The impact he made on the 1992 World Cup was a defining moment for Pakistan cricket and a vindication of its policy of throwing young talent into the deep end. Pakistan was rewarded handsomely, as Inzamam's blazing performance in the last two matches of the tournament enabled Imran Khan and his men lift the World Cup on a glorious night at the Melbourne Cricket Ground.
Imran Khan was effusive in his evaluation of Inzamam — aged 19 then — hailing him as the most gifted cricketer in the world. It was just the beginning that Inzamam would have prayed for as he strove to make his mark in world cricket.At the end of his illustrious career, Inzamam may have reasons to feel elated with his achievements, but there is no doubt that the Pakistani never did complete justice to his cricket. To be picked to play for his country at the age of 19 was a huge honour, and Inzamam rose to inspire a generation that has come to back itself strongly.
Inzamam-ul-Haq Pictures
| | | | |
| --- | --- | --- | --- |
| | Inzamam ul Haq and Kas … | | Inzamam-ul-haq waves t … |
| … | | … | |
| | Inzamam-ul-haq waves t … | | A former Pakistani cri … |
| | | | |
Inzamam-ul-Haq Videos