Wasim Akram Pakistan Cricket Players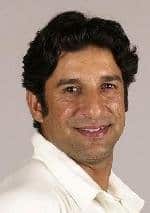 Wasim Akram was born on 3rd June 1966. He is a former Pakistani left arm fast bowler and left handed batsman in cricket, who represented the Pakistan national cricket team in Test cricket and One Day International matches.
Akram is regarded as one of the best fast bowlers in cricket. He holds the world record for most wickets in List A cricket with 881 and is second only to Sri Lankan off-spin bowler, Muttiah Muralitharan in terms of One Day International wickets with 502. He is considered to be one of the founders and perhaps the finest exponent of reverse swing bowling. The revolutionary nature of reverse swing initially resulted in accusations of ball tampering by cricket critics, although the skill of the reverse swing delivery has now been accepted as a legitimate features of ability in cricket. Akram's later career was also tarnished with accusations of match fixing by critics, although these remain unproven.
On 30 September 2009, Akram was one of five new members inducted into the ICC Cricket Hall of Fame.
Early and personal life
At the age of 30, Akram was diagnosed with diabetes. "I remember what a shock it was because I was a healthy sportsman with no history of diabetes in my family, so I didn't expect it at all. It seemed strange that it happened to me when I was 30, but it was a very stressful time and doctors said that can trigger it." Since then he has actively sought to be involved in various awareness campaigns for diabetes.
He married Huma in 1995. They had two sons Tahmoor(1996) and Akbar(2000) from their marriage of fifteen years. Huma died of multiple organ failure at Apollo Hospital in Chennai, India on 25 October 2009.
Domestic career
Akram began his sporting career in Pakistan playing for several cricket clubs. However, like several other Pakistani cricketers during the 1980s, his talent was identified at club level and he was selected into the national side, completely bypassing any domestic First-class competition during that period.
International career
First-class cricket
In 1988 signed for Lancashire Cricket Club in England and went on to become players in the most successful overseas. From 1988 to 1998, opened their attack on the European Central Bank in Bowling Benson, cup and Hedges Cup and the national championships and the University. He was a favorite of British fans who used to sing local song called "Wasim for England" in the games for Lancashire. In 1998, with Akram a leader, and won the Lancashire Cup European Central Bank and AXA League and finished second in the championship despite losing championship only five games in all competitions throughout the season. Apart from the title of the second division National in 2003, and was the last time won the Lancashire Cup.
Test cricket

Akram made his Test cricket debut for Pakistan against New Zealand in 1985 and in only his second Test match, he achieved 10 wickets in the match. A few weeks prior to his selection into the Pakistan team, he was an unknown club cricketer who had failed to even make it to his college team. He came to the trials at Gaddafi Stadium in Lahore in Pakistan, but for the first two days he did not get a chance to bowl. On the third day he got the chance and the observers around him saw the potential and was discovered by Javed Miandad and Akram was given an opportunity to play for Pakistan. Later that season he opened the bowling attack with Imran Khan, who became his teacher at the World Championship of Cricket in Australia.
In the Cricket World Cup in 1987, when he threw Akram Pakistan played against the West Indies, Lviv Richards in arrears of the roles, but Richards, who is considered the best hitter during that period, struggled against the bowling Akram offers.
Akram was high in the game of cricket International Speedway in the late 1980s. He looked when Pakistan toured the West Indies in 1988, aiming to be the fastest between the two sides. However, a groin injury hampered his career in the late 1980s. After two surgeries, he re-emerged in the 1990s as a quick effort, which focused more on swing bowling and minutes.
One Day International
Akram was a significant figure in the 1992 Cricket World Cup held in Australia, when Pakistan won the tournament. In the final against England, his batting performance during his innings of 33 runs off 19 balls, pushed Pakistan to a respectable score of 249 runs for 6 wickets. Akram then took the important wicket of Ian Botham early on the English batting innings and when brought back into the bowling attack later on, with the ball reverse swinging, he produced a devastating spell of bowling which led to Allan Lamb and Chris Lewis being bowled in successive deliveries in one over. His excellent performances earned him the Man of the Match award for the final.
Also captained Pakistan with some success. High point of the captain's armband for the victory was 1996-1997 in the Cricket World Series in Australia, and two test match wins in India in 1998-1999 and in 1999, when she arrived in Pakistan in 1999, the final match of the Cricket World Cup. The low point in the Cricket World Cup 1996 in Pakistan and India, and when he had to withdraw from the quarter-final match against India, citing injury. After the defeat in Pakistan, there were angry protests outside his home and riots across the country from the angry mob who accused the team of the game and began to throw a government inquiry into the failure.
In 1999, he led Pakistan to the brink of victory in the World Cup before giving up and defeated Australia in the final eight wickets with almost 30 amounts to spare. This was the beginning of the differences match-fixing, as critics believe Akram set up the match for Australia. However, it can prove that none of these allegations.
It was aimed at a better Pakistan in cricket World Cup in 2003 with 19 wickets in 7 matches. However, Pakistan failed to reach the "super six" stage of the tournament, and Akram was one of eight players to the isolation of the Pakistani Cricket Council as a result.
Been diagnosed with diabetes Akram at the height of his career, but despite the initial psychological blow, and he succeeded in restoring form and went on to produce a fine performance of cricket. And since then has sought actively to participate in various awareness-raising campaigns for diabetes.Akram was diagnosed with diabetes at the peak of his career, but despite the initial psychological blow, he managed to regain his form and went on to produce fine cricketing performances. Since then he has actively sought to be involved in various awareness-raising campaigns for diabetes.
Retirement
Akram retired from cricket in 2003 after playing for Hampshire County Cricket Club in England.
Skills in cricket
An immensely talented player first discovered by former Pakistan batsman and captain, Javed Miandad, Akram played for his college team as an opening bowler and batsman. During his professional career he bowled with genuine speed and hostility. Akram possessed accurate control of line and length, accompanied by seam and swing bowling skills, who could bowl inswingers and outswingers in the cricket pitch. With a very quick bowling action, he could bowl equally well from both sides of the wicket. His mastery of reverse swing with the cricket ball, meant he was at his most dangerous towards a bowling innings and earned him the nickname of the "Sultan of Swing".
As well as often being able to find the edge of the bat, Akram would also focus his bowling attack on the stumps and had a particularly lethal inswinging yorker. Of his 414 Test wickets, 193 were taken caught, 119 were taken leg before wicket and 102 were bowled. In partnership with Waqar Younis, he intimidated international batsmen in the 1990s. Together Wasim and Waqar, known as "the two Ws" of the Pakistani team, were one of the most successful bowling partnerships in cricket.
Akram was also skilled with the bat and was regarded as a bowling all-rounder. He was especially effective against spin bowlers. However, he liked to slog and was criticised for his lack of high scores and giving away his wicket too cheaply for a player of his talent. He did silence his critics and the media in October 1996 when he scored 257 runs not out, of the team's total of 553 against Zimbabwe at Sheikhupura. He also achieved good scores for the Pakistan team such as his 123 runs against Australia and his 45 runs not out to take Pakistan to victory in a low scoring match. He was also a valuable member to the Pakistan side, such as his match winning performance in the Nehru Cup, when needing six runs and two balls to win the match; he hit the first delivery he faced for six runs and secured the cup.
Award and records
Akram was awarded Wisden Cricketer of the Year in 1993 for his sporting achievements.
* In his Test career, Akram took 414 wickets in 104 matches, a Pakistani record, at an average of 23.62 and scored 2,898 runs, at an average of 22.64.
* In One Day Internationals, Akram took 502 wickets in 356 appearances, at an average of 23.52 and scored 3,717 runs, at an average of 16.52.
* Akram was the first bowler in international cricket to take more than 400 wickets in both forms of the game and only Muttiah Muralitharan has since achieved this.
* Akram also held the record for the most wickets in Cricket World Cups, a total of 55 in 38 matches. Australia's Glenn McGrath broke the record during the 2007 Cricket World Cup, ending with a final tally of 71 from 39 matches. On passing Wasim's record, McGrath said, "Wasim Akram, to me, is one of the greatest bowlers of all time. Left-armer, swung it both ways with the new ball and he was so dangerous with the old ball. To go past him is something I will always remember. Probably the other side of the coin is that if you play long enough, you're going to break records here and there."
* Akram took four hat-tricks in international cricket, two each in Tests matches and One Day Internationals. He is the only bowler in cricket to have achieved four hat-tricks. He is also one of only three bowlers to have taken two Test cricket hat-tricks, the others being Hugh Trumble and Jimmy Matthews. Akram is also one of only three bowlers to have taken two One Day International cricket hat-tricks, the others being Pakistan offspin bowler, Saqlain Mushtaq and Sri Lankan fast bowler Chaminda Vaas. Akram's Test hat-tricks are significant, since they were taken in consecutive Test matches in the same series, a game played against Sri Lanka in the 1998-99 Asian Test Championship. Akram is also one of only two bowlers to have taken both a Test match and One Day International hat-trick, the other being Pakistan fast bowler, Mohammad Sami.
* Playing in a Test series against the West Indies at Lahore in 1990-1991, he became one of only six players to have taken four wickets in an over during a Test match. In Akram's case, these achievement was not part of a hat-trick, the third ball he delivered to the batting oppostion was a dropped catch, which allowed a single run.
* Akram has also achieved the highest score by a number eight batsman in Test cricket when he scored 257 runs not out from 363 balls against Zimbabwe at Sheikhupura. The innings contained 12 sixes which is also a world record for Test cricket.
* He also has the third highest number of Man of the Match awards in Test cricket, with seventeen.
* He has scored the record number of runs in One Day International matches by a player who has never scored a One Day International hundred. His highest score was 86 runs.
Cricket controversies
In 1992, after he had been successful against the English batsmen, accusations of ball tampering began to appear in the English media, though no video evidence of foul play was ever found. Akram and Younis had been able to obtain prodigious amounts of movement from both new and old cricket balls. The skill of the reverse swing delivery was relatively unknown in England and around the cricketing world during that period.
A far larger controversy was created when critics alleged that he was involved in match fixing. An inquiry commission was set up by the Pakistan Cricket Board headed by a Pakistan high court judge, Malik Mohammad Qayyum. The judge wrote in his report that:
This commission feels that all is not well here and that Wasim Akram is not above board. He has not co-operated with this Commission. It is only by giving Wasim Akram the benefit of the doubt after Ata-ur-Rehman changed his testimony in suspicious circumstances that he has not been found guilty of match-fixing. He cannot be said to be above suspicion.

Media career
Since retiring from cricket, Akram has worked and taken up commentary for television networks and can currently be seen as a sports commentator for ESPN Star Sports, ARY Digital and among others. He did commentary on a variety of sporting tournaments including the 2009 Women's Cricket World Cup match between Australia v India in a Super Six Match held in Australia, the 2009 ICC World Twenty20 in England, the 2009 ICC Champions Trophy in South Africa and among others. He has also worked as a bowling coach in cricket.

Coaching career
In 2010, Akram was appointed the bowling coach cum consultant of Kolkata Knight Riders, the Indian Premier League team for Kolkata. Sourav Ganguly was always keen to have Akram as the bowling coach for India, during the former's stint as Indian captain. Although this never happened, his dreams were realised to some extent, when Akram was appointed as the bowling coach for the franchise.

Personal life
Akram was educated in Islamia College in Lahore in Pakistan. He was married and has two children, On 25 October 2009, Akram's wife died, of multiple organ failure at Apollo Hospital in Chennai, India.
Interview
The memories of Wasim Akram charging down the pitch like a gladiator on a battlefield will remain for ages. Clean shaven, long hair combed back, gold chain swinging around the neck and the white shiny ball firmly gripped in his left hand. As he delivers the ball, it swings in mid air, the batsman is utterly helpless and places the bat but to no avail the ball strikes his right pad with dominating force.
The memories of Wasim Akram charging down the pitch like a gladiator on a battlefield will remain for ages. Clean shaven, long hair combed back, gold chain swinging around the neck and the white shiny ball firmly gripped in his left hand. As he delivers the ball, it swings in mid air, the batsman is utterly helpless and places the bat but to no avail the ball strikes his right pad with dominating force.
As Wasim turns back and shouts an appeal, the entire Pakistani team and spectators join him and the umpire has no hesitation in lifting the finger. Wasim raises his arms and rejoices the moment with his team-mates. The spectators jump and scream and the commentator says one distinguishing phrase that was plumb!
Spectacular, impressive and captivating. These three words are close enough to personify Wasim Akram's career that was filled with the unplayable reverse and inswinging yorkers that ripped through batsman's defences like guided missiles and shattered the stumps upon contact.
Forty-two years ago on June 3, 1966, Wasim Akram was born in Lahore with a perfect plan from fate awaiting him. On November 23, 1984, at the age of 18, Wasim made his ODI debut against New Zealand in Faisalabad.
However, the world came to know about this six feet two inch tall skinny teenager only after his Test debut against New Zealand on January 25, 1985 in Auckland. In his debut Test, Wasim made a world record by taking 10 wickets and became the youngest ever bowler to do so.
Wasim was considered a lethal competitor in international cricket. His bowling style was fairly simple; it was a low arm action but generated a lot of pace. Wasim also gained credible amount of respect amongst his peers for his two ODI hat-tricks. Many bowlers have achieved one hat-trick in their careers, but Wasim's record of two hat-tricks both in ODIs and Tests is still unbroken.
Wasim performed his first ODI hat-trick on October 14, 1989 during the Champions Trophy against West Indies in Sharjah. Six months later, on May 4, 1990, Wasim took his record setting second ODI hat-trick against Australia during the Austral-Asia Cup in Sharjah. In 1999, Wasim took his two test hat-tricks and both were against Sri Lanka which came during the third and fourth Test of the 1999 Asian Test Championship.
Wasim Akram would probably never forget March 25, 1992, the day when his performance escalated to new boundaries of eminence and recognition. It was the final of the 1992 Benson and Hedges World Cup in Melbourne between Pakistan and England.
Pakistan gave England a target of 250 in 50 overs that included Wasim's blazing innings of 33 runs off only 19 deliveries, proving that he is an all-rounder as well. When England started their innings, Wasim provided the first breakthrough by sending opener Ian Botham back to the pavilion on a duck when wicket keeper Moin Khan caught him behind the stumps.
The English batsmen were moving towards their target with ease and captain Imran Khan desperately wanted to infiltrate their middle order. Wasim was then called for his second spell when England was 141 for three. What happened next ascertained that Wasim was really the Sultan of Swing. Wasim quickly took the wicket of Allan Lamb who was replaced by Chris Lewis.
Lewis adjusted his feet in front of the stumps but Wasim produced yet another scintillating delivery which bounced, swung towards the leg side and rocked Chris Lewis stumps. These two back-to-back wickets by Wasim not only made way for Pakistan's World Cup victory but also gave him the Man of the Match award in the finals.
On February 25, 2003, Wasim Akram engraved his name once more in the cricket books of history when he got his 500th one-day wicket against Netherlands during the 2003 World Cup.
Wasim also got the privilege to captain the team. His captaincy was accredited when Pakistan won the World Series in Australia in 1996-97. Wasim played 25 Tests as captain in which Pakistan won 12; lost eight and five were drawn. In ODIs, Wasim led his team in 109 matches out of which Pakistan won 66, lost 41 and two ended in a tie. Under his leadership Pakistan also gave India two Test match defeats in 1998-99.
When talking about Wasim's bowling performance one can never forget his partner Waqar Younis. Even though both have retired, their swinging seamers are still considered to be the most destructive in cricket. The pair, known as the Two W's and the Sultans of Swing, took more than 1,500 wickets in international cricket.
Their international appreciation had a gloomy side as well. When Pakistan defeated England 2-1 in the Cornhill Series in 1992, the English accused Wasim and Waqar for ball tampering that helped them produce those devastating reverse swing deliveries that shocked English batsmen throughout the series. The allegations weren't proven and the English cricket establishment failed to justify these charges. Accepting Wasim and Waqar's unique ability, Geoff Boycott and Ian Chappell went to the extent of saying that, Wasim and Waqar will get the English batsmen out even if they use oranges.
Batsmen around the world have acknowledged and credited Wasim Akram's lethal bowling as the hardest they've faced in their careers. David Lloyd of England said He can produce any delivery from over the wicket or around the wicket, from close to the stumps or edge of the crease. He is, in the true sense, an artist.
Batting icon Brian Charles Lara, who is a legend in his own regard said, Over my 15 years of playing international cricket in Tests and one-day internationals, Wasim Akram is definitely the most outstanding bowler I've ever faced.
On May 18, 2003, the best left-arm fast bowler announced his retirement from international cricket. Wasim commented on his decision by saying There's an end to everything in life I have enjoyed every bit of it. There are no regrets. There have been ups and downs but I would not have changed it for anything else.
He took 502 ODI wickets in 356 matches and 414 Test wickets in 104 matches. In ODIs his wicket break-up is: 92 lbws, three hit-wickets, 137 catches, 94 caught behinds and 176 bowleds. His Test wicket consists of 193 catches, 119 lbws and 102 bowleds.
His economy rate speaks for itself as he maintained a reasonable 2.59 in Tests and 3.89 in ODIs and retired with an average of 23.62 in Tests and 23.52 in ODIs. In Tests he took four wickets in a match 20 times, five wickets 25 times and 10 wickets five times.
In ODIs he took four wickets 17 times and five wickets six times. In 1992 Wasim was named Wisden cricketer of the year and in 2002 Wisden carried out a statistical analysis and ranked Wasim Akram the number one ODI fast bowler of all time.
The world of cricket has seen fast bowlers with the likes of Imran Khan, Glenn McGrath, Curtly Ambrose, Ian Botham, Malcolm Marshall, Richard Hadlee, Shaun Pollock, Alan Davidson, Waqar Younis, Courtney Walsh, Alan Donald, Kapil Dev, Dennis Lillee and Jeff Thomson. But Wasim Akram was the master of his own caste who perfected the art of inswinging yorkers, and he will always be the original Sultan of Swing.
Wasim Akram Pictures
| | | | |
| --- | --- | --- | --- |
| | | | |
| | … | | |
| | | | |
Wasim Akram Videos