Pakistan Cricket Player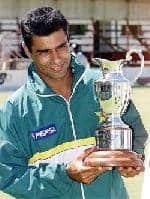 Waqar Younis Maitla was born on 16th November 1971. He is a former Pakistani right arm fast bowler in cricket and widely regarded as one of the best fast bowlers of all time.He was best known in cricket for his ability to reverse swing a cricket ball at high speed when bowling at the cricket pitch. He took 373 Test wickets and 416 One Day International wickets during his career. He is considered to be the best exponent of the swing bowling delivery. Younis has the best strike rate for any bowler with over 200 Test wickets. He worked as a bowling coach with the national side from 2006 to 2007.Younis was appointed as the coach of the Pakistan cricket team on 3 March 2010. His managerial contract with the Pakistan Cricket Board will take part in all forms of cricket, right up to December 2011, which will include all professional competitions, such as the 2011 Cricket World Cup.
Early and personal life
Younis was born in Vehari, Punjab in Pakistan and he was educated in Sadiq Public School in Bahawalpur in Pakistan, the Pakistani College in Sharjah and the Government College University in Vehari. He was raised in Sharjah in the United Arab Emirates, where his father was a contract worker. He returned to Pakistan during his adolescent years and there, he started playing cricket.
He is married with a son and two daughters and now lives in Kellyville, in North-Western Sydney in Australia. Younis has also worked as a television sports commentator for the Nine Network in Australia and for Ten Sports in the United Arab Emirates.
Cricket and coaching career
Younis began his cricket career in Pakistan, playing for several First-class cricket clubs. However he suffered an injury when he had cut and removed his little finger on his left hand, after he had jumped into a canal. He recovered from this accident and went on to continue his sporting career. He was eventually discovered by former Pakistan captain, Imran Khan and was selected to be part of the national side. The turning point of his career happened in England, during the late 1980s and early 1990s, when he played for Surrey County Cricket Club. There he displayed excellent cricketing performances and attracted attention from the sporting public.
He said that for the first time international cricket for Pakistan against India in November 15, 1989, in the same game that the Indian batsman Sachin Tendulkar also presented for the first time. Younis took 4 wickets in the match including a wicket of Sachin and Kapil Dev. He said that an immediate impression with his speed and became known in the media to cricket as a "wiki" or "Burewala Express". Younis opened side by side with the handsome Akram bowling attack regularly for Pakistan, and became a feared attack and strength. It was delivered to him the most recognized Yorker by 1 reel catch. In peak condition, and said that in the fast bowling very fast, and as known to achieve three goals in one game against the New Zealand International Day in 1994. During the first periods of the year 2000, and cut off from the Pakistan team for a short time because of the alleged comment that conflicts with bowling partner and captain Wasim Akram. And came back to play cricket with Pakistan captain assigned to him, a position he held until his team failed to make an impact in the Cricket World Cup 2003. He retired from cricket in 2003 after Pakistan Cricket Board ignored him for the selection of national.
In March 2006, he was appointed as the bowling coach for Pakistan. He resigned from this position on 6 January 2007 in protest against the Pakistan Cricket Board decision to retain him only for the Test series against South Africa and not for the subsequent series of five One Day International matches. He was re-appointed as Pakistan's bowling and fielding coach for their tour of Australia in December 2009.
In February 2010, Younis was appointed the head coach of Pakistan after Intikhab Alam was sacked as coach, due to the low-level of performances of the national side during the tour of Australia earlier that year.
Skills in cricket
Younis is one of several Pakistani fast bowlers, beginning with Sarfraz Nawaz, who have been successful at bowling reverse swing. In partnership with Akram, Younis opened the Pakistan bowling attack in the 1990s. Cricket critics and scholars attribute Younis and Akram to be one of the most effective fast bowling partnerships in cricket, due to their ability to swing the ball at high speed. The ability to reverse swing and his speed led to him becoming one of the most talented bowlers in modern cricket.
He said Younis in his ability to reverse swing from manipulation of the old ball, with one side shiny and one side rough, and the ball will move in the opposite direction to the traditional swing. This led to Younis have the ability to bowl inswingers and outswingers on the pitch in a game of cricket, and the impact of both Younis and Akram became successful in taking wickets by this difference of swing bowling. And it was the fastest delivery in cricket 153 km / pH or 95.1 miles per hour, which he threw a hand against South Africa in 1993. He was also active in the use of guards or delivery of short-pitch, as I remembered bowling Younis "against South Africa in the old man in Pakistan, to the effective use of short-pitched delivery.
Following Pakistan's victory during the Test match series versus England in 1992, the English media were suspicious of the reverse swing delivery. It was relatively unknown to the cricketing world during that period and this led to accusations of foul play by critics, however cricket officials found no evidence of foul play and the skill of the reverse swing delivery has been accepted in cricket.
Despite his qualities as a fast bowler, he was expensive at times and sometimes lacked the consistency of bowlers such as West Indian fast bowler Curtly Ambrose and Australian fast bowler Glenn McGrath. This may be partly due to the mentality of his former captain, Imran Khan, who prioritised aggression and speed.
The man who really put the reverse into swing. Waqar Younis bucked the 1980s trend of pitching fast and short by pitching fast and full. Not an obvious recipe for success until you factor in prodigious late inswing, which was designed to smash into the base of leg stump or the batsman's toes. In his youth, he was one of the fastest ever. Waqar's surging run was a glorious sight – and an incredible strain on his body. His method of aiming for the stumps rather than the batsman earned him the best strike rate of any bowler with over 200 Test wickets. It could have been better: back injuries cut short his prime, but determination has always resurrected him, although he was easily pushed over the line that divides aggression and intimidation. He looked to have been put out to pasture by the end of 2000, but before long he had been appointed captain for the 2001 tour to England. Initial results suggested that this was an inspired move, but in October 2002 he was at the helm as Pakistan crumbled to 59 and 53 all out against Australia in Sharjah. He managed to retain the job for the World Cup, but a disastrous tournament – Pakistan beat only Holland and Namibia – meant an unceremonious exit. Unable to force his way back into a side building for the future, he announced his retirement in April 2004. As a batsman, lusty blows were his staple, but Waqar batted with the air of a man who thinks he could have done better. The next stage of his career began in March 2006 when he was appointed as Pakistan's bowling coach, and he has also been a regular in the commentary box.
Award and records
Younis was awarded Wisden Cricketers of the Year in 1992 for his sporting achievements. He is also the only bowler to have taken a 5 wickets in an innings in 3 consecutive One Day International matches. He has taken a 5 wicket hauls on 13 occasions in One Day International matches. In terms of deliveries bowled, he has taken the fastest 50, 300, 350 and 400 wickets in One Day International matches and the fastest 150, 200, 250, 300 and 350 wickets in Test matches.
Although primarily a fast bowler, Younis scored 1010 Test match runs during his career. As of September 2005, he was the only non-batsman to achieve a thousand runs without scoring a fifty.Younis holds the record for the best strike rate for any bowler with over 200 Test wickets.
Cricket controversies
In July 2000 Younis became the first cricketer to be banned for ball tampering and was fined 50% of his match fee.
There has been some controversy about his date of birth and age. According to ESPN cricinfo sports, Younis was born in 1969 and others including Yahoo! Cricket and CricketArchive claims he was born in 1971.

Interview
The hardest job in world cricket must be to keep the Pakistan flock together – so how do you manage that, on top of bowling fast and leading on the field?
It is a difficult job, especially when you are also bowling and captaining the side. When bowling, you have to focus on line and length and also field placing. Then there is the captaincy – nowadays, cricket is so complicated, there are so many things we have to watch all the time, it all gets difficult sometimes but I think I am coping well. Before captaining the Pakistan side, I have led my bank side and division so I am pretty used to it. But yes, when you are not bowling well, and you have to think of your bowling, then the other becomes more difficult.
Cricket greats believe it is not good to have a bowler as captain, because he tends to either over bowl or under bowl himself. Have you found yourself facing that dilemma?
I don't think so. Firstly, no one has yet told me I am over-bowling myself simply because I am captain, taking advantage of the position. I try to give a fair chance to everyone. Maybe there are times when I think that if I bowl now I will get a wicket, then I will bowl; but there are also times when I think the other bowler will get the wicket so I give him the ball.
Your career can be broken down into many parts – you've been in and out of the side sometimes for no fault of yours, do you feel upset, bitter that many opportunities have been denied to you, do you feel that you could have gotten so many more wickets if those things hadn't happened?
Yes, but then it is all in the past now and there is not much I can say – it was not my luck, what else to say? Yes, I do regret at times that I have lost something like two and a half years in the middle of my career, when I was at my peak, but that is how cricket is sometimes. At times I have been dropped, at other times I lost form, then there were the injuries which took a toll of my career. All this is part of life, you get on with things, leave regrets behind and take only the positives out of it.
So when you were dropped and yet you felt you deserved a place in the side, what kept you going?
Right now, it is a tough time for me since we are not playing well – but being dropped for reasons other than form or injury was probably the toughest time I have faced.
At that time, not only was I out of the national side, I wasn't even playing any domestic cricket. So I had to go back to the U-19 level and play with the boys, I had to practice with them and it was very hard.
But playing with the boys was also my biggest motivation, training with youngsters who have got a lot of energy was the best way I could motivate myself and get back to the national side. I started off with the Radco team, developed their side from Under-17, Under-19 boys in a beautiful cricket ground in Rawalpindi. I used to go and play the games and attend the camps, it was fun and also rather difficult – I mean, you are used to playing at the international level and suddenly you are playing at the lowest level there is.
What goes into the making of a great fast bowler?
It looks glamorous, running in, bowling fast, knocking wickets down, but it is a very hard job, it is tough when you get up in the morning, put a foot on the ground and find that everything hurts — heels, knees, ankles, back, and then you have to motivate yourself, tell yourself you can do it.
You and Wasim Akram form one of the most lethal combinations in world cricket. But you guys had a falling out in between, how much did that affect you personally, and did it affect the combination?
I don't think it did actually, I think at that particular time when we had some disputes in the team and among ourselves but we were actually performing better, because of jealousy. He would want to do better than me and I wanted to do better than him, so we both over-performed.
For a two year period, we took an amazing amount of wickets. I remember when we went for the New Zealand tour in 1994, we had a dispute just before the tour. I don't think I have ever seen Wasim bowl that fast, and with that much fire, as he did on that tour – he took 17 or 18 wickets in those three Tests. And I took around 14 wickets at the same time.
Anyway, all that is now in the past. I regret that all this happened, though – such things should not happen to the Pakistan side.
Have you become more responsible as a player and human being after becoming captain?
When you become captain you have to take the responsibility. It looks good when you are picking up the trophy, but a lot of stuff goes into that. You are responsible not only for your own individual performance but also of all sorts of things – like selection, like interacting with the media and the cricket board, so many different things so yes, it tends to mature you as person and player.
They say the Pakistan team is its own worst enemy, that if they walk onto the field without any disputes they can be unbeatable.
Well, we are a very unpredictable side. The boys are talented, that is not the problem – I think it is just that some days, we get put off and don't give our 100 per cent and then we struggle. I think we are getting better at being consistent – right now, we are going through a small slump but we had a great year and a half before that, so this is temporary, I think things will get better, the team will be back in form soon.
Akram once said the Pakistan team has never been consistent; there is always a streak of inconsistency. Do you as captain agree with that?
It has been an inconsistent side, but it hasn't been unpredictable. You can't call us unpredictable, though we are not consistent like the Australians or South Africans who play to one standard and don't drop their level of performance. We have a few problems, on occasions we drop off from our standard.
Right now you are under tremendous pressure, there is the pressure of performing, there is a lot of talk about your captaincy, is it all working on your mind?
You do get stressed when people come up and talk of what is happening and tell you that you will lose your captaincy. Actually, being captain is not one of my ambitions – I always want to do well, as bowler or captain or both. So this hasn't affected me too much but it does affect the team, I would think – right now, things are not settled, as far as the captain and coach and manager are concerned.
They say lack of infrastructure is one reason why Pakistan is struggling, do you agree?
I can't really say much about it because our infrastructure fluctuates very quickly. It all depends on how much money we get out of cricket, how much revenue comes in. I haven't played first class cricket for a while, I am not with any of the teams I used to play for, United Bank, Radco and National Bank, so without playing first class, I can't really tell you much about the situation now.
But is infrastructure really necessary? You and Wasim – two of the all time bowling greats – came into the team by chance, you were spotted in the nets and picked up…
That is just a story doing the rounds, but it is not true. I for instance had performed in first class cricket for two years, then I was picked for the camp and only then got picked for the team, I was not just picked up, as they say. Wasim came before me, but he was also playing first class cricket, he was playing for an automobile company called Packo, they asked him to bowl in the Pakistan nets and that is how he got into the side.
Talk to us some more about the art of fast bowling…
It's a tough job – and the real art lies in two things, one is the way you think, and the second is in the fact that you don't stop learning. I learn something new every day, bowling is never ending, it keeps evolving. I am really passionate about this game, I only wish I had the body of a 23 year old – with the wisdom and skill I have now, if I had a young body, I could do magic.
You are credited with inventing the art of "reverse swing"…
First, when we were the only ones doing it, they called it ball-tampering; now that everyone knows how to do it they call it reverse swing.
I am not sure who the first one to do it was, but it probably began as early as the sixties and seventies, during the time of Imran Khan and Sarfaraz Nawaz.
We became good at it because we play on surfaces with hardly any grass on it, so the ball gets scuffed up and loses its shine, we have to do something with it, so we discovered that when you shine one side it can go the opposite way.
The textbook says hold it one way and it will swing the other way – I'd like to challenge them to come to Pakistan and show us how. We had to develop the technique of shining it on one side and leaving the other scuffed. The ball then gets heavier on one side and it dips after a certain period in the air.
Waqar Younis Maitla Pictures
| | | | |
| --- | --- | --- | --- |
| Intikhab Alam and Waqa … | | | … |
| … | | Waqar Younis with Wife … | |
| Waqar Younis to coach … | Waqar Younis praises M … | Waqar Younis is doorst … | |
Waqar Younis Maitla Videos