Javed Miandad Pakistan Cricket Players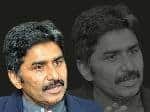 Mohammad Javed Miandad Khan was born on June 12, 1957, popularly known as Javed Miandad is a former Pakistani cricketer who played between 1975-1996. He is the Pakistan's leading run scorer in test cricket. He has served as a captain of the Pakistan national cricket team. He is widely known for his big Six against India in 1986 where 4 runs were required out of 1 ball. After his playing career, he has remained the coach of Pakistan cricket team at various occasions, as well as held positions in the Pakistan Cricket Board. He had three coaching stints with the Pakistan national team.
The words street smart, shrewd, and never-say-die amongst the rest of them would do well to describe the man. Add that to the long list of records that Javed Miandad processes, and one has a batsman that every captain would want to have in their team.
Miandad scored a ton in the game for the first time – and again in 100 births – holds the record for being one of those batsmen have not test average falling below 50 in his career a complete test. The total from the experience of running his 8832 set a record for the highest by a Pakistani, without interruption, until at least 2008. If that's not enough, he has also played in the World Cup six, became the first player to score batsman 1 runs 1000 in the World Cup, and at one point in 1987, and nine degrees, respectively, of 50 or more in Addis!
However, it was not only his batting that got under the skin of the oppositions, but also his on field antics in 'sledging' the fielders and the bowlers. His 'kangaroo hops' while batting against India in the 1992 World Cup, in response to Kiran More's continuous appeals was a spectacle worth going miles for.
Early life
Javed Miandad was born in Karachi, Sindh in 1957. Javad Miandad and attended schools and colleges in Karachi. His parents fled from Ahmedabad (Gujarat), India from Hindu and Muslim riots in 1947 after India's independence. Javed Miandad is Tyagi (Muslim).
Career
Miandad made his Test debut against New Zealand at Lahore on October 9, 1976. He scored a century in this match, to become the youngest player at the time to do so at an age of 19 years and 119 days. In the same series he scored a double century, and on his way broke George Headley's 47 year record, to become the youngest player to achieve the feat. Miandad made his One Day International debut against the West Indies at Edgbaston, Birmingham in the Cricket World Cup 1975.
Javed Miandad played 124 Test matches
Played games Javed Miandad test 124, the multiplication in 189 innings. A total of 8832 test runs a record of Pakistan. Although his career spanned 17 years of testing, but failed to make it in a higher category than most batsmen totals more than 10,000 test runs. It was Miandad's 23 centuries and 43 fifties National Archives of Pakistan, until broken by Inzamam-ul-Haq. Miandad and battery test career average of 52.57 is among the highest for the Pakistani batsmen. He scored six double centuries which is more of the total Pakistani and 6. He has a degree higher than 280 is not against India.
Javed Miandad is the only player who played in six World Cup finals, and the first half of 1975 to 1996.
Coaching and commentary
As a coach, Javed Miandad guided Pakistan to test victories in the Asia Cup and in India during 1998-99 season, when Wasim Akram was captain. Miandad also later assisted with coaching Pakistani batsmen.
Following this he was offered broadcasting and coaching positions in India.
Personal life
Javed Miandad married Tahira Saigol in 1980. He has two sons and a daughter. He had three brothers play first-class cricket in Pakistan: Anwar, Sohail and Bashir. His son, Junaid, is married to Indian gangster Dawood Ibrahim's daughter, Mahrukh.
Records & achievements
Javed Miandad's career performance graph.
With an ODI career spanning from 11 June 1975 to 9 March 1996 (20 years and 272 days), Miandad holds the world record for the longest ODI career.
Miandad was amongst the three Pakistani players to have his name in the Hall of Fame at Lords.
Miandad is the only cricketer to appear in six World Cup competitions.
In 1982, Wisden named him as one of the cricketers of the year.
Javed Miandad scored 1083 runs in 33 matches and 6 World Cup tournaments.
He was also declared the 44th best Cricketer of all time in ESPN Legend Of Cricket.
Miandad holds the world record for the maximum number of consecutive half centuries in One Day Internationals.
Interview
The Indian Premier League is pure entertainment, not cricket. The involvement of too much money will destroy the game, says Javed Miandad
As a cricketer, Javed Miandad was street smart. He knew the game like the back of his hand. Some people suggest that the legend hasn't been able to digest ideas like the Indian Premier League and the Indian Cricket League.
The recent Shoaib Akhter saga has puzzled everyone. Where do you stand on the issue?
To be honest, both sides made mistakes. There should be no compromise on discipline. The ICC Code of Conduct enables referees to give decision the same day when a certain event has happened. But the PCB handled the issue so poorly that the image of the country has been tarnished. No country is now ready to attach importance to Pakistan. What's wrong is wrong. Mistakes should not be tolerated to prevent them from getting repeated. In Shoaib Akhter's case they made tribunal after tribunal. Clearly the board has no policy in place to discipline the team.
Do such incidents affect the team?
Definitely. In fact, in this case the team will be the ultimate casualty. The cricket administration has to be strong so that nobody can break the rules of discipline. You must punish the culprit then and there. Take the example of Harbajhan Singh. First he was banned from playing the IPL this season; and now the BCCI is thinking of further punishment. It's good that they don't compromise on discipline. But in our country, when one player hits the other with a bat, and that too during a foreign tour, nothing happens and he continues playing for the national side.
It didn't happen in our time. In fact, we used to be afraid of the team manager, who could report our misconduct to the authorities concerned and throw us out of the team.
Some cricket pundits believe that in your time it used to be a one-man-show run by Imran Khan. What's your take on that?
That doesn't mean that he was not a disciplined individual. Imran was a strict captain and the attitude that he had adopted was for the betterment of the team. He and I had developed a good combination, and we never tolerated any nonsense. Even in the nets if we saw something unusual happening, we would immediately take action and throw the culprit out.
What are your views on the current Pakistani team?
Pakistan cricket is on the decline. One reason for is that talented players aren't being groomed properly. The youngsters who were tried out against Zimbabwe weren't tried against Bangladesh. Also, we are not playing against high-ranking teams and competing with the weaker sides doesn't improve your game. It is contesting against quality teams like Australia and India that your potential is truly put to the test. But it's not happening.
If the Australian side wasn't willing to come to Pakistan, we should have gone to Australia. It would have at least made clear whether their players had genuine security concerns or they were avoiding the tour because they wanted to participate in the IPL. Pakistan should have toured Australia on the condition that after two years Australia would visit Pakistan in order to convert their home series into an away series.
So, is it the board's fault?
There is no one person in the Council who knows (about) cricket. Has played any of them until 1 class cricket. This is why it is not only yes, men, and authorities always look for such people. It's one man show in the team. President of the Council is there, because it has the support of higher authorities. You can easily evaluate his tenure. Nine years ago or 10 years, there was always AD-hocism in this country.
Is it right that one of the mistakes that were made and the Council was to appoint Shoaib Malik captain?
Should be planning for the Council earlier. It should be the team leader is a person who has a 200 per cent place in the team. If this is not the case, then gets affected the morale of the rest of the team members. In Pakistan the issue of seniority is given preference to the captain's armband. Skill in my opinion is more important. If you have an experience can be judged that the cricketers have some leadership qualities, and should prepare them for the captain's armband.
Take, for example in South Africa Graeme Smith captain, who was captain for the time that did not have a place in the team but stressed that South Africa has seen the Council of his skills because he was a leader under 14, under 16 years and the school teams.

I have been coach of the boys that are currently in the Pakistani team. What are their weaknesses?
I am a coach and made the team after the World Cup in 2003. I had started to make the team, mainly with young players around, and a number of older people like Wasim, Waqar, Saeed Ijaz and had retired from international cricket. In one year we put a strong team and Pakistan have seen every time the best arrangement at the time. There is a need to team someone to correct their mistakes and have helped young people like Imran Farhat, Mohammad Hafeez, Umar Tawfiq, Faisal Iqbal, Yasir Hameed and Umar Gul, and you can see now that all these cricketers are doing well. I did not have any magic wand, but cricket is in my blood. I had extensive experience, and passed on to them.
If asked, would you accept the offer to coach the national side again?
It is not easy for me at the moment because I am not a sycophant. I want to keep my self-esteem intact. But if the Pakistani team needs my help, then I am here for it. Unfortunately there's no one in the board who knows the game.
Would you like to share some of the best and worst moments of your career?
From 1986 to 1994 the Pakistani team was the top side in the world. It was a great feeling. But if I were to pinpoint any one event then it would have to be the World Cup 1992. Then there was the Australasia Cup 1986. Whereas the World Cup 1996 was the worst experience of my cricketing career, in which I was totally ignored and Pakistan lost poorly.
Who inspired you the most in your cricketing career?
I was very impressed with Mushtaq Mohammad. He was a genius and a great captain. As far as batting goes, I liked Sunil Gavasker. In fact, I wanted to break all his records.

Was there any bowler you were afraid of?
Colin Craft was a dangerous bowler because of his unusual action. I used to tune myself well against him, but other batsmen always took more time to adjust to his pace and bounce.
What's your take on the Indian Premier League?
It is pure entertainment, not cricket. The involvement of too much money will destroy the game of cricket. It lacks quality and a cricketer can never get the confidence that he needs as a player. Even the greatest of bowlers cannot do anything about conceding sixes and fours.
If a bowler gives six runs per over, it is a great bowling stat in Twenty20; but the same stat in an ODI means bad bowling.
Test cricket is the real deal, because in a Twenty20game there is no technique involved. Most importantly, it doesn't teach a good lesson to youngsters.
It was this street smartness that helped him as a coach of the Pakistani team, a role he played thrice after his retirement from the game.
Javed Miandad Pictures
| | | | |
| --- | --- | --- | --- |
| Javed Miandad … | Javed Miandad … | Javed Miandad … | Javed Miandad … |
| Javed Miandad … | Javed Miandad … | Javed Miandad … | Javed Miandad … |
| Javed Miandad … | Javed Miandad … | Javed Miandad … | Javed Miandad … |
| Javed Miandad … | Javed Miandad … | Javed Miandad … | Javed Miandad … |
| | | | |
Javed Miandad Videos