Chief of Jamatud Dawa and main Leader of Difa-e-Pakistan Council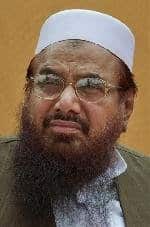 Hafiz Muhammad Saeed's ancestors hail from Kashmir while his father was settled in Simla, India before migrating to Pakistan after the partition of the sub Continent in 1947. It was during this thorny journey of migration that Hafiz Muhammad Saeed was born on route to an independent Pakistan. This migration also resulted in numerous sacrifices on the part of Hafiz Saeed's family as various members of his family lost their lives while migrating to Pakistan.
'Saeed' is his given name, while 'Hafiz' is a title bestowed upon him by his teachers because he had memorized the whole Quran by the youthful age of only twelve years. Hafiz Saeed comes from a family which has produced eminent and noted Islamic scholars throughout the ages, and he therefore received his early education from members of his own family and relatives.
Hafiz Saeed's whole family is well-known for their devotion towards acquisition of knowledge. His father, Kamal-ud-Deen, was a scholar, while his uncle and father-in-law, the late Prof. Hafiz Abdullah Bahawalpuri, rahmatullah alaih (May Allah have mercy on him), was a renowned and distinguished Islamic scholar and has a very famous and respectable reputation among the masses and scholars alike. Hafiz Saeed's mother too, was a well educated lady and thousands of women used to come and learn from her.
Similarly, Hafiz Saeed's maternal grandfather, the late Maulana Noor Muhammad, rahmatullah alaih, was also a prominent Islamic scholar and several famous Islamic scholars of Pakistan were his students. All of Hafiz Saeed's cousins and brothers are well-known scholars in their own right too and have been learning and teaching at various universities of America and Pakistan. In short, his whole family comes from a well-educated and scholastic background. Hafiz Saeed has two daughters and a son. His daughter too, is a graduate, while his son is a professor at a university, as well as studying further for PhD.
General Mohammad Zia-ul-Haq appointed Saeed to the Council on Islamic Ideology, and he later served as an Islamic Studies teacher at the University of Engineering and Technology (Lahore), Pakistan. He was sent to Saudi Arabia in the early 1980s by the university for higher studies where he met Saudi Sheikhs who were taking part in the Afghan jihad.
They inspired him to join his colleague, Professor Zafar Iqbal, in taking an active role supporting the Mujahideen in Afghanistan. There he met some youth who later became his companions. In 1987 Hafiz Muhammad Saeed, along with Abdullah Azzam, founded Markaz Dawa-Wal-Irshad, a group with roots in the Jamait Ahl-e-Hadis. This organization spawned the jihadist group Lashkar-e-Taiba in 1990, with the help of Pakistan's Inter Services Intelligence officers. It was based in Pakistan before 9/11 and was transferred to Kashmir after.
Lashkar's primary target is the Indian state of Jammu and Kashmir although Saeed has spoken of "liberating" Hyderabad State and Junagadh from Indian rule as well. Detentions in 2002 Pakistan detained Saeed on December 21, 2001 in relation to Indian accusations of his involvement with the December 13, 2001 attack on the Lok Sabha. He was held until March 31, 2002, arrested again on May 15, and was placed under house arrest on October 31 of the same year.
Academic Background
Hafiz Saeed's education was not limited to Islamic courses alone. He cleared his matriculation exams (Junior School) in 1966; passed the FA (High School) exams in 1968, two years later; received his bachelor's degree from the University of Punjab, Lahore, in 1970, and finally went on to receive his first Masters degree in 1972, and his second Masters degree, also from the University of Punjab, in 1974.
Although Hafiz Saeed joined the University of Engineering and Technology in Lahore as a teacher after completing his studies at the University of Punjab, did not satisfy his search for knowledge, he traveled to Saudi Arabia to continue their education and complete a specialization in Arabic from Jamia King Saud University (KSU). He stood first in the exams of specialization and won the gold medal. While there, he also strengthened his knowledge of Islam from the various well-known Saudi scholars, and became a favorite disciple of the Muslim world the most exclusive in the Kingdom of Saudi Arabia, Sheikh Abdul Aziz bin Baz, electronic Ijaz, the mercy of God in His creation. The other source of Islamic knowledge to enhance Hafiz Mohammad Saeed, a wealth of books in the libraries of several of the Kingdom of Saudi Arabia, where he was able to study a wide range of books about Islam while he was working there.
Teachers
Some famous Islamic scholars in whose company Hafiz Muhammad Saeed spent considerable time, in Pakistan, as well as in Saudi Arabia, and was able to learn and augment his knowledge from, include such distinguished names as, Shaykh ibn-e-Baz, rahmatullah alaih; al-Shaykh Ataaullah Hanif Bhojiani, rahmatullah alaih; Shaykh Badi'-ud-Deen Rashidi, rahmatullah alaih; al-Shaykh Hafiz Abdullah Bahawalpuri, rahmatullah alaih; Dr. Khalid Alvi, rahmatullah alaih; Dr. Ala-ud-Deen Siddiqui, rahmatullah alaih; Vice Chancellor of Punjab University, Dr. Zulfiqar Ali Malik; Shaykh Muhammad Ali al-Kholi al-Masri, and Mudeer, Mahad-al-Lugha, Jamia Malik Saud, Dr. Seeni. He especially benefitted from the following scholars while in Saudi Arabia; al-Shaykh Muhammad ibn Saalih al-Uthaymeen; Shaykh Abd-ar-Razzaq al-Afifi, and the famous scholar of Islam from India, Shaykh Safi-ur-Rahman Mubarakpuri, rahmatullah alaihim. It is worth mentioning here that Hafiz Muhammad Saeed received numerous character certificates praising his excellent manners from all the above mentioned scholars and teachers during this time.
Research Work
Prof. Hafiz Muhammad Saeed has undertaken several research and scholastic works, notable among which are;
• A thesis on Aijaz-ul-Quraan of Imam al-Baqlani rahmatullah alaih alaih;
• A thesis on biography of Abu Hurairah, radi'Allah'anhu, the illustrious companion of the Prophet, sallallahu alaihi wasallam.
• An informative educational thesis on 'Hudood' in collaboration with the Government of Pakistan's Council of Islamic Ideology.
• Hafiz Saeed is also an author of books; Tafseer Surah Tawbah' & Tafseer Surah Yousuf.
• Apart from these, Prof. Hafiz Muhammad Saeed has written thousands of educational and reformative articles and discourses on various religious, political, and scholastic subjects.
• Undertook extensive research work and wrote enormous papers on Islamic Jurisprudence, and Historiography;
• Wrote down x number of articles on education, and character-building;
• Wrote out articles, gave reviews and discourses on various religious, political, and academic subjects of thought.
Experience:
• Joined University of Engineering as lecturer and eventual promotions elevated him to the rank of Professor and served the University as chairman of the Department of Islamic Studies. He worked for the University for more than 25 years.
• Apropos of the training of members of civil service and the judiciary, served National Institute of Public Administration (NIPA), Lahore, Pakistan, as Guest Speaker. Thus he trained many thousands of Government officers and justices.
• Regular speaker at Radio Pakistan during the early '80s. He wrapped up Islamic perspective on diverse national issues;
• Visiting faculty at various colleges and universities, including; Punjab University, Lahore; Karachi University, Karachi; Agricultural University, Faisalabad, over and above other higher educational institutions across Pakistan. His lectures covered such topics as Islamic philosophy, Pakistan's economic crises, social problems and their corresponding remedies, Pakistan's geo-political challenges, to mention a few.
• As a prolific writer wrote columns on education and literacy. He also contributed solicited articles for Pakistan's print media.
Intellect:
• Prof. Hafiz Muhammad Saeed has always condemned any and all incidents, whether within Pakistan, or internationally, in which innocent people become victims of oppression and tyranny, regardless of whether the oppressors are Muslims or non-Muslims. Hafiz Saeed has never condoned such acts by Muslims. Moreover, Hafiz Saeed has always urged and encouraged people, whether they are Pakistanis or foreigners, Muslims, or non-Muslims, to develop tolerance for others. Hafiz Saeed believes that everyone should have freedom of opinion within the bounds of decency and no one must be beleaguered and beset for merely having a difference of opinion.
• Hafiz Muhammad Saeed believes that anyone who is facing hardship, regardless of whether that person is a Muslim, Jew, Christian, or Hindu, must be helped without distinction. One must not be discriminated on the basis of faith. Hafiz Muhammad Saeed believes that you must give to the poor what you for yourself. While giving one should not regard caste, creed, faith, ethnicity, or political affiliation of the taker.
• Out and out, the philosophy and outlook of Prof. Hafiz Muhammad Saeed was verily demonstrated when Pakistan's Sindh province was inundated with floods. A large number of Hindu and Christian families were poorly effected. Hafiz Muhammad Saeed immediately dispatched relief aid for them followed by his personal visit to monitor efficient relief operations.
• Right from his youth Prof. Hafiz Muhammad Saeed has maintained an affinity with suffering humanity. He has always helped people, shared their grief and sorrows, and alleviated their sufferings. During major floods in the country in 1980s, before JAMA'T-UD-DA'WAH was established, Hafiz Muhammad Saeed was there distributing medicines and bedding among flood affected people.
• It was his emotional feelings for the suffering humanity that when he became Ameer (President) of JAMA'T-UD-DA'WAH, one of his first endeavors was to establish a relief and welfare department to help the unfortunate. Ever since JAMA'T-UD-DA'WAH's Idarah Khidmat-e-Khalq (organization for social welfare) has been established, Hafiz Muhammad Saeed has made all out efforts for making it one of the largest relief and welfare organization of Pakistan. This has inspired many and has thus won universal acclaim in its sweep.
• Hafiz Muhammad Saeed has always urged the people of Pakistan to push peace forward—at homes and in society at large.
• In his speeches and sermons, he has always urged the people to avoid sectarianism and inter-communal conflicts.
• He makes pious efforts for guiding the youth and preparing them of their responsibilities for making Pakistan a peaceful place to live. Through lectures, he preaches morality and virtuous character, tolerance, justice, and social harmony.
• He believes that education and awareness are best tools for poverty alleviation.
• He is a vociferous advocate of sectarian harmony and a culture of fraternal feelings. In view of his sentiments for social harmony, he was included in the government's Peace Committee (1980). Thus he asserted his beliefs in creating an atmosphere of tolerance, cooperation, and giving room to dissent.
Recognition, Achievement Awards:
• King Saud University, Riyadh, Saudi Arabia bestowed Gold Medal on excellent academic performance;
• Received numerous character certificates praising his excellent manners from globally recognized international scholars and teachers.
Former Member:
• Council of Islamic Ideology—Pakistan's constitutional body that advises the legislature and the government on body politic of Pakistan in Islamic perspective. Enlightened and advised the Government of Pakistan regarding conformity of various Pakistani laws with respect to the concept of welfare state in Islam.
Conferences and Seminars:
• Participated in near enough all seminars and conferences in Pakistan on education, youth development, and society building;
Reading Culture:
• To promote reading culture, he was instrumental in setting up some libraries across Pakistan.
Philanthropy:
• As philanthropist, Hafiz Muhammad Saeed reaches out to the unfortunate irrespective of his color, creed or faith. (When Pakistan's Sindh province was inundated with floods that beside Muslims also badly hit the Christian and Hindu populations. Hafiz Muhammad Saeed not only immediately dispatched relief aid for them in the form of beddings and medicines, but also traveled to the affected areas to ensure efficient relief operation).
• Upon holding the reins of JAMA'T-UD-DA'WAH, one of his first endeavors was to establish a relief and welfare department for the social uplift of society. Thus, he used Idarah Khidmat-e-Khalq (the welfare arm of JAMA'T-UD-DA'WAH) as his prime tool to serve relief and welfare objectives. This has received universal acclaim—locally and globally.
Ambassador of Peace:
• He has always urged the youth of Pakistan to remain peaceful and keep off hate crimes.
• He is stubbornly committed to motivate youth for high moral character, tolerance and benevolence.
• He has whole-heartedly advocated for the promotion of education and poverty eradication.
• He was the member of the Peace Committees for many years. In this role he was a vociferous advocate of, and played a major role in promoting sectarian harmony. His major focus during this time was on creating an atmosphere of tolerance, cooperation, and dissent accommodation.
Vision of Education:
• The purpose and goals of the departments of Education and Social Welfare of JAMA'T-UD-DA'WAH are the classic examples of his vision.

Visit to the United States:
• Owing to high respect and esteem that Prof. Hafiz Muhammad Saeed cherished thanks to his commitment to education, healthcare and social work, he was invited to the US in 1994 by various Islamic Centers. Most lectures of Hafiz Muhammad Saeed centered on 'Islamic Perspectives of Raising Children.' Thus, he spoke at the Islamic centers of Florida, New York, and Houston.
Hafiz Muhammad Saeed Pictures
| | | | |
| --- | --- | --- | --- |
| … | Hafiz Saeed … | Hafiz Saeed Asked to K … | … |
| LeT founder Hafiz Saee … | | | |
Hafiz Muhammad Saeed Videos