Shagufta Ejaz Popular Pakistani actress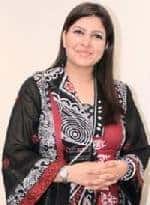 Shagufta Ejaz is a popular Pakistani actress who runs her own beauty salon in Karachi. She never planned to be an actress, and it was purely on luck and chance that she became one. She had gone to the PTV office to introduce a few colleagues, when the director, Kazim Pasha, offered her a lead role in one of the most popular serials on PTV, Jangloos. She accepted it and did complete justice to the role.
However, her debut play was Aanch, which is also considered to be her best performance. Currently, she is working on various different projects and is an all out actor. However, she also runs a successful beauty spa in Karachi, which is also quite popular.
Shagufta Ejaz never planned to be an actress it just happened due to fate. She went to PTV studio to introduce some friends and Kazim Pasha offered her the main role in his popular serial Jangloos. The role turned her into a household name in Pakistan and from there she never looked back again. Besides acting, she has her own salon in Karachi.
Shagufta Ejaz Pictures
Shagufta Ejaz Videos