Pakistani Actress Zeba Bakhtiar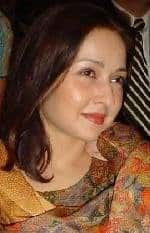 Zeba Bakhtiar was born on 5 November 1971. She is a Pakistani film and television actress and director. She made her television debut with a PTV Karachi centre play, Anarkali.
Zeba Bakhtiar, who is the daughter of the former attorney general of Pakistan, Yahya Bakhtiar, hails from Baluchistan , Pakistan. Her mother is of foreign descent. Like Zeba Bakhtiar, her brother also associated himself with Pakistani television. Equipped with higher educational grades, distinct family background and human values, Zeba Bakhtiar was attracted to show business as a teenager. The tremendous talent of Zeba Bakhtiar was there, just waiting to be used.
Zeba Bakhtiar debuted from the Karachi television's play 'Anarkali', opposite Mehmood Akhtar. In it, she played the title role of 'Anarkali'. The drama stirs the heart with its story of a girl in a man's world. Those were moments for wistful looks and glistening eyes.
Early life and education
Zeba's father, Yahya Bakhtiar was a Pakistani of Persian ancestry and her mother was Hungarian. Her father was a prominent politician and a close confidant of Zulfiqar Ali Bhutto. Bakhtiar lived her entire life in Pakistan and in an interview stated, "I consider myself Pakistani more but I respect my roots".
The only actress in the family, she has two brothers, both doctors and live in the US, whereas her sister is a corporate lawyer. She got her initial education from convent school in Quetta, and then attended Kinnaird College in Lahore, later getting her bachelor's degree and studying law, but not completing her graduate degree. Although she was brought up in a very conservative environment, she never thought of entering show business. It was by chance that she became an actress.
Acting career
Her performance in the TV play Anarkali, a sad love story, won her critical acclaim in Pakistan's entertainment world. The role of Anarkali helped prepare her for her wide screen debut with the hit movie Henna, (1991), produced by the Raj Kapoor banner in India. The movie was directed by Randhir Kapoor. Her work in Henna was widely appreciated, but it was her performance in the Pakistani film Sargam (1995) that won her the prestigious Nigar Award in Pakistan.
Zeba also gave excellent performances in the movies Mohabbat Ki Arzoo (1994), Stuntman (1994), Jai Vikraanta (1995), Muqadama (1996), Chief Sahib (1996), Qaid (1996) and Babu (2001). She proved herself an accomplished director in her directorial-debut movie, Babu, in 2001. Apart from movies, Zeba often took starring roles in major television serials, in which she brought new levels of intensity with her performances. For instance, in Laag she gave a memorable performance as the leader of the 'Kashmiri Independence Movement'. Her portrayal of a handicapped girl in Pehli See Mohabbat was just mind-boggling; likewise her performances in Lollywood films Kundi and Sangam.
The drama serial 'Laag' made the public realize the deep resonance of her work. A part of her charm derives from the apparent fact that she is working and having fun at the same time.
Zeba Bakhtiar is, indeed, a loveable woman whose hatred of hypocrisy is legendary. She worked in the heartfelt and handsomely made movie, 'Chief Sahib' in 1996. In dramatic roles, the movie cast moves effortlessly from one scene to another. Producer- director, Javed Sheikh, stars included Zeba Bakhtiar, Javed Sheikh and Neeli.
Zeba Bakhtiar shone in her directional debut movie 'Babu' in 2001. Its story revolves around love, lust, and the well- known adage 'give respect get respect' starring Zeba Bakhtiar, dubbed as 'Ghazal', Saud Amin, Lehri, Peer Moazzam.
She brings a new level of intensity to her acting in the Pakistan television drama serial 'Pehli see mohabbat'. Writer, Rafaqat Hayat, director, Najam-Uz- Zaman, executive producer, Ghazanfar Ali. 'Pehli see mohabbat' is the Urdu version of the English novel 'Beware of pity.' Cast included Zeba Bakhtiar, dubbed as 'Sofia' Shahood Alvi, and Shakeel. It is a story of a pretty handicapped girl.
Personal life
Zeba was married to singer Adnan Sami but separated in 1997. She now lives in Karachi, with her son Azaan, and continues to direct and produce television serials.
Interview
There are a few reasons why Zeba Bakhtiar is one of the best known figures of Showbiz. First, it belongs to the family of well-known, and she found fame in Bollywood after the tournament in a poem Raj Kapoor for the Hina national unity between India and Pakistan and, secondly, that figure is still within the framework of a clearly defined work. Zeba but now wants to know about her new carrier as director Babu and romantic comedy (which is also a candidate Nigar award) is her first effort.
Please tell us about yourself in terms of education and family background and grew up?
I was born in the city of Quetta. My mother is European, but has lived in Pakistan for a long time that it more than any other Pakistani Pakistani. My father was a politician. I have 2 brothers who are both doctors in the United States while my sister is a lawyer firms. I am the only one who took this profession. I grew up in a very conservative environment. Had I never thought of entering the entertainment industry, which is a type of accidents that have made this happen. I got my education from primary school and then college Quetta monastery Kannade, Lahore. I did later on my bachelor's degree and then went to the law, but was not completed.
How much were you inspired by your father and was he hesitant in letting you go for showbiz?
I think every parent would be hesitant in letting his/her child go for showbiz and he definitely was. It was because I was a very pampered child therefore he gave his decision in my favour. But after so many years now, I feel he was right, not because there is some thing wrong with the profession, but because of the way people look at it. People are very narrow-minded and their perceptions are not realistic at all.
What about acting?
I don't think I will act any longer simply because there's no challenge in it for me. It's boring. I've been acting for almost 16yrs now and it's very tragic that each time I've been cast in the same role with a few exceptions. Now that I look back there are very few projects that I really enjoyed. For example the work I did with Najam. He knew the other side of me, so the role catered to my talents. There was one drama that was an adaptation of "May Fair Lady" and another one, which was "Pehli si Mohabbat" where I played a very obnoxious lady. Both these roles were very different from the roles I'm usually offered so I had a great time performing them.
How come there are so many people who are ambitious about becoming actors if the same roles are being chalked out by the writer today?
Zeba: There's a certain glamour attached to it. Very few come in for the sake of acting, for the sake of wanting to do something in the field of creative arts. Perhaps a meager five percent! The rest are just here for the glamour.
Do you think good looks are important for an actor to succeed? Also to what extent do you use make up to enhance your beauty? We believe you don't need any makeup since you are already very beautiful?
Yes, to an extent it is important but more than that it is important to be a good person and a good actor as well. Looks do matter but they are very short lived. If you are good looking but do not know how to act, people will reject you straight away. Very average looking actors/actresses have impressed people and touched their hearts. However, for a model, it is important to look good but not for an actor.
As for the second part of your question, I do not like to use make up at all but for the sake of the camera angles, light effects & other technical requirements, I have to. Thanks for the compliment though.
You were not exposed on the big screen like you were on television. You looked a lot more stunning & beautiful in Kundi, Anarkali and Tansen than in Henna. Why?
That might be true but then every director has a different vision. Some people go for more details than others. That is unfortunate and it does happen.
Since you started your career on TV, what were your feelings when you first faced the camera?
It was exciting because I never aspired to be an actress. In fact I am still not an actress. But it was something new. So I was like Alice in Wonderland, trying to discover something. It was fun and exciting.
Why did you get your voice dubbed in Sargam, although you yourself have a very unique & pleasant voice?
I did not get it dubbed; it was just that the director felt it was easier to get my voice dubbed by someone in Lahore than to call me from wherever I was. That's it.
Your dresses are very different from other actresses. Do you design them yourself?
I just make sure I'm dressed. With all due respect, I believe our dramas and movies reflect our country & culture. When I was in India, I was representing Pakistan; therefore, one has to be careful. If one tries to act like or be dressed like some one from the other end of the world, you'll just end up insulting your own culture.
We are far behind Bollywood and Hollywood as far as technology is concerned. Why is that so?
I think the main reason is finances. We have such a small market that an average movie made here can barely recover its own cost. The kind of technology we require costs a lot. The govt doesn't recognize the film industry as an Industry and private finances are just not enough. We are still using cameras that were used in 50s and 60s because we just cannot afford to purchase the latest cameras.
What kind of music do you like and who is your favourite singer?
I like all kinds of music, classical, modern, rock, all kinds. I think Abrar-ul- Haq is good, in fact very different and innovative. But then at the same time I like Mehdi Hassan and Noor Jehan.
Why is it so that too many commercial films are being produced these days, which are full of violence and vulgarity that never reflect Pakistani culture? What steps should be taken by the producers to compete with the international market?
We should stop watching bad movies first of all and stop giving the excuse that the audience wants it because the audience certainly and most definitely doesn"™t come and ring the bell and say they want to watch a certain type of movie. It's unfortunate that the film industry is stuck on one side. We should try and make good films instead of just making those films that may make money. Also our films are not properly marketed. We do not have any kind of marketing structure at all. Lack of education is a problem as well.
In the last few years, Pakistan has not produced actors like Noor Jehan, Nayyer Sultana, Sabiha Khanum, ZEBA, Santosh Kumar, Derpen and Mohammad Ali? What do you think is the main reason behind it? Is it the lack of professionalism or increased commercialization?
In the past 50 years Pakistan has not produced a Noor Jehan or Mehdi Hassan either. First thing is that we do not have the kind of environment that teaches the young generation acting or singing. In other words there are no proper ustads or institutes. When the training is not there, how can artists come out? The few seniors who are there don't want to be associated with the juniors because they don't receive that kind of respect. Over all it's a degeneration of the system.
What is the role of Censor Board in Pakistan films? Do you think that is fulfilling its responsibility fairly? Apparently it seems as if they have different policies for Pushto, Punjabi and Urdu movies. Pushto movies are full of vulgarity, Punjabi movies have lot of violence and Urdu movies are less extreme?
Not just the censor board, a lot of other institutes in the country have different policies for different people. Everything depends on the envelope given under the table. When I submitted my film to the censor board, I was confident that there was nothing that they would object to. But they did. And I did not realize I was supposed to give them an envelope under the table. They made me do a lot of running around. Eventually I ended up spending more money than I would have had to if I had gone the other way round.
How was the experience of writing, directing, producing and acting in off the track movies like Babu?
It was very hectic and demanding & the net result was that I ended up in a situation where I had to write the story myself, as I wanted my writer to deliver on time but he just did not. So when one is stuck up in such a situation when you have to finish the work and people are not doing the work in the given deadline, you have to do things on your own. Although it was very difficult but it taught me a lot.
They were very co-operative and supportive. They did understand that our culture was different. In fact most of what I have learned is from there, it is the attitude, and the approach, which matters. As for dance, I took classes for that purpose because there in India, the dance is taught in every school, but then most of the roles I have preformed did not require much of dancing.
Which is your most memorable performance?
I think Henna or Anarkali, because both were my first performances.
How do people react when they recognize you?
I don't know because I have never let ZEBA Bakhtiar dominate me. Even when I was called for a screen test for Henna, I went inside and saw a huge image of myself on the screen. I was so scared that I ran out. So I try to make my life like any other normal person.
On a scale of 1-10 how would you rate yourself as an actress/director/mother/ human being?
Leave the professional side apart because that's for the audience to rate me. As a mother I try my best because I think that is my biggest priority in life.
How was the experience of working with one of the top most Indian film production banner?
Well the experience was great and whatever I learnt and whatever I am today is because of that.
There is a continuous battle between the present actresses that who is the number one? Who do you think is the number one actress Pakistan these days?
Well, whenever I have made comments on this subject, they have always backfired! That's why I live in Karachi and stay out of all this. Whatever number whoever is, I just wish they would deliver quality work.
How did you use the Internet for the marketing of Babu. Was there any website of the movie or any banners on other sites?
Actually I did not use any website and that was because there was nobody to help me and I am not very computer literate. I can only do the basics like browsing and all. At the time when the film was being made there was so much pressure of other work, that I did not get time for this. InshAllah next time.
Zeba Bakhtiar's keenly articulate movie grammar and a tender grasp of human nature have maintained uniformity all through these times. Further, her artistry is worth applauding in television drama 'Sangam' Cast includes Zeba Bakhtiar as 'Farah', Talat Husain, Qazi Wajid. Written by Zahida Hina, director, Nasir Danawala. Best known for her splendid direction capability, Zeba Bakhtiar attained major celebrity as an artist also in drama 'Kundi'. Cast included Zeba Bakhtiar, Firdous Jamal.
She is the source of quite a few exemplary television plays. That said Zeba Bakhtiar's resplendent career moved on fulfilling her initial promise of consistent hard work. A quick example is the television drama 'Kisay apna kahoon' cast included Zeba Bakhtiar, Noman Aijaz and Talat Husain. Additionally, she emerged as a convincing artist in the television drama 'Gunah gaar'. Cast included Zeba Bakhtiar, Izhar Qazi and Tahira Wasti.
Overwhelmed by her artistic prowess, the audience always gives her an enthusiastic response, which Zeba Bakhtiar well deserves. In spite of her enormous talents as director, Zeba Bakhtiar still possesses a face made for acting.
Zeba Bakhtiar Pictures
| | | | |
| --- | --- | --- | --- |
| Zaba Bakhtiyar … | Zaba Bakhtiyar … | Zaba Bakhtiyar … | Zaba Bakhtiyar … |
| Zaba Bakhtiyar … | Zaba Bakhtiyar … | Zaba Bakhtiyar … | Zaba Bakhtiyar … |
| Zaba Bakhtiyar … | Zaba Bakhtiyar … | Zaba Bakhtiyar … | Zaba Bakhtiyar … |
| Zaba Bakhtiyar … | | | |
Zeba Bakhtiar Videos