Intikhab Alam calls Pakistan players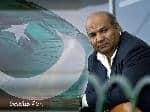 Intikhab Alam Khan (born December 28, 1941) is a retired Pakistani cricketer who played in 47 ODIs and tests 41959-1977. He also played in the English county cricket Sri between 1969 and 1981.
Intikhab was Pakistan's first cricket one-day international captain. Played 3 matches as captain, and won 2 and lost one. The coach in 1992 Cricket World Cup winning team of Pakistan.
In 2004, he was appointed as the first foreigner to train local Indian cricket team, and training of Punjab, in the cup Ranji.
On 25 October 2008, he was appointed as national coach of the Pakistan cricket team by chlorine, one day after the sacked Australian Geoff Lawson and national coach of Pakistan. [1]
In 2009, led Pakistan Intikhab Twenty20 1 title for the World Cup by beating Sri Lanka in the final.
Intikhab Alam – although it was always "the burly Intikhab" or "the wily Intikhab" – was one of the players who helped Pakistan bridge the gap from the rather sterile, insulated, bore-draw 1960s into a '70s power which could beat every country home and away. They did it by acquiring experience in county cricket when those doors opened in 1969, Intikhab turning out for Surrey as a fine allrounder. If his legspin wasn't quite in the Abdul Qadir class, it was still the foundation of Pakistan's unbeaten tour of England in 1974, and his powerful hitting produced a Test hundred. He was a significant captain but was widely thought to be too diplomatic for the role; his replacement Mushtaq Mohammad was a vivid, proactive contrast. Post-retirement Intikhab's involvement with Pakistan cricket continued. He was the manager-coach when they won the 1992 World Cup, his diplomacy, it is thought, vital in ensuring a smooth working relationship between Imran Khan and Javed Miandad. He became coach in 2000 briefly before Pakistan surprisingly returned to him in October 2008 for another stint as replacement for Geoff Lawson.
· Began his current stint as Pakistan's coach in October 2008.
· Was Pakistan's coach when they won the ICC CWC 1992 and the ICC WT20 2009.
· Played 47 Tests and four ODIs as a leg-spinning all-rounder, taking 125 Test wickets.
· Captained Pakistan in 17 Tests and three ODIs.
· Played for Surrey from 1969 to 1981 and took 1,571 first-class wickets as well as scoring over 14,000 runs.
Pakistan all-rounder and Test captain
Intikhab Alam, the former Pakistan all-rounder and Test captain, and later national team manager, visited the IRC Channel #cricket on 17 October 1997. Suhael Ahmed assisted Intikhab at the keyboard and Rick Eyre was the moderator.

Kapil: welcome to IRC #cricket Mr. Alam.
Rick: ok. We have Intikhab Alam with us for an interview. If you have any questions please msg me
Windian: Q…Welcome to #cricket.. There was some news recently of you being employed to be a spinner coach in the WI….has this happened…or is it yet to happen…and what potential do you see there
IntikhabA: Recently I was in Jamaica for 3 wks, held a clinic for leg spinners. Good potential what they need is to follow up what has so far been taught were very keen and interested. I personally feel if they carry on and work hard their leg spinners have a future.
Bhim: what are your comments on the last Sahara cup Pak lost to India 1-4?
IntikhabA: It was disastrous for Pak cricket, unfortunately our batsmen could not cope on seaming wickets as their medium pacers did a very good job. In fact the wickets suited their bowling we also lacked planning and team spirit.
RealDeal: Mr.Alam, some commentators have stated that Saqlain Mushtaq is a prospective captain. What do you think about it?
IntikhabA: It is too early for him to be the captain for Pak. At this juncture I feel that he is still learning and he shouldn't be thinking on these lines. As a matter of fact I can say with assurance that he is the best off spinner in the world today without any doubt.
Windian: Q…What do you consider your career highlights as both a player and coach ?
IntikhabA: WINNING THE WORLD CUP AS A MANAGER in 1992! and to be an unbeaten side in the 1974 tour of England after Sir Donald Bradman's side in 1948.
Bhim: another Q: Who are the spin bowlers you rate very high in the past as well as present?
IntikhabA: Way back in the 70-80's Bishen Singh Bedi, Parsanna, Lance Gibbs, Chandrashakar, Underwood, Fred Titmus were top notch.
IntikhabA: Present Saqlain, Shane Warne, Murlidharan, Mushtaq Ahmed, Kumble, are the best these days.
Kapil: What is the exact reason of Salim Malik being dropped? He is surely the current best batsman in Pak?
IntikhabA: I couldnt agree more on Salim, with you but think that the Pak Board may have taken some disciplinary action against him. This is a great pity!
Windian: Do you think test cricket needs a point system that discriminated against draws (esp by home teams), or neutral curators to solve the problem of test being virtual draws from day one because of featherbed pitches ?
IntikhabA: Lately, so many new things have happened in cricket for example, International panel of test umpires, match refrees and the 3rd Umpire. I have been saying for the past 4 years now that the pitches all over the world should be prepared in the presence of the match ref or a neutral curator to prepare a result oriented wicket. Time is now right for ICC to step in.
Jeff: who were the most difficult batsmen you had to bowl to and why?
IntikhabA: Throughout my cricket career, I have bowled against many great batsmen but found Ian Chappell the best against leg spin as he was prepared to use his feet and come out from his crease and play. Unfortunately these days you hardly find batsmen using their feet.
Windian: last one from me… Were there any names you remember from the WI clinic who could be test players ? And Pak vs WI…your prediction. Thanks for yor time
IntikhabA: Ruyal Lewis has been selected for WI to tour Pak. Apart from him, there are 3 leg spinners from trinidad, Guyana and jamaica. Namely, Dinanath Ramnarain, Nagamoutu fron Guyana, and Brian Murphy fro Jamaica have the ability to become good spinners. The Pak-WI series will be very interesting but I feel Pak stands a good chance of beating them here.
Rohan: Wasim Akram suggested that the future of Pakistan's pace attack lay in the hands of Mohammad Zahid and Shahid Nazir.. Would you concur with this? Where do the likes of Abdul Razzak, Shoaib Akhtar and others fit in?
IntikhabA: Rohan are you the Rohan from SA?
Rohan: I'm afraid not… from many places, but SA is not one of them

IntikhabA: Rohan, It all depends on physical fitness of these bowlers, how well they keep themselves and train.
CricketFa: Mr. Alam, from your prespective as a world-class leg spinner, what do you think Anil Kumble needs to do to improve his bowling? Of late, he has been quite stale.
IntikhabA: Anil Kumble is a front on bowler and not a side on bowler. That is why he struggles to really spin the ball and cannot vary his flight and guile. This is why on really good pitches he struggles.
Bhim: next Q: Who are the captains you rate very high?
IntikhabA: Ray Illingworth was good, Ian Chappell, i forget the name of the Middlesex and England captain who also played for Cambridge, Lloyd were the top in my days.
Kapil: Do you think that the much discussed Ind-Pak combined cricket team is really a practical concept?
IntikhabA: I dont see that happening for some time but during the last W Cup, when Australia and WI refused to play in SRL, I was fortunate enough to be a manager of a combined Pak-India Eleven which played aginst SRL and that was a great feeling. The SRL public and Govt really appreciated the combined effort in order to show there was nothing wrong or dangerous in playing there.
Jeff: After your years at Surrey have you kept up with their fortunes and if so what do you think of the current team.
IntikhabA: I am still in touch with my club for whom I played for 13 long years and am really pleased to see that Surrey have done well for the last couple of years.
IntikhabA: I remember hitting a six on the gas tank at the oval!
Jeff: And a bloody good shot it was too!
IntikhabA: One day I will go and look at the dent!!
RealDeal: Of late, many Pakistani players have been missing international matches and instead play for their counties. Do you think it is correct to forsake your country's needs to play elsewhere?
IntikhabA: Being a professional cricketer, one cannot refuse lucrative contracts because you have to earn your living in a very short cricketing life and the country should look for ways and means to help finance the cricketers in order to stop them playing abroad.
Kapil: regarding Amir Sohail: Is he not more suited to test team than the ODI team?
IntikhabA: Aamir in my opinion he is a very good cricketer and great tryer, he can fit himself into both
CricketFa: what do you think Saeed Anwar's comment about the hard ball after the karachi loss? sore loser or valid comment?
IntikhabA: As a matter of fact, it is the duty of the the Board of Control in pakistan, to keep a stock of old balls and if umpires want to change the ball the old ball should be marked the number of overs bowled. Unfortunately, the umps did not have used balls stock available and this is highly unprofessional on the Boards part.
Monn: Comments on Tendulkar as a captain and player? And does captaincy really affect a players batting/bowling?
IntikhabA: The umps did not have any other choice to rub the new ball on the ground can only lose the shine but hardness remains which helped the ball to come onto the bat.
IntikhabA: Unfortunately for Tendulkar, India does not have a really good bowling attack especially on unhelpful wickets, this causes adverse comments on the captain. If you have limited resources specially.
Rick: and the final question:
Bhim: next Q: Do you like the idea of day/night test matches? Will it make tests more popular?
IntikhabA: I personally feel one will get more attendance which can benefit financially. We all must think of a way to bring Test cricket back and make it more exciting. Day and nite will be a good start.
Rick: I'd like to thank Intikhab Alam for taking the time to talk to us today. And thanks to everyone who asked a question.
IntikhabA: I enjoyed talking to all of you and hope to meet again! Bye from Lahore and looking forward to a good Pak-RSA Test.
Career statistics

Test debut Pakistan v Australia at Karachi, Dec 4-9, 1959 scorecard
Last Test West Indies v Pakistan at Port of Spain, Mar 4-9, 1977 scorecard
Test statistics
ODI debut New Zealand v Pakistan at Christchurch, Feb 11, 1973 scorecard
Last ODI Pakistan v New Zealand at Sialkot, Oct 16, 1976 scorecard
ODI statistics
First-class span 1957-1982
List A span 1967-1981
Intikhab Alam Pictures
| | | | |
| --- | --- | --- | --- |
| Intakhab Allam … | Intakhab Allam … | Intakhab Allam … | Intakhab Allam … |
| Intakhab Allam … | Intakhab Allam … | Intakhab Allam … | Intakhab Allam … |
| Intakhab Allam … | Intakhab Allam … | | |
Intikhab Alam Videos