Younis Khan Pakistani Cricket Player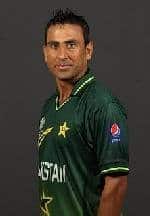 Mohammad Younus Khan (born 29 November 1977) is a Pakistani cricketer and former captain of the Pakistan national cricket team. Younus' name is often spelled Younis Khan, but he has been quoted as saying, "My name is Younus Khan. I tell people that everywhere, but they don't listen."He is only the third Pakistani player to score 300 or more runs in an innings.Younis Khan is fearless, as befits his Pathan ancestry and will forever be remembered as the second Khan to bring home a world title for Pakistan: Younis was Pakistan's captain in the 2009 World Twenty20, leading a successful campaign with stark similarities to the one Imran Khan had led 17 years earlier. Younis retired from the format straight after, a graceful and dignified gesture from a complex but honest man.
It is as a batsman, and a fearless one, that he made his name first, playing with a flourish. He is especially strong in the arc from backward point to extra cover. He is prone to getting down on one knee and driving extravagantly. But this flamboyance is coupled with grit.
Though Younis was one of the few batsmen who retained his place in the team after Pakistan's disastrous World Cup campaign in 2003, he lost it soon after due to a string of poor scores in the home series against Bangladesh and South Africa. He came back for the one-day series against India, but failed to cement a place in the Test side. He is among the better fielders in Pakistan and he took a world-record four catches in one innings as substitute during Pakistan's demolition of Bangladesh in the 2001-02 Asian Test Championship.
Personal life
He married his wife Amna on 30 March 2007, and their son Owais was born on 26 December 2007.
Younus had to deal with a number of deaths in his family during 2005 and 2006. Earlier in 2005 he had to fly back from a tour to Australia after his father had died. Later in the year during the England tour to Pakistan, Younus' eldest brother, Mohammed Sharif Khan, aged 41, died in a car accident in Ukraine, who in Youins's words taught him to play cricket. Another older brother, Farman Ali Khan was only 39, when he was killed in a car accident in Germany, in December 2006.
Younus was batting in the second ODI against West Indies in Faisalabad when the news of his brother's death reached the team management. Younus only came to know about the situation after he returned to the pavilion at the end of his innings. Younus, immediately, left for his home town Mardan and did not participate in any of the remaining matches.
Younus also mentioned his grief at the death of Bob Woolmer in March 2007 after Pakistan's exit from the World Cup. He stated that he saw Bob as a father figure after the loss of his own father and that he was able to share many personal thoughts with the cricket coach.
During a tour of the West Indies in May 2011, Younus was given permission to return home early due to the death of his elder brother Shamshad Khan in Germany.
He is known to enjoy fishing, when not playing cricket.

International career
Younus Khan made his international debut in an ODI against Sri Lanka at Karachi in February 2000, and has since played over 150 ODIs for Pakistan. He has also played in over 50 Test matches. Younus was one of the few batsmen who retained his place in the team after Pakistan's disastrous World Cup campaign in 2003, but lost it soon after due to a string of poor scores in the home series against Bangladesh and South Africa. He came back for the one-day series against India, but failed to cement a place in the Test side.
It was his return to the side in October 2004, at the pivotal one-down, against Sri Lanka in Karachi that laid the groundwork for his emergence as a force in Pakistan cricket. He was the top run-getter in the disastrous 3–0 whitewash in Australia immediately after and on the tour of India, for which Younus was elevated to vice-captain, he blossomed. After a horror start to the series he came back strongly, capping things off with 267 in the final Test. It was his highest Test score and came off 504 balls in the first innings, to set up a series levelling victory in Bangalore.

Captaincy situation
He first led Pakistan against the West Indies in 2005. In September 2006, he was offered the position of captain for the course of the 2006 ICC Champions Trophy, following the suspension of Inzamam ul Haq. He turned down the offer, stating he did not want to be a "dummy captain". However, on the morning of 7 October 2006 the Pakistan Cricket Board announced that Khan would lead his team in the tournament. Following the resignation of Inzamam after the side's exit from the 2007 Cricket World Cup, Khan was offered the captaincy on a permanent basis, but turned it down. He blamed the angry reaction by the Pakistani public to side's early exit from the tournament.
After Pakistan's 2009 2 matches to 1 defeat to Sri Lanka, PCB chairman Ijaz Butt appointed Younus Khan as the permanent captain of both the Test and ODI teams. The appointment became effective as of 27 January 2009. Shortly after accepting the post Younus was quoted as saying, "I will try and fix things that aren't right at the moment…I want our team to be consistent above all, in everything we do and that will require everyone to put their hands up." Younus went on to say that he expects full support from former captain Shoaib Malik whom he called a senior player in the side.

Twenty20 Cricket (2007 – present)
Pakistan captain Younis Khan announced his retirement from Twenty20 cricket after leading his team to the ICC World Twenty20 title by beating Sri Lanka at Lord's Sri Lanka suffered an 8 wicket thrashing.
"This is my last Twenty20 game [for Pakistan], so I am retiring from T20 internationals," Younis said "I am now 31, I am old for this kind of cricket." No immediate announcement was made as to the identity of his successor as 20-over captain, it was confirmed on 29 July 2009 that Shahid Afridi would succeed him as the Twenty20 Captain.
However after Younus returned to the national setup he announced that he was willing to play Twenty20 cricket for Pakistan as a senior batsman Younus then confirmed that he was available to play in all three-formats of the game. He also announced that he was no longer in the race for the captaincy After announcing his comeback to Twenty20 cricket Younus was selected for the three match Twenty20 series against New Zealand in December 2010. Younus played in all three-matches but struggled for form

County Cricket
Younus batting for Surrey in the FPt20 in England.
In 2005, Younus played county cricket for Nottinghamshire in England. In the 2007 English domestic cricket season, played for Yorkshire County Cricket Club as an overseas player. In doing so he was the third overseas Asian cricketer to play for Yorkshire following Sachin Tendulkar and Yuvraj Singh, and was succeeded by Pakistani player Inzamam-ul-Haq.
On his County Championship debut for Yorkshire, he made a disappointing 4 runs from 4 balls in his first innings, being bowled by Rikki Clarke of Surrey, and just 12 in his second innings.[30] However, on his one-day debut in the Friends Provident Trophy, Younus hit a superb 100 from 92 balls against Nottinghamshire to lead Yorkshire to victory.
He made his first County Championship century, 106 off 151 balls, for Yorkshire against Hampshire at the Rose Bowl in the third match of the season and followed it up with an unbeaten double hundred, 202 off 290 balls, in the second innings to steer Yorkshire to a confident declaration. In doing so, Younus became the first Yorkshire player to score a century and a double century in the same match. Younus also made a useful contribution bowling during Hampshire's second innings, picking up four wickets for just 52 runs, however despite his and the team's efforts the match ended in a draw. He repeated the feat of an unbeaten double century at Scarborough in a rain-affected drawn match with Kent. He played a superb innings to finish on 217* off just 252 balls with 18 fours and 6 sixes. He left Yorkshire following the 8-wicket drubbing of Glamorgan Dragons. However, the nature of the victory denied him of the chance to sign off in a fitting matter as he was not required to bat.
Indian Premier League
In 2008 Younus signed with the Indian Premier League and was drafted by the Rajasthan Royals for a bid of $225,000 USD. He however played only 1 match in the tournament against Kings XI Punjab and scored 1 run.
Playing style
Younus is regarded as one of the best players of spin bowling in the world, being particularly strong on the leg side. His favourite and trademark shot is the flick, but it has also been his shortcoming, with him being particularly prone to falling lbw during the early stages of his innings. He is also prone to getting down on one knee and driving extravagantly. But this flamboyance is coupled with grit. One of his main weaknesses is playing away from the body, he also has a tendency to leave straight balls, a trait that has been exploited by bowlers in the past, particularly by the Australian attack. Along with Mohammad Yousuf and the now retired Inzamam-ul-Haq, he formed a formidable middle order batting line up for Pakistan.
Younus is a skillful infielder, with a report prepared by Cricinfo in late 2005 showing that since the 1999 Cricket World Cup, he had effected the third highest number of run-outs in ODI cricket (joint with Andrew Symonds), with the highest success rate.
Younis Khan Pictures
| | | | |
| --- | --- | --- | --- |
| | | Younis Khan wallpaper. … | Younis Khan speaks dur … |
| | Younis Khan is all smi … | Younis Khan has resign … | Shoaib Malik and Youni … |
| | | | |
Younis Khan Videos