Pakistani Model and Actress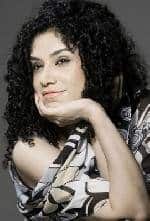 Angeline Malik is one of the most popular and well known young model, actress and director in Pakistan showbiz industry. She is a popular personality in pakistani youth. She was born Pakistan. Her date of birth or birthday is unknown.
Pakistani Model Angeline Malik Early Life:
Fashion model Angeline Malik spent her initial childhood in England and then shifted to Islamabad. Fashion model Angeline Malik completed her masters in Fine Arts, particularly in Sculpture for further studies she went to London, to secure her another master's degree in computer imaging and animation. So, she has learned to give innovative & artistic touch in all her creative fields. Angeline Malik holds each of her creative department brilliantly.
Model Angeline Malik Career:
Angeline Malik entered in the Fashion & Showbiz world, about seven years back. Fashion model Angeline Malik has also proved herself as a Producer, director, and as an anchor as well. Angeline Malik has performed diverse types of characters in many T.V dramas, on different channels.
She is more touchy & selective about the projects she adopted for direction. Besides this, Angeline Malik has now fully engaged into the Production line and launched her production mood, under the umbrella of Angelic Films. She is an imaginative young lady with the artistic guts.
Angeline won the Lux Style Awards in 2006 for Best Director and a nomination for best actress. She is also famous for the first coming of age talk show Black and White on Indus Vision and for her selection of diverse characters. Her name comes in the top five Directors of Pakistan working in this field. She is also known as a producer, working under the banner of Angelic Films.
Starting her career in the media seven years ago she became a known face as the host of talk show Black & White, aired on Indus. She has certainly come a long way and today, Angeline Malik is known as an actor as well as a director and producer of considerable repute.
It has been a long, tedious journey so far. A lot is happening and on the other hand nothing is happening. Unfortunately a point of stagnation has come. There is so much mediocre work being done that if something good comes along, it simply gets diluted. It is unfortunate when people declare that they do not watch television anymore. Though I do believe that if one works hard and with dedication, it will be noticed, says Angeline.
With the media boom it has been noticed that financial opportunities for performing artists have improved greatly. However Angeline does not completely agree with this statement as according to her, even though there is good money to be made in showbiz there is no ratio for growth. She adds that once actors are over the hill, they start appearing as second leads and are not paid as much, while the new breed takes their place.
This field has glitter and glamour but no security. I've been looking for a house for the past six months but people are hesitant as they don't trust media personalities. Yes, we do make money to be able to afford a certain lifestyle, but we don't have easy access to loans, no pensions, no health insurance and no security or privileges provided by the government. Even recovering money from production houses and channels is an uphill task. They will make you work, but when the time comes for payment, they will not even attend your phone calls. Right now I have a lot of money stuck in the market and asking for it feels like you are asking for a favour. They are busy planning mega-projects without clearing their pervious dues. How can they sleep at night? Frankly it is a very sorry profession if you ask me, she observes.
Angeline Malik Debuts in Acting Field:
Angeline Malik did not limit herself and her talent to the field of fashion and modeling but also took a step forward towards directing, producing, as well as anchoring. Angeline Malik is definitely a lady of versatile nature. So far she has always chosen very challenging and brave roles to play. Her each and every role is completely different from what has already done.
Given a choice, what would Angeline prefer doing: acting, direction or production?
It is really not about choice. I love acting and it has its own thrill, but as an actor you are just a puppet. It's someone else pulling the strings. One has to make many compromises in the sense that if there are 10 people in the market and only three are good, unfortunately one has to work with all of them, good or bad. Essentially I am a director and I would like to continue directing. My last serial was Lahasil. I have also done short plays, but after that I simply left directing because I didn't want to compromise.
As a director I try to do unusual work and also try to create roles for myself, which I am unable to do otherwise. The same can be said about my productions. My concern is not selling them and making money; my main concern is doing different work in the market. I would like to do less work but quality work, replies Angeline. As an actor Angelines recently concluded drama serial was Dil Diya Dehleez. She was also seen in the sitcom Redz and Un Kay Annay Say and serial Chingari as producer. Her other work includes independent film Kala Pull, directed by Saqib Mausoof and drama Meray Dil Ko Jo Zuban Milay, shot in Nathiagali and written by Haseena Moin, which will air on PTV in May.
Angelines last directorial venture was tele-film Lillian and Lala Ki Film, a parody of Urdu cinema which won the TVOne award. Also, her last venture Lahasil won the Lux Style award, which was a surprise to her.
It was a low-budget project and nominated against big budget plays. I was not expecting it so I was not even there to receive it. Since I don't run after people it was a nice surprise. I had put my heart and soul in this play. I have always believed in the fact that if you put your heart and soul into something it doesn't go unnoticed and you do get credit for it. I also have to thank my DoP Mirza Mehmood sahib. He was my eyes since I couldn't see the monitor when I was acting, and this is the reason why the project turned out to be so good, she says.
Angeline has now fully plunged into production, working under the banner of Angelic Films, vouching to do few but quality productions. Currently she has worked on two tele-films, Meri Awaz, directed by Shamoon Abassi, which has been invited by the New York International Independent Film and Video Festival, while ITN distribution is also interested in international distribution and screening of the film. But she has already made a prior commitment to a channel. Latifa, by Asif Asad, is the other film.
Meri Awaz is about a mad woman living on the streets who gets raped and has a baby. It raises the question that who is insane: this woman or the whole world around her that is taking advantage of her vulnerability? To portray this character I did not wash my hair throughout the shoot. Latifa, the joke, is based around three stories which are linked together. It is about the ironies and contradictions of life. We say something and then do something else. This play is in the post-production stage. My tele-films are not commercial ventures. They are for the festival circuit, points out Angeline.
Currently Angeline is working on a project she is very passionate about. Holding the reins of not only production but direction as well, along with playing the main lead, she is visibly excited about the project. Titled Rani, it is a woman-centric serial having a political plot with the woman having a strong, powerful role but with flaws like every other person. According to Angeline, the serial is about greed, love and corruption but these elements feature in a realistic and believable story. The most important factor of the serial is the script, and Angeline firmly believes in it.
I have worked very hard on the script. The screenplay is mine and the concept has been with me for five years. For the script I hired an Indian writer, Naseem Mukri, of the film Dharkan fame, who has done an excellent job, she says.
But with so much local talent available, why an Indian writer?
Firstly, the Indian writer added a different flavour to it. We do have many good writers here, but the problem is that they are unable to give you proper time. One cannot complete the story in a jiffy. It takes time. The script is the most important thing. If I am not going to pay attention to it, then what's the point? I wanted someone who is willing to sit with me for days on end and do nothing else. Hence I got Naseem, who came and spent two weeks at my house working on the script and nothing else, Angeline explains.
Director, producer and the lead: won't it be difficult to manage?
I agree, it sounds difficult. But I will have a co-director with me as well to manage certain aspects. As for doing the lead role, if I had choice I would have hired another actress. I required an actress who will be there 40 days non-stop. If someone asks me, even I do not have 40 days at a stretch. Basically I needed a committed actress who will give me that kind of time. Unfortunately everyone is so busy with so much work going on that it was not possible, she states.
Aside from Rani, Angeline Malik has a lot more projects up her sleeve, including her talk-show on Indus TV, Not For Angels, in which she has a candid conversation with guests belonging to different walks of life. A series is also in the pipeline, based in London to be directed by Shahid Shafaat.
As for her plans to go international, Angeline says, I am going into collaboration with an Australia-based company called Metro and Filmology Productions. Were working on a few projects.
There's also a serial featuring Indian and Pakistani cast members. A series of low-budget commercial and non-commercial films is also on the cards. Eventually we plan to do an international project with talent from all over the world.

Angeline Malik Pictures
Angeline Malik Videos