CSS officer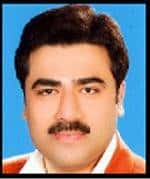 Yasir Pirzada is among the emerging crop of Pakistani columnists who have built a wide readership over a very short period of time.
Awards:
Best Columnist of the Year 2009-10 by All Pakistan Newspaper Society (APNS)
Personal Information:
Personal Information:Personal Information: Muhammad Yasir Pirzada (born 24 February 1974 in Lahore), a CSS officer, is among the emerging crop of Pakistani columnists who have built a wide readership over a very short period of time. His weekly column "Zara Hat Kay" in Jang, Pakistan's most widely circulated Urdu daily; and his bi-weekly column with the name "Off the beaten track" in The News, a leading English daily, addresses issues of an ordinary citizen in a unique and humorous style which is original and quite distinctive.
Yasir approaches his typically serious subjects in a uniquely poignant manner, using an idiom of subtle humour and satirical innuendo. His columns approach a variety of social issues directly relevant to the human condition and Pakistan's emerging bitter-sweet psyche. Yasir has inherited this light-hearted yet serious mood of writing from his father, Ata ul Haq Qasmi, himself a respected literary figure. However, it is clear from a comparison of both that Yasir's style dwells firmly in the contemporary, his allusions being rooted in the day to day language of young Pakistanis who look beyond their own literary tradition to other dominant cultures, be they music or the written word.
Yasir's recent debut as a script-writer for television also reveals his keen observation of the small challenges that confront daily living inPakistan. His mini-serial, Aboori Zaroori, telecast on national television (PTV) during its Election Transmission, takes a light-hearted look at the citizen's predicament as the country goes through a change in government. In recognition of his skills, he was also given the credit of writing the script for 36 hours long PTV Live Election Transmission during the national elections in February 2008. He is also writing TV serials for different channels including a sitcom for PTV, Afsar Bekaar Khaas, a serialized portfolio of episodes grounded in Pakistan's archaic officialdom.
Pakistan's prestigious civil service, a successor of the model perfected during the British Raj, has historically boasted numerous literati among its members. As a federal officer, he has served as Deputy Commissioner in the tax service. Yasir also holds the record of being the youngest candidate ever to pass the country's intensely competitive Central Superior Services (CSS) examination in 1996.
Yasir's first book with the name "Zara Hat Key" was launched in May 2009. This book is a collection of his columns published in daily Jang from 2006 to 2008.
Yasir Pirzada Pictures
Yasir Pirzada Videos