Pakistani Film Supers Star Mustafa Qureshi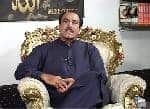 Mustafa Qureshi is a Pakistani film and television actor. He was born in Hyderabad, Pakistan on 11 May 1937 before partition of subcontinent. He gained popularity from Punjabi films. His iconic role as the villain Noori Nat in the movie Moula Jat became a trademark and he went on to adapt similar roles for many years to come. He did regret being typecast as he wished to show his versatility in acting. He has acted in more than 500 movies, in both Urdu and Punjabi languages.
Filmography
Lakhon Main Ek
Jeedar
2012 Sultanat (post-production)
Haji Baba
2008 Zill-E-Shah
2008 Basanti. Suhagan.
2007 Soha Jora.
2000 Angaray
1996 Chief Sahib
1996 Mummy
1995 Sargam
1995 Jeeva
1992 Nag Devta
1992 Wadero Sain
1992 Joshilay
1992 Liking
1992 Godfather
1991 Darya Khan
1991 Cobra
1990 International Guerillas
1990 Steel
1990 Shadmani
1988 Qismat Wala
1988 Fire Aag hi aag
1988 Thieves
1986 Sanjhi Hathkadi
1985 Ziddi Khan
1985 Khuddar
1985 Badle Di Aag
1985 Hong Kong Key Sholay
1984 Sajawal Daku
1984 Sholay
1982 Sangsar
1981 Jatt Da Wair
1981 Chacha Bhateeja
1981 Jeedar
1980 Harasat
1980 Hitlar
1980 Smuggler
1979 Giraftar
1979 Maula Jat
1979 Hathiar
1978 Khan Dost
1978 Akbar Amar Anthony
1978 Accident
1977 Chor Sipahi
1976 Hashar Nashar
1975 Hathkari
1975 Anari
1969 Andaleeb
1958 Pardesi
He started his film career as villain from film "Lakhoon Main Aik" in seventies.
And is also considered it to be a major supporter of the PPP. He has worked with Benazir Bhutto and shows a real dedication towards the statement of the party. His mother tongue is Sindhi. Was married to Rubina Qureshi, who herself was a famous singer from Pakistan Television in 70. The rich are often mystical and songs.One of times people have hit every popular song is "Daci waleya morh mohar Y".
Mustafa Qureshi backs screening of Indian movies
Mustafa Qureshi has supported the screening of Indian movies in Pakistan, arguing that that was the small income the otherwise moribund cinema industry needed for its survival.The veteran actor was speaking at a press conference held at the Karachi Press Club, where it was announced that the second Pakistan Media Awards would be held on April 22 in the metropolis.
Mustafa Qureshi, whose name with that of the assassinated actor Sultan Rahi guaranteed a film's success, also narrated the reasons for the Pakistan film industry's decline, saying that apart from other things "we'd made bad movies".
Speaking about efforts being made for the revival of the industry, he told mediamen that film fraternity representatives had met President Asif Ali Zardari, Prime Minister Yousuf Raza Gilani and Culture Minister Pir Aftab Shah to seek their support for the revival of the film industry. He, however, regretted that it's not just the film industry but all other institutions were also faring bad in the country.
He said the volatile law and order situation in Karachi could be tackled by making good films, and there should be a parallel cinema in the country. He said though he was against Indian movies, it was the meagre business of cinema houses that made him realise that "the show must go on".
Speaking on the occasion, director Syed Noor said if someone got up and helped the industry the chances of a good film being made were bright. He stated they're trying to reestablish the film industry in Karachi and since our films had already hit rock bottom, they couldn't do worse.
In response to a question on the reasons for the fall of the film industry, said Syed Noor There was a time when people lived in small houses to entertain themselves and visited a large cinema, because cinema was something that could startle or surprise you. These days, people have big houses and facilities, etc. multimedia prevented them from going to the movies. He said there is another reason that the state of cinemas in the country was weak.
Syed Noor appreciated the new cinemas that were coming up in Karachi and commented that new audiences must be created. "We've stopped surprising people" (Hum ne logon ko hairan kerna chhor dia hai). He said today you could also see the movies that were made in the rest of the world and notice the different techniques that they're using. He lamented that Indian films were promoted in Karachi's cinemas, whereas in the Punjab circuit his films had done good business.
Mustafa Qureshi Pictures
| | | | |
| --- | --- | --- | --- |
| … | … | Alhaj Khursheed Ahmed … | … |
| … | | | |
Mustafa Qureshi Videos