Famous Pakistani Actor Waheed Murad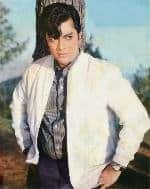 Waheed Murad (October 2, 1938 – November 23, 1983) was a legendary Pakistani film actor, producer and script writer. Waheed is considered to be one of the most famous and influential actors of subcontinent. Born in Sialkot, British India, he was the only child of well-off film distributor Mr. Nisar Murad. He got early education from Karachi Grammar School, Karachi, did graduation from S.M. Arts College Karachi, and then masters in English literature from University of Karachi.
He is well-known for his charming expressions, attractive personality, tender voice and unusual talent for acting in films. His romantic style of acting made him popular amongst the young cinema viewers of south asia. One of his blockbuster films is Armaan, which was produced by him, made a pivotal impact on the sub-continental film industry such that the Pakistani film industry was considered as the rising sun and this film made him a superstar overnight. Once, in an interview in 1967, he said that Dilip Kumar, too, was not an immortal actor. Waheed was known as a cheque which could be cashed any where in the country and is the only actor of film industry to secure the highest number of platinum, diamond, golden and silver jubilees.
In November 2010, 27 years after his death, Pakistani president Asif Zardari awarded him the Sitara-e-Imtiaz, the "star of excellence," an honour given for distinguished merit in the fields of literature, arts, sports, medicine, or science.
Film career
Waheed Murad started his film career by joining his father's established 'Film Art' in 1961 as producer of the film Insaan badalta hai. In his second film as producer Jab se dakha hai tumhein he casted Darpan with Zeba as heroine. Afterwards, Darpan most of the time started coming late at studio. Zeba suggested Waheed to cast himself as hero in his next film. Waheed was not ready to sign himself in his own movies. But when the same suggestion came from his old good friend Pervaiz Malik, he accepted it on the condition that if Zeba would be his co-star, Zeba accepted in return (according to Zeba). As a result he firstly appeared in a supporting role in 1962's Aulad. The film was directed by his friend S.M. Yousuf. Aulad got much more acclaims from critics, and it also got the Nigar award in the best film's category for the year. Heera aur pathar was his first movie as a leading actor and considered to be his major breakthrough. He got the Nigar award in the best actor category for the same film.
In 1966, he acted in his production under Armand, who was directed by Pervez Malik. Armand broke box office records in all that time and the completion of 75 weeks in theaters, and gave him the status of a star, or perhaps the first star of Pakistani films. The film is a love story romantic and melodious. Songs such as Cyrene Coco …, Akele Jana G. …, Betaab is udhar Tom … And thy father Zindagi apni Tak … Sung by legendary singer Ahmed Rushdie has become very popular among young people, especially among college girls. Won awards Negar two for the product categories of the best and best actor for the film Armand. During the same year, he starred in another film superhit insaan utha Jaag with co-star Zeba. This fact is in the record that success in Zeba, Waheed has had a very important contribution because it is loaded her in his films and brought fame to her country.
In 1967, he appeared as leading actor in masterpieces like Devar bhabi, Doraha, 'Insaaniyat' and 'Maan baap'. Devar bhabi is considered as one of his best movies and completed 50 weeks in the cinemas. The story of Devar bhabi is based on Indo-Pak's unjust social thoughts and norms. Insaaniyat is also considered as one of his best movies in which he played a role of a dedicated doctor.
From 1964 to 1968, the Murad, the owner of a single, Pervez films such as Hera ur pathar, Arman, Ehsan, Doraha and Jahan hum wahan Tom. Create a successful mix of single and Murad, Pervez Malik, Anwar pleased, Sohail Rana, Ahmed Rushdi and Zeba a number of successful films. Murad brought the sole owner, Anwar and Rana under the umbrella of "art cinema". But in the late 1960s, growing discord between single Murad and other three members of the team "art film". Pervez Malik was not happy with a single to take the credit for the success of each of the films, and give little recognition to others. Arts cinema that broke up and Pervez Malik started creating their own projects with new actors. And produced a total of seven films, including two of the films, any Usey Dekha chaha usey Dushman and was released after a long gap of 6 years in 1974, with a range of single and Pervez (but not under the production of "art film").
Single Murad flirting Shabnam Kush song record in gorgeous Carr rooth … In Andleeb, 1969
In 1969, Waheed produced, wrote and directed his own movie Ishaara but the movie flopped at box office. Andaleeb was released in 1969, which was directed by Fareed Ahmed. Other co-stars included Shabnam, Aliya, Talish and Mustafa Qureshi. Andaleeb proved to be one of the greatest films of the year. Moviegoers loved his acting esp. in the song Kuch log rooth kar bhi… sung by Ahmed Rushdi in which Waheed is trying to flirt Shabnam in his red sports car. Waheed Murad received Nigar award in the best actor category for that film. Critics are unanimous that singer Ahmed Rushdi had a significant role in the success of Waheed Murad, and that Rushdi's voice was tailor made for him.
From 1970 to 1979, many of his films were superhit like Naseeb apna apna and Anjuman in 1970; Neend hamare khuwab tumhare and Mastana mahi (Waheed's first Punjabi film) in 1971; Baharo phool barsao in 1972; Ishq mera naa (Punjabi film) and Shama in 1974; Jab jab phool khiley in 1975; Shabana in 1976; Saheli, Parakh and Khuda aur muhabbat in 1978; and Awaz and Bahan bhai in 1979. Mastana mahi was Waheed's first Punjabi film, which was also produced by him and directed by Iftikhar Khan. Mastana mahi was purely a romantic musical film. Waheed received Nigar award for the best actor for Mastana mahi.
During early 1970s, he had no or very little choice in selecting his co-stars. Zeba, after her marriage with Mohammad Ali, was not allowed to work as heroine with Waheed Murad. Soon Shabnam's husband Robin Ghosh forced her to not work with Waheed. Even Nisho was not allowed to work with him. These were major setbacks for Waheed's career. Most of the top producers offered Waheed secondary roles in their films due to a monopoly against him. In addition, Nadeem was giving him a stiff competition in 1970s. So Waheed had been casted by less popular directors and producers and had been given the role of 'stereotypical romantic hero'. Films like Naag Mani (1972), Mastani Mehbooba (1974) , Laila Majnu (1974), Izzat (1975), Dilruba (1975), Raaste ka pathar (1976), Mehboob mera mastana (1976), and Naag aur nagan (1976) gave him major setbacks. By late 1970s and early 1980s, Waheed was being casted in supporting roles either with Nadeem or with Mohammad Ali in the films like Parastish (1977), Aadmi (1978), Khuda aur mohabbat (1978), Awaz (1978), Behan Bhai (1979), Wadey ki zanjeer (1979), Raja ki aaye gi barat (1979), Zameer (1980), Badnaam (1980), Gun man (1981), Kiran aur kali (1981), Gherao (1981), Ahat (1982) and Maang meri bhar do (1983). The films Hero (1985) and Zalzala (1987) were released after his death. Films Muqaddar, Aankhon ke taare, Aas paas and Andaaz were either incomplete films or not released by the producers. Hero was the last film of Waheed's life, directed by Iqbal Yousuf. The film was released after almost two years of Waheed's death in 1985. Another Waheed's delayed film Zalzala was released after 4 years of his death in 1987, which was also directed by Iqbal Yousuf. Zalzala did nothing on the box office, however, Hero completed its Silver Jubilee in Karachi. Muqaddar, Aankhon Kay Taray, Aas Paas and Andaaz were the films that were either left incomplete or remain unreleased till todate.
Murad and single, in the profession of a 25-year, paired with several actresses such as Zeba, Shamim Ara, Rani, Naghma, Aaliya, Sangeeta, Kaveeta, Aasia, Shabnam, Deeba, Sharif Babra, Rukhsana, Bahar and Neelo. He acted in a total of 124 films (and 2 Film was released after his death) of which 38 were black and white and 86 were in color. In addition to this he also appeared in 6 films a guest of honor, including his first appearance at all, and shorter on the silver screen in 1959 in Saathi. He acted in films Urdu 115.8 Punjabi movies and 1 Pushto film, and received on 32 prestigious film award, including for best producer and best actor
Personal life
Early life
Waheed Murad was born on October 2, 1938 in Sialkot. He was the only son of the famous Pakistani film distributor Mr. Nisar Murad and Mrs. Shireen Murad. Since childhood he was being given an exposure to famous actors who used to visit his father regularly and inspired him to pursue an acting career. In his childhood, he used to wear a guitar around his neck and was famous as a good dancer among his friends. In his school life he played parts in several plays, which made him more popular. His best friends were Iqbal Yousuf and Pervaiz Malik who joined the same profession Waheed joined and thus remained associated with him for the rest of his life. Waheed passed matriculation in 1954 from the Marie Colaco School, Karachi. Waheed's parents persuaded him to complete his education prior to embarking on a film career. He graduated in arts from S.M. Arts College, Karachi and then completed masters in English literature from the University of Karachi. A strong educational background placed Waheed Murad at an advantage compared to other film producers and actors of his time.
Marriage
Waheed Murad had a sort of liking towards Salma, a daughter of Karachi based industrialist and a Memon[citation needed]Ibrahim Maker, when both were in grade nine in Karachi Grammar School. Their marriage took place on Thursday, September 17, 1964. The wedding ceremony was arranged at Nisar Murad's house at Tariq Road, Karachi. He addressed his wife as Bibi at home. They had two daughters (Aaliya and Sadia) and one son (Adil). Sadia died in infancy and both Waheed Murad and Salma became inconsolable. However, their two children, Aalia and Adil brought happiness and comfort to their lives.
Days of struggle
Before the late 1970s, was being on a single vote in support roles, either with or with Nadeem Mohammed Ali, or being offered by the directors "category B". Did not allow for most of the leading heroines like Zeba, Shabnam and Nisho to play leadership roles with a single by their husbands. Representative single heart throbing Murad can not take such a disgraceful treatment meted out to him by the industry, but the silence and not to request help from his friends. Wrote Pervez Malik, who became director of the facility and the product by the late seventies, in a local newspaper: "not even once during that period and only come to me looking for work in my films." It was only to become depressed. And close friends revealed that he became addicted to tobacco and alcohol through the mouth and sleeping pills. Suffered until his internal and his wife Salma left for the United States. Cause a combination of bad habits and stress ulceration in the stomach and a single in 1981. He suffered from bleeding and had to undergo removal of the stomach to save his life. According to many of his fans to the hospital to donate blood to save the lives of their favorite hero. In spite of his recovery, he lost a large amount of weight. Until then, cast Iqbal Akhtar and Iqbal Al Yousuf, who proved to be real friends in difficult times, a single Murad in their films. It seemed the only pathetic in Del Kia Yad Flute Fair and Ghairao. Felt so loyal to his fans all over for him.
Waheed Murad Pictures
| | | | |
| --- | --- | --- | --- |
| Nadeem and Waheed Mura … | November 23rd marks th … | Top ten movies of famo … | Waheed Murad with Rani … |
| … | Waheed Murad with Kavi … | | |
Waheed Murad Videos