Air Chief of Pakistan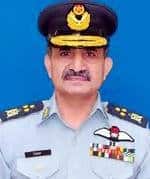 Born in 1955, Air Marshal Tahir Rafique Butt received his early education at PAF Public School, Sargodha. Subsequently, he joined Pakistan Air Force and graduated from PAF Academy, Risalpur in March, 1977.Tahir Rafique Butt was commissioned in Pakistan Air Force on 6 March 1977 as a General Duty Pilot (GD(P)). Among several appointments some important positions include Flying Instructor, Squadron Commander, Officer Commander Flying Wing, Base Commander (PAF Base Mianwali), Air Officer Commanding (Regional Command), Deputy Chief of Air Staff (Personnel), Vice Chief of Air Staff.He has also served as head of the National Accountability Bureau Khyber Pakhtunkhwa chapter.
After doing his Fighter and Operational Conversion Courses, he has flown various types of fighters and training aircraft on PAF Inventory. He is a qualified Flying Instructor and also a Combat Commander on Fighters. He has commanded an elite Fighter Squadron, a Fighter Flying Wing and two PAF Bases.
In staff jobs at Air Headquarters, the Air Marshal has served as Deputy Director Plans, Director Flight Safety, Assistant Chief of the Air Staff (P-O) in Personnel Branch and Assistant Chief of the Air Staff (Training). In senior staff assignments, the Air Marshal has the distinction of having served as Commandant National Security College, NDU, Director General, National Accountability Bureau (KPK) and Deputy Chief of the Air Staff (Personnel). He is a graduate of Staff College, Turkey and National Defence University, Islamabad from where he did his M Sc in Defence and Strategic Studies.
Air Marshal Tahir Rafique Butt assumed the office of Vice Chief of the Air Staff on 05 October, 2010. He is married and blessed with three children. In recognition of his meritorious and exceptionally dedicated services, he has been decorated with the awards of Hilal-i-Imtiaz (Military), Sitara-i-Imtiaz (Military) and Tamgha-i-Basalat.
Education
2001 Master's degree in Defence and Strategic Studies, NDC / Quaid Azam University Islamabad
1995 Master's degree in Strategic Studies, Staff College Turkey
1975 Bachelor's degree in science, Punjab University
1973 FSc, PAF College Sargodha
1971 Matriculation, PAF College Sargodha
Assignments
October, 2010 – Present, Vice Chief of the Air Staff
March 2009 – October 2010, Deputy Chief of the Air Staff (Personnel)
July 2008 – March 2009, Air Officer Commanding, Southern Air Command
December 2007 – July 2008, Commandant National Security College, National Defence University, Islamabad
December 2005 – December 2007, Director General NAB (KPK)
October 2005 – December 2005, Assistant Chief of the Air Staff (Training)
March 2004 – October 2005, Base Commander PAF Base Mianwali
September 2002 – March 2004, Assistant Chief of the Air Staff (Personnel – Officers)
July 2001 – September 2002, Base Commander PAF Base Lower Topa
August 2000 – July 2001, Student NDC Islamabad
August 1999 – August 2000, Officer Commanding No 34 Flying Wing PAF Base Rafiqui
July 1997 – August 1999, Director Flight Safety AHQ Chaklala
December 1996 – July 1997, DD Plans (Ops), AHQ Chaklala
August 1995 – December 1996, DD Plans (Dev), AHQ Chaklala
June 1994 – August 1995, Student Staff College Turkey
July 1993 – June 1994, Student National University of Modern Languages, Islamabad
May 1991 – July 1993, Officer Commanding No 19 OCU, PAF Base Mianwali
December 1990 – May 1991, Flight Commander No 19 Sqn PAF Base Rafiqui
August 1990 – November 1990, Squadron Pilot No 19 Sqn PAF Base Rafiqui
March 1990 – August 1990, AD Ops, AHQ Chaklala
September 1988 – March 1990, Flight Commander No 15 Sqn PAF Base Peshawar
July 1988 – September 1988, Squadron Pilot No 15 Sqn PAF Base Peshawar
January 1988 – July 1988, Student CCS PAF Base Mushaf
July 1986 – January 1988, Squadron Pilot No 18 Sqn PAF Base Minhas
June 1984 – July 1986, Zimbabwe, Deputation Abroad
July 1983 – June 1984, Squadron Pilot No 20 Sqn PAF Base Rafiqui
January 1983 – July 1983, On Course No 9 Sqn PAF Base Masroor
September 1979 – January 1983, Instructor PFT Wing PAF Academy Risalpur
June 1979 – September 1979, On Course FIS PAF Academy Risalpur
April 1978 – June 1979, Squadron Pilot No 19 Sqn PAF Base Mushaf
October 1977 – March 1978, On Course No 25 Sqn PAF Base Mushaf
March 1977 – October 1977, On Course No 1 FCU PAF Base Mianwali
Flight Information
Rating: Command Pilot
Flight Hours: Around 3600
Aircraft Flown : MIR, F-7P, F-6, T-37, SF-260, MFI-17
Major Awards and Decorations
Hilal-i-Imtiaz (Military)
Sitara-i-Imtiaz (Military)
Tamgha-i-Basalat
Professional Excellence Badge
Chief of the Air Staff Commendation Certificate
Effective Dates of Promotions

Air Marshal April 01, 2009
Air Vice Marshal December 02, 2005
Air Commodore June 14, 2001
Group Captain January 01, 1997
Wing Commander February 06, 1991
Squadron Leader September 07, 1986
Flight Lieutenant May 26, 1980
Flying Officer March 06, 1978
Pilot Officer March 06, 1977
Tahir Rafique Butt Pictures
| | | | |
| --- | --- | --- | --- |
| Air Chief Marshal Tahi … | Air Chief Marshal Tahi … | | |
| Graduation ceremony he … | | | Tahir Rafique Butt tak … |
| Tahir Rafique Butt dur … | | Tahir Rafique Butt … | |
| Tahir Rafique Butt app … | | | |
Tahir Rafique Butt Videos