Mohammad Hafeez Pakistani Cricket Player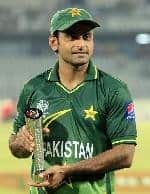 Mohammad Hafeez (born October 17, 1980 at Sargodha) is a Pakistani cricketer. He is a right-handed batsman and a right-arm slow bowler. Hafeez generally opens the batting and also acts as the part of bowling attack. Mohammad Hafeez also serves as Pakistan's national T20 captain.Mohammad Hafeez is a talented opening batsman who can bowl handy off-spinners. He was one of the many youngsters who were picked into the Pakistan side after their dismal 2003 World Cup campaign.
Hafeez has proved time and again that he is a long term prospect for the team. His work on the field is especially remarkable. Guarding the point and cover regions with intense vigilance, he has saved plenty of runs and has pulled some stunning catches. With a good batting technique and temperament to play in the top order, he is an asset to the team.Since 2007, the all-rounder has been a regular feature in the Pakistan side.
International career
Hafeez was one of the several young all-rounders the Pakistani cricket team turned to after their poor Cricket World Cup display in 2003, in which they were eliminated in the first round.
Hafeez scored a half-century on his Test debut against Bangladesh, and in his following Test hit a century. His form with bat and ball would then drop considerably and in late-2003 he was dropped from the Test squad, and soon after the ODI side. With strong domestic performances as well as good showings for the Pakistan A, he remained on the fringes of a recall in 2004. Hafeez returned to the ODI side in 2005 and despite not contributing with the bat, his bowling performances were impressive. In the 2006 Top End Series held in Australia, Hafeez smashed a century for Pakistan A. With Pakistan struggling to find a solid opening pair for Test cricket, Hafeez was recalled for the tour of England. His return to Test cricket was made at The Oval and he scored a fluent 95. Later that year in November, Hafeez retained his place in the side for their home series against the West Indies. After getting starts in the first two Test he would go on to score his second Test century in the third Test in Karachi. He made his 4th ODI century on March, 18 2012 in Bangladesh at Dhaka.
An opening batsman and a handy offspin bowler, Hafeez was one of the young players that the Pakistan selectors turned to after the team's abysmal display in the 2003 World Cup. His performances in Sharjah and in the NatWest Challenge in England indicated that Hafeez could well be a long-term prospect – he showed good technique and temperament at the top of the order and bowled his offspinners tidily, but most impressive was his performance in the field. Patrolling the point and covers region with feverish alertness, he saved plenty of runs and pulled off an amazing catch. His organised approach towards batting ensured that he got an opportunity in the Test team in the three-Test series against Bangladesh. He didn't do badly either, scoring a half-century on debut, and then stroking his first hundred in his second Test. However, his form then dipped alarmingly in the ODIs against South Africa, leading to his exclusion from the Test squad. Soon after he was dropped from the ODI squad as well. He has remained on the fringes of the national squad however with a string of impressive domestic performances, coupled with useful hands for the Pakistan A squad. He was called back to the ODI side in 2005 but failed to achieve any significant results. A spanking century for Pakistan A against Australia A in the Top End Series in Australia during the summer of 2006, allied with the exacerbtion of Pakistan's opening problems on the tour to England, meant that Hafeez returned for the Oval Test annd amidst all debris, his calm and signficant 95 was all but forgotten. He has been adequate rather than spectacular though given the problems Pakistan have with openers, Hafeez is likely to remain involved for some time even with an ordinary average.

Recall and good form
In 2010 he was recalled for the third ICC World Twenty20. he had poor form in it but showed signs of class batting. He was subsequently recalled again for the T20Is and the ODIs on Pakistan's tour of England. He had some good scores in it and had some solid partnerships with opener Kamran Akmal.
Following this good form he was also in the squad that was selected to play South Africa in the UAE. After some impressive score in the opener slot, he was again rewarded with now a test call up. He had some decent scores in the test matches and bowled some tidy overs of offspin as well.At the end of 2010 he was also selected for the party that would tour New Zealand. In all of the T20s he made some good scores including a 46.
In the ICC Cricket World Cup 2011, he started the tournament with a few poor scores with the bat, and was consistent with the ball. Especially 10 overs for just 26 runs against Australia and 2 wickets for 16 runs in quarter final. In the quarter-final against West Indies, Hafeez provided a major contribution to the team's victory with 2 wickets and 60*, receiving the player of the match award. Also in the semi final he scored 43 runs and took a wicket for 31 runs in 10 overs although Pakistan lost the match.
In the tour of the West Indies, Hafeez continued his good form with both bat and ball scoring 267 runs in 5 matches with an average of 53.40, and took 6 wickets at an average of 23.50. . He made his second One Day International century in the fourth ODI, where he scored 121 runs before being bowled by the promising leg spinner Devendra Bishoo.
He was in the form of his life with each bidding round when Pakistan toured Zimbabwe in September 2011 with beating his average of 21 to 27 after the call. Scored his third of a century on all international play in 2011, the second ODI. He was top scorer in the range throughout the series in all formats. He was also dangerous with the ball and take wickets on a specially delivered straight with occasional mixing with 7 wickets in a series of T-20.
After an elegant performance against Bangladesh, jumped to number 2 position in ODI rankings aimed rotor below the most beautiful and happy fellow Shahid Afridi more.
Against India in March, 18 2012 in the Bangladesh National Stadium Sher Bengali, Mirpur in the Asian Cup finals in 2012. He scored 105 of 113 balls and took part in the partnership with Nasir Jamshed 224 range, which is the best opening partnership for India against Pakistan in one day international. Aamir Sohail overtook them and Saeed Anwar record of 144 runs which was released in 1996
Mohammad Hafeez Pictures
| | | | |
| --- | --- | --- | --- |
| chairman pcb press con … | Mohammad Hafeez pepper … | Mohammad Hafeez stiric … | Muhammad Hafeez smile … |
| Semi Final Mohali Paki … | Thursday has named Moh … | Mohammad Hafeez thanks … | |
Mohammad Hafeez Videos