Pakistani fashion model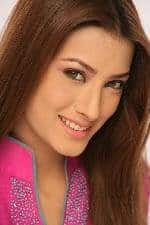 Mehwish Hayat is one of the most beautiful, hot and bold actress of Pakistan Showbiz Industry. Mehwish Hayat was born in Lahore Punjab, Pakistan. Her date of birth or birthday is on January 6, 1983 and her height is 5′7". Its no secret that Mehwish Hayat success is rocketing quite high. The girl has done everything that takes most female models and actresses years to achieve. She has done ramps for many big name designers, she has shoots for several high profile campaigns and editorial magazines.
Mehwish Hayat has worked in many dramas and long plays. Mehwish recent dramas and shows are Aulaad, Prem Lata, Aakhri Saans, Daam-e-Mohabat, Resham Si Shaam, Tohafa, Gulaabi Saari, Pheeki, Khana Badosh, INSHALLAH, Thori si Khushian, Massi aur Malka, etc.
Mehwish Hayat is a part of anti terrorism campaign named "Yeh Ham Nahi". She is representing youth of Pakistan in this compaign. She is trying to to make the right image of Pakistan and its people in the whole world. Mehwish Hayaat is voted as 9th sexiest and hot Asian woman in the world on the list of Eastern Eye 2008.
Pakistani fashion industry is full of new talent and new faces. One such new face with the brand new talent is Mehwish Hayat. Top model Mehwish Hayat was born on 6 January, 1983 in Karachi, Pakistan. She has three elder brothers and one younger sister. Fashion model Mehwish Hayat is counted among the tallest Pakistani models with the height of 5 feet and 7 inches. Mehwish Hayat is also praised a lot for her beauty. Fashion model Mehwish Hayat is also the only actress and model with the perfect figure. Mehwish Hayat has walked the ramps for big designers and has shot for big campaigns.
Pakistani model Mehwish Hayat is also a part of youth campaign to give right view to Pakistani people. Other than that she is also the prominent part of program Yeh Hum Naheen which is a project that runs against terrorism in Pakistan. Mehwish Hayat speaks bravely in rallies, press conferences, and parties for the project. She also appears in advertisements that sponsor the project.
Female model Mehwish Hayat is an amazing actress and is admired by her co-workers, directors, and other actors. The beautiful model cum actress has worked in drama serials Aulaad, Prem Lata, Aakhri Saans, Daam-e-Mohabat, Resham Si Shaam, Tohafa, Gulaabi Saari, Pheeki, Khana Badosh, INSHALLAH, Thori si Khushian, Massi aur Malka, Sherazay Dil ke Darwazey, Thodi Si Wafa Chahiye, Bahu Rani, Mere Qatil Mere Dildar and a telefilm Parchaiyaan.
Pakistani model Mehwish Hayat is a very private person and does not like if her privacy is ruined in any way. Mehwish Hayat gives very less interviews because of which very little is known about her.
Interview
Mehwish Hayat is a beautiful, relatively new entrant in showbusiness who has won many a heart since the word Go. Slim and sexy is what defines her best. And if you think there's some exaggeration perhaps you should listen to this. This beautiful young girl was representing the Pakistani youth all around the world through an anti-terrorism awareness campaign.
It was through this campaign that she came in the eyes of international media and was voted the 9th SEXIEST ASIAN WOMAN IN THE WORLD according to a leading British Asian newspaper's 2008 list while Bollywood beauty Katrina Kaif was chosen as the sexiest Asian woman. Mehwish has done quite a few famous drama serials as well as modelled for many a prestigious brand. Here, she talks candidly about her profession with us.
What sort of a contribution can a model make towards the fashion industry?
The modelling scene in Pakistan is experiencing a boom. What impresses me the most is that it is becoming more professional with good photographers joining the industry who take it seriously and have made an effort to study their craft. I am also happier that Pakistani society is beginning to accept modelling as a respectable profession. As a model there are a lot of different ways of contributing towards the fashion industry, but the most important of all is to promote and support new aspiring models who are equally talented and have potential. All they need is proper guidance. By doing this we can help provide our fashion industry young talent of today and top models of tomorrow.
The industry has obviously given you a lot making you famous, how do you think you can pay back?
I have always believed in working hard. And have experienced that this industry respects and promotes those who are thorough professionals and hard workers. This industry has given me a lot and I can only pay back by not letting those down who expect the best out of me and by making not only this industry but also my whole country proud through my work.
Do you think our models have the capacity of matching the best in this business elsewhere in the world or even our neighbours India?
We have immense talent in our country plus, as I mentioned earlier, our society is beginning to accept modelling as a respectable profession so it's good to see that young girls and boys who belong to respectable family backgrounds and are well educated are joining in. Our models are capable of representing our country all around the globe!
Do you think our industry or market is big enough to give our models the opportunity to do that?
Yes, of course!
Is modelling a lucrative business? What's the commercial aspect of modelling besides the fame and glamour factor?
When we talk about modelling, fame and glamour are the two most common factors that come along with it… But yes, one can make good money out of modelling as well.
Mehwish Hayat How important is a model in the marketing of a brand?
A model is very important as she represents the brand and its various aspects. It's all about the perfect presentation because this is the only way how one can target more and more consumers and convince them to buy your product!
If given a chance what steps would you take to revolutionise the modelling industry?
I'm too young and I am still in the process of learning… I guess I will be able to answer this question properly maybe after a year or so…!
Would you like someone to do it all for you from finding, selecting to finalising the projects?
Are you talking about a manager? Not a bad idea! I guess I should start looking for one!

Mehwish Hayat Pictures
| | | | |
| --- | --- | --- | --- |
| … | … | Mehwish Hayat Bridal D … | Mehwish Hayat in White … |
| … | … | Mehwish-Hayat-Pakistan … | … |
| | | | |
Mehwish Hayat Videos