Javed Shaikh Best Pakistani Actor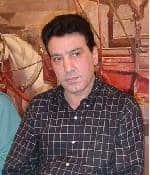 Javed Sheikh is a Pakistani actor, director and producer who is involved with Bollywood, Lollywood, and Pollywood films.
Career
Sheikh's first movie as actor was the Lollywood film Dhamaka, released on 14 December 1974. He since acted in over 100 Urdu films from the 1970s through to the early 2000s.
The first film he directed was Mushkil, released in 1995.. In 2002, he directed Yeh Dil Aap Ka Huwa and also had a supporting role in the film.
In 2005, he turned to acting in Bollywood films, and appeared in movies Shekhar (film) (2005) and Jean-no Man (2006). He played in 2007 appeared in Namaste London, Om Shanti Om and Pakistani film Main Laut Kay Ek Din Aaoon Georgia in 2008, a supporting role in the Gardens. It was his last film as director Khulay Aasman Kay Neechay who was big-budget film, shot in four different countries such as Pakistan, India, UAE and Australia. Film was a flop at the box office, leading to a net loss of Rs. 8 billion rupees.
Sheikh is currently working in a multicultural society of the killing British film honor, which are based on the problem of burning in the United Kingdom, killing anyone in the defense of honor. The film is directed by Avtar Singh Bhogal and produced by Harijinder. The film stars a mix of Pakistani and Indian authorities and the British, including the famous Pakistani model and actress, Zara Sheikh, Prem Chopra, Gulshan Grover, Tom Alter and debutant Sandeep Singh. Has been completed filming in England and there are plans to release March 2010. Will be held for the first time in Lahore, Mumbai and London.
Personal life

Sheikh's first marriage was with Zinat Mangi, a small time TV/film actress of that era with whom he has a daughter, Momal and a son Shahzad. After divorcing her, he had a long affair but short marriage with Salma Agha, another famous British born Pakistani singer/actress of that time. Since then Javed Sheikh has had several relationships with famous actresses like Neeli and Sana. Although it is widely assumed that he had a brief marriage with Neeli but both parties deny it. Since the divorce from Salma Agha, he is still officially single. In April 2009, in a morning television show on Geo TV, Sheikh admitted that he has moved to India to facilitate his working in Bollywood films.

Selected filmography
As a director
* Mushkil (1995)
* Chief Saab (1996)
* Yes Boss (1997)
* Yeh Dil Aap Ka Huwa (2002)
* Khule Aasman Ke Niche (2008)

As a film actor

Year Film Urdu Hindi Role
2000 Mujhe Chand Chahiye Razi
2002 Yeh Dil Aap Ka Huwa یہ دِل آپ کا ہوا
2005 Dus دس Dan's boss (scenes deleted)
Shikhar Srinath Vardhan
2006 Jaan-E-Mann جان من Piya's father
2007 Apne Roy
2007 Namastey London Parvez Khan
2007 Om Shanti Om Rajesh Kapoor
2007 Mein Ek Din Laut Kay Aaoon Ga Khan
2008 My Name is Anthony Gonsalves Inspector Khan
2008 Jannat Abu Ibrahim (Don)
2008 Money Hai Toh Honey Hai Prakash Arora

As a television actor
* Insan aur Aadmi
* Shama
* Aagahi
* Panah
* Fifty Fifty
* Parchahiyaan
* Ankahi
* Pagal Pan
Interview
Will Khulay Aasman Ke Neechay be the first Pakistani film to be released simultaneously in India and Pakistan, as well as abroad. I believe strongly that only through the exchange of films between India and Pakistan that the way to the people to people contact can be paved on a large scale, says Sheikh Jawad
Javed Sheikh Qutb Pakistan film will reach the peak of his career ornamental Town in 2007, with the release of its production, Khulay Aasman Ke Neechay, the most expensive film ever in the house.
In the chat, chit last with the old man who is in India these days of post-production work (Read dubbing) on the film, spoke of Chief Representative and Director of the youd at length about the activities at the present time to him and his roles in Indian coming films.As arrived at his residence Cantt during the afternoon, Lahore model, a confident-looking Javed Sheikh and a broad smile and welcomed me to sit between the office by placing his room.Amidst smoking cigars and receive calls on his cell phone rings constantly, and love, at Lollywood shared openly his thoughts, ideas and future projects.
A lot is being speculated about Khulay Aasman Ke Neechay (KAKN) regarding its showing in India?
Yes, it will be the first Pakistani film that will simultaneously be released in India and Pakistan, as well as overseas. I strongly believe that it is only through the exchange of films between India and Pakistan that the way for people-to-people contact can be paved on a large scale.
When is KAKN slated for release?
I'm trying to release it on Eid-ul-Fitr in October and with it, new vistas will hopefully open both for Pakistani and Indian film-makers because there are a number of subjects of common interests on which independent or co-productions can be produced.
It's a high-budget film as I have invested Rs.8 crores on KAKN. It's the most expensive film ever produced by any Pakistani film-maker.
Original music and script are two things Pakistani cinema seems to lack. What is the position of your film in this regard?
I have never compromised on quality or originality for my productions. I'm of the view that originality is all about one's dedicated effort. The music of the film has been composed by the late Amjad Bobby. The film has been written by Babar Kashmiri but the basic idea of the movie is mine. Although it is a commercial venture, it does have undertones of a strong social message.
The word on the street is that a number of Indian singers have lent their voices to the film's soundtrack?
Yes. There are seven songs in the Factfile
Javed Sheikh stepped into the world of glamour as a lead actor back in the 1970s, and his journey thereof speaks volumes of the success of a self-made man as he belongs to family that has absolutely nothing to do with show business.
Javed Sheikh was smitten by the acting bug at a tender age. He was cast as a child star in the film, Insaan Badalta Hai, in 1961. From 1968 onwards, Javed frequented stage shows and Radio Pakistan programmes. Perhaps it was then that the seed of artistic revolution was sown deep inside his soul. He debuted as the lead actor in director Qamar Zaidi's film, Dhamaka, opposite Shabnam in 1974.
Javed Shaikh Pictures
| | | | |
| --- | --- | --- | --- |
| | | Paresh Rawal talking t … | |
| Some popular Drama ser … | Parikshit-Sahani-D.-K. … | | |
Javed Shaikh Videos