Pakistani dramatist, playwright and scriptwriter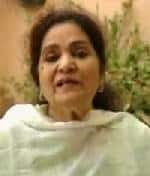 Haseena Moin is a famous Urdu dramatist, playwright and writer. She was born in 20 November 1941 at Kanpur India .Her family moved to Rawalpindi Pakistan after Partition in 1947.She got his Master degree in history from Karachi University.
Hasina Moin started writing plays for radio Pakistan and later she wrote plenty of popular drams for Pakistan Television her television plays have earned international repute.Ankahi , Tanhaiyaan , Dhund , Aahut , Dhoop Kinay , Uncle urfi , AansooPal do Pal and Dhundle Raste are some of her super hit TV serials.
Early life
A native of Kanpur, the most populous city in the northern Indian state of Uttar Pradesh, Haseena Moin received her early education in her ancestral region and, after the partition of India, migrated with her family to Pakistan. She lived for a number of years in Rawalpindi, then moved to Lahore and, in the 1950s, settled in Karachi, where she graduated from the Government College for Women in 1960 and Mastered in History from Karachi University in 1963. Her radio and television plays have earned international repute.
Claim to fame
Her fame started laying its foundation when she regularly wrote some memorable plays for Radio Pakistan Karachi's all time popular "Studio Number NAU" (which, incidently, produced artists like Talat Hussain, Sajida Syed, Santosh Russell, Mughal Bashar, Mehmood Ali, Qazi Wajid, Talat Siddiqui, Rehana Siddiqui, Neelofer Aleem, Mahmood Khan Moodi and Jamshed Ansari. Professionally, Hasina took up the educational pursuits and did teaching and rose to the level of Principal.
It was in 1969 that Iftikhar Arif, Head-Script at PTV-Karachi Centre, called Hasina and offered her to write a play for the then-forthcoming EID. Initially Hasina was shocked, but took courage to pen down a play. The cast was also decided by her with Kunwar Aftab Ahmed as the director. Hence came Eid Ka Jorra with Neelofer Aleem and Shakil in lead, supported by Khalid Nizami and Ishrat Hashmi. Thereafter came serials and plays like Shehzori, Zeir Zabr Peish, Uncle Urfi, Unkahi, Tanhaiyaan, Parchaieyen, Bandish, Dhund, Dhoop Kinarey, Aahat, Kasak, Pal Do Pal and Tere Ajane Se. Her play Gurya was directed by Shirin Khan with cast members Manzoor Qureshi, Shahla Ahmad (Bina of Uncle Urfi), Azra Sherwani and Raju Jamil, won an award at the Global TV Plays Festival in Tokyo for best script and direction.She was the writer of the first colored drama of Pakistan, aired on PTV called "Parchaiyan", which had a huge star cast and was directed by Mohsin Ali.
Hasina is recipient of President of Pakistan's Pride of Performance award. She has introduced many legendary Pakistani dramas like Shakeel, Shehnaz Sheikh, Marina Khan, Nadia Khan, Nadia Jamil, Salman Ahmad and many more. Many actors rose to fame due to her serials, including Roohi Bano, Khalida Riyasat, Azra Sherwani, Behroze Sabzwari, Badar Khalil, Qazi Wajid, Jamshed Ansari, Sania Saeed and many more.
Success
PTV thrived on the sophisticated and very funny serials that Haseena Moin scripted. In the absence of a vibrant theatre tradition in the country, television presented the budding playwright with the perfect opening she needed. Her drama serial Dhoop Kinare, which aired in 1987 and was famous in Pakistan as well as India, is remembered by many people in India by the name of Kuch Toh Log Kahenge. It was re-written by popular Indian writer Kamlesh Pandey, who stated that by remaking this play he has paid tribute to Hasina Moin.
Films
Hasina Moin also ventured into writing films, she only wrote two films. Her first film was Henna which was an Indo-Pak love story. The film was Raj Kapoor's dream project and he requested Hasina to write the dialogues for the film for which she agreed, but when the film was in production stages Raj Kapoor passed away and the film was then directed by his son Randhir Kapoor. Upon the release of the film the film was a box office success and was also chosen as India's entry for Best Foreign Language Film at the Oscars. The film starred Zeba Bakhtiar (also from Pakistan) in the lead role along Rishi Kapoor, Ashwini Bhave and Farida Jalal. Hasina's other films include Kahin Pyar Na Ho Jaye which was a Pakistani film she wrote in 1998. The film was directed by Javed Sheikh and the cast included Resham, Shaan and Saleem Sheikh. Before the release of the film the film was heavily hyped and was expected to be a success but eventually the film could not perform well at the box office. She also wrote the dialogues for the 1986 film Nazdekiyan which was directed by Usman Peerzada and the cast included Samina Peerzada and Usman Peerzada, the film was acclaimed and won prestigious National awards. She also wrote the script for 1978 Waheed Murad starer Yahan se Wahan Tak, the film was produced and directed by Syed Kamal.
Recent Work
All of her plays highlight serious issues with a bit of humor. Her classics like Dhoop Kinare have been adapted for Indian television. She had also written the dialogues for the Indian movie Henna and she has also written a play for India called Tanha, which become widely popular during its run. Her recent drama Choti Si Kahani aired in May 2011 on PTV Home, had a huge star cast and was directed by Kamran Qureshi. It was well received by the critics and the audience. It focused on the story of three friends and their problems and how they are related to each other.
Her upcoming projects include, Hamari Behan Maya which will be directed by Ali Rizvi, the director who gave super hit dramas like Des Pardes and Aansoo with Hasina Moin. Besides this Hasina Moin is writing a mega play for Media City Productions which will introduce some new faces.
Another upcoming mega serial by Hasina Moin is "Anjaane Nagar" the play would be set up in 1939 and would be shot in Murree, it will be directed by Khawaja Najam ul Hassan and will feature some new faces like Yamina Peerzada.
Interview
Hasina Moin/Haseena Moin Drama writer Unedited interview about exploration of themes over the decades Herald Special Lifestyle issue
1960s When I was in college in intermediate, I started to write caricatures. These would be published in magazines. I used to write humorous caricatures about college mates, teachers, myself and about college. Then one day radio Pakistan sent a circular to our college saying that we would like college girls to submit a drama for us and its duration should be of 25 minutes. My Urdu lecturer Mrs. Salma Haqqee asked me to submit a play but I told her that I don't know how to write a drama or even write; all this writing that I do is just a joke, so she said just write this joke then. So I wrote the drama in 2 days in college and submitted it. The drama was titled Patriyaan and was produced by Agha Nasir, because it was hilarious it even got an award and this is how I got my break in writing. When I started to write, plays and serials in those days would be made on books and published works, I was the first person to write an original play. A lot of people were against it when I was writing Kiran Kahani, an original serial but then a lot of people also supported me as well. After my serial producers started to direct serials based on original storylines.
Beginning in the 1970s associated with the themes in my life, my writing. When a person is young, I found life to be beautiful, colorful, every emotion is beautiful. We had a lot of brothers and sisters who were very similar, and was noisy, and my father is very loving towards us and towards each other and that influenced my writing a lot. All of this brought me in TV series such as Shehzori, customary Uncle and Kiran Kahani. And each of these plays are full of laughter and life and glamor.
1980s is reflected in the 80S and hope my writing life, kindness and beauty. Then I changed my style of humor on the seriousness on the proposal of Shoaib Mansoor. He told me that if you can write comedy well so you can do a good job with the writing of serious, why not try. To Jashn-E-Tamseel wrote a play for PTV serious "sangsaar". I even received an award for it. I then wrote a series of "Parchaiyaan" based on the "Portrait of a Lady" Henry James novel.
1990s and then approached my own production company and asked me to write about Pakistani families living in deplorable conditions in Scotland. I was invited to visit them and meet them and know their status. Did it go, and met many families and this is how I wrote Des Pardes, Aansoo and the castle. Then based on conditions Karachi wrote a play shop Darya. Started in 1992 Aahat, a series based on family planning and Tansen, who was a historical series. Even stylistic change in the tone more serious in the 1990s. The first series Aahat in Pakistan, dealing with family planning,
2000s, and now I write very less. Currently my series Meray Dard Ko Jo Zubaan Milay on the air. This series has a historical point of view as it relates to cruelty that women had to bear since the ages Moenjodaro dating back almost 5000 years ago. I have written is always on women simply because the literature Urdu who grew up reading the stories and was always in a woman who had grown up always, and that there were in subjects women to sacrifice themselves, and that they should sacrifice, and will commended for keeping quiet and that was irritate me and I hate it . The souten comes to my house and the first wife in which they are preparing food has, and will be praised to the border. I thought it was really ridiculous. This thought stayed in my subconscious. Even when I started writing plays, portrayed strong girls. When it was first Shehzori in the air, and controversial. I wondered what I'm trying to teach the girls. They have to do what they want? I told them not look badtameez heroine, but what do you think is right and will not do what is wrong, this is a right which should be every woman.
Haseena Moin Pictures
| | | | |
| --- | --- | --- | --- |
| Haseena Moin … | | | |
Haseena Moin Videos