Pakistani TV Drama Actresses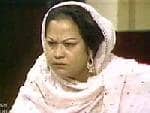 Azra Sherwani (1940–2005) was a Pakistani television actress with a career spanning over 35 years who played a variety of roles.
Television career
She began her career with the Rawalpindi Studios of PTV in the late 1960s. Amongst her most memorable roles are Apa Begum in Tanhaiyaan, Ghazi Apa in Uncle Urfi and Fazeelat in Dhoop Kinarey.
One of the most loved and celebrated artists of television, Azra Sherwani was born in the Indian city of Meerut in the year 1940. Starting her acting career on television towards the end of sixties, Azra was introduced to television by the late producer Shahzad Khalil in his plays Platform and Bi Jamalo, aired by the Pakistan Television Corporation (PTV).
Being the wife of an Air Force officer, Azra's life was primarily spent outside Karachi. However, after her husband retired, she settled in Karachi and that is when her acting career really took off as she became an in-demand actress for all drama producers. With a career that spanned over 35 years, Azra played diverse roles and each of them established her as an actress with immense acting talent.
Working with the topmost directors of PTV at the time including the likes of late Shehzad Khalil, late Shereen Khan, late Mohsin Ali, Sahira Kazmi, Sultana Siddiqui and Zaheer Khan, she played a number of unforgettable roles. The most popular roles that she played included Aapa Begum that she played in 'Tanhaiyyan', Fazeelat in 'Dhoop Kinarey', Ghazi Aapa in 'Uncle Urfi', Bushra Ansari's mother in the epic drama 'Aangan Terha' and the title role of Khala Khairan.
Most of the dramas Azra was cast in were written by the best writers of PTV including Haseena Moin, Anwar Maqsood and Fatima Suraiyya Bajiya. As a result, all her characters were given the chance to follow the impeccable scripts written by these remarkable playwrights, with her dialogues becoming immortalized in people's memories.
With her impressive expressions and dialogue delivery, Azra also appeared in a number of television commercials. Although she used to play supporting roles and usually in the presence of a stellar cast, she would always stand out because of her incredible performance. In the later part of her life, she moved to USA, where she breathed her last on December 19, 2005.
Sherwani worked with some of the best producers in the country including the late Mohsin Ali, late Shereen Khan, late Shehzad Khalil, Sultana Siddiqui, Zaheer Khan and Sahira Kazmi. She also worked with some of the best writers of her time including Fatima Surraiya Bajiya, Haseena Moin and Anwar Maqsood.
The role of Apa Begum in Haseena Moin's Tanhaiyaan was undoubtedly the most famous of her career where Shahzad Khalil cast her as a tough taskmaster who ill-treated her employee, Buqrat, played by the late Jamshed Ansari. She logically argued (and winning in the end, of course) with him as to why he should get bus fare when walking can improve his health and solve the problem. Her character wanted her brother (Qazi Wajid as Faran) to marry a dominant woman which, fortunately, does not happen.
As Ghazi Apa in Uncle Urfi, she stood between the two love birds, quarrelled regularly with Hasnat Bhai (Jamshed Ansari again) and was the dominant force behind the extremely funny Shaheer Bhai (the late Qurban Jilani). Azra played the selfish mother of Sitara (Atiqa Odho) in Sitara Aur Mehr-un-nisa and the despised mother-in-law aka Saliha Begum of Mahboob Ahmed (Shakeel) in Aangan Terha with Bushra Ansari and Saleem Nasir as Akbar, the live-in Man Friday with a passion for classical dance.
Then she was villainous Mai Jaina in Mira yes Mangu in the early 1970s – a play about professional beggars – while she excelled in Parchaiyaan Haseena a certain part of the star cast Kazmi include Rahat, Sahira Kazmi, Shakeel Hussain Talat. Held her in Afshaan Bajiya, with fellow team members Mohammad Shafi, Shakeel, Qazi Wajid, Hashmi Begum Ishrat Mirza Khurshid. In short, her talent representative personal standards work on Pakistan Television.
Azra Sherwani worked with actors from all generations – and I find the judge, Subhani Ba Yunus, Ahmed Imtiaz, Begum Mirza Khurshid, Qurban Jilani, Shakeel, Muhammad Shafi, Iqbal Talat, Anwar Maqsood, Glory largest, Sabzwari Behroze Sheikh Shahnaz Khan Marina , Ishrat Hashmi, Jamshed Ansari, Babar Ali, Ali Mazhar, Mishi Khan, Odho vintage, happy Sanya, Sajid Hasan Imam and Sadia.
Azra Sherwani injured when the advent of production arising from the decline in the quality of plays on PTV, for some time, and work in plays such as Kanwal, Bajiya in the cave Nagar Lake and minimum Sultana Siddiqui Doosri. Most memorable role was during the latter part of her career that Lagoons Khala in the series raised Humayun of the same name. It was like her character she disagreements with Qazi Wajid, the tenant in the house of a maternal uncle people who refuses to leave or pay rent.
Dramas
Dhoop Kinarey (1987)
Tanhaiyaan (1986)
Uncle Urfi (1972)
Aangan Terha
Sitara aur Mehr-un-nisa
Remembrances
Qazi Wajid, who worked with her the most from 1970s to 2000, said she was a sincere actress and an amazing friend with whom there was not a single moment of boredom. "We were waiting for her to pay us a visit since she was in the US with her son but instead, she bid farewell and left us all."
Playwright Haseena Moin remembers her as an irreplaceable asset who always delivered the very best when it came to acting. "She was a lively character, very sweet and full of life. On the set, she was Azra apa but when the camera rolled, she became the character she was playing and no one could say that she was the same person. All her characters in my plays had shades of positive and negative characteristics and handling them was her forte. She was one of those people who acted for their love of acting and not because of money, which is quite opposite to the acting scenario right now. Getting an actress of her calibre is not only difficult but also impossible. The best thing about her was that she had no issues about her educated background as she easily donned the character of an aaya (Fazeelat) in Dhoop Kinaray while was also the rich begum sahiba (Apa Begum) in Tanhaiyaan."
Badar Khalil was all praise and said she knew Azra Sherwani even before her marriage to Shahzad Khalil. "To me, she was a great human being and I can't forget the way she loved me and my husband. She was very upset when my husband passed away since she regarded him as her son and also since he was the one who introduced her on television. After his death, she refused to work for TV for sometime since she felt that she couldn't go near the TV station without Shahzad there. I still can't believe that she is no more among us."
Behroze Sabzwari became quite emotional when asked about her and said she was a great lady and learned people like her should grace acting since the art needs them. "I knew her for more than 30 years and I can't forget the love she gave to me. She was jolly on the set, while brave and loving in real life. She treated me more like a son than a colleague as I was very young when I started acting. She was with me when we did Mera Naam Mangu and Saleem Ahmed's Tabeer and Bajiya's Aabginay. All those who worked with her miss her but to me, she will always remain special."
Azra Sherwani was also associated with advertising and was part of renowned advertising agencies, churning out memorable commercials on TV and the print media as a member of the creative and client management departments.
Her viewers remember the pan-chewing, sari-clad and dominating Apa Begum who showed her anger by repeatedly saying: "Warna mujh se bura koi nahin hoga." There was no one better than her when it came to character acting as she always portrayed her characters to perfection, making them memorable and lively.
Personal life
Sherwani was born in Meerut, India, according to family sources. She married Nafees Sherwani, Air Commodore in the Pakistan Air Force.
She died on December 19, 2005, in Oklahoma City, USA.
Azra Sherwani Pictures
Azra Sherwani Videos