Anwar Maqsood Playwright/ Lyricist/ Painter/Anchor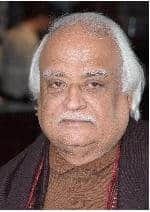 Anwar Maqsood has enjoyed success with several of his plays and poems, and it can be said that his contribution with the media is genetic. His family comprises of highly esteemed literary academics such as Zohra Nigah and Fatima Suraiyya Bajia.
Anwar Maqsood Hameedi commonly known as Anwar Maqsood or Anwer Maqsood is a Pakistani playwright, poet, television host, satirist, humorist, infrequent actor and painter. He has worked in the entertainment industry for over over 35 years.Anwar Maqsood has enjoyed success with several of his plays and poems, and it can be said that his contribution with the media is genetic. His family comprises of highly esteemed literary academics such as Zohra Nigah and Fatima Suraiyya Bajia.

Life and career
Anwar Maqsood studied at the Gulbarga trust School Aurangabad. He has worked as a host for a variety of shows on PTV. His work has included Studio Dhai (Studio 2:30) and then Studio Ponayteen (Studio 2:45) along with Show sha and numerous other shows. His work incorporates humor, satire, and an approach to hard subjects in lighter vein.
Family
He belongs to one of the medium class families in Pakistan. His famous sisters include Fatima Surayya Bajia, Mrs. Kazmi and Zubaida Tariq (cooking expert). His son Bilal Maqsood is a pop singer.
Plays

On PTV
* Fifty Fifty (sketch comedy)
* Show Time (Comedy interactive show)
* Aangan Terha (Mini series)
* Half Plate (Theatrical teleplay)
* Silver Jubilee show

On NTM
* Sitara Aur Mehrunnisa (Drama)
* Nadan Nadia (Comedy sitcom)

On ARY
* Loose talk
* Majoo Mian

Interview
At one time script writing was obscure department of television programming. The writer of even the most popular shows on PTV went unnoticed. Anwar Maqsood struggled to get out of this obscurity in the early seventies and then eighties.
At that time people rarely asked, Who is the writer? when appreciating some thing that caught their attention on the idiot box. Hence most of us do not know that Anwar Maqsood first wrote for Zia Moyeuddin for his groundbreaking the Zia Moyeuddin Show. Later when he began writing skits for Fifty Fifty only then Anwar sahib seemed to be able to deliver the razor sharp, witty retorts, repartee and one-liners.Hence, he appeared in front of the camera armed with a barrage of question for his dubious guests/characters. One thing that was always apparent in Anwar's work was his ability to poke fun at the most serious issues plaguing our society.
Indeed there were times when the audiences were left agape at the hard-hitting truth behind the comical lines that he churned out. One can easily recall the poker-faced interviewers of Fifty Fifty that questioned the corruption rampant in the electricity department or the red tapism the ordinary fellow faced for the simple task of playing the phone bill.Later Anwar was associated with hilarious shows like Shosha and Showtime, not to mention Silver Jubilee a talk show he hosted and penned. On the talk show, he brought extraordinary talents like Razzaq Raju, Benjamin Sisters, Sajjad Ali and Wahab Khan to limelight.
It seemed that the public could not get enough of this guy's titillating wit and inimitable style. The memory of Aangan Tehra is still fresh in the minds of the audiences through which Anwar Sahib proved his capabilities as a scriptwriter for a full-length television drama series. In fact, Aangan Tehra appeared at a time when there was absolutely no or very little concept of sitcoms on TV. This program was a milestone in comic television shows.
The kind of satire that the insuperable writer could play and communicate with (by virtue of one dimensional yet meaningful characters like Chaudry Sahib and His rustic sister, sissy servant Akhbar to the retired government officer Mehboob and his churlish wife) was something that PTV viewers were not habituated to. Aangan Tehra is now an alienable part of local television's glorious history.
The early nineties saw Anwar Maqsood at his naughty best. He came up with Studio Dhai, which not only got him in a spot of trouble but also kept the audiences in stitches. It was another attempt at bringing to light the glaring misconduct of the various government departments of our country and hilariously portrayed the trials and tribulations the common man suffers at the hands of departments that are formulated to actually help society.
That was precisely the show that established the deadly duo of Anwar Maqsood and Moin Akhtar. Moin was spectacular in his multifaceted performances, wearing many a grab, adopting many an accent and taking many an evil individual of society to the cleaners. Moin had also collaborated with the writer on Showtime. However, Studio Dhai was banned from PTV after the airing if its sixth show, for reasons best known to authorities. Still, that didn't dampen Anwar sahib's spirits. A little later he turned up with Studio Poney Teen, which was also a very well received program.
These days Anwar Maqsood has become choosy. He is not found writing scripts prolifically. Besides, his last tele venture, a drama serial, Colony 52, aired a year ago, couldn't attract as much attention as his earlier shows did. But his fans know that the writer has many tricks up his sleeves. You never know when and where he will pull a new rib-tickling rabbit out of his top hat. The Anwar Maqsood I knew in the university of Karachi, where he was my contemporary in the mid-sixties, is a far cry from the Anwar Maqsood of the eighties and the nineties. At that time during free periods, he would find as audience who would be entertained by his rib- tickling mimicry.
And in the same days the ardent lover of Urdu poetry in him would often find a group of students listening in rapt attention as he recited couplet after from both classical and modern poets. One was impressed by his wonderful memory. No one at time thought that he would some day become as entertainer or a writer of TV serials.During his career with a bank, after graduation, Anwar went into oblivion, only to come back as a columnist in Hurriyet. That was just the beginning; he climbed up the ladder of popularity when he started writing for TV and began to host chat
shows. Today, Anwar Maqsood the entertainer dominates Anwar Maqsood the man, so much that when he speaks to you he sounds like the man who mouths those funny and sometimes not-so-funny lines on TV. He is reminiscent of famous actors, who find it difficult to come out of the aura that they have created on the screen. Why haven't you been able to repeat the success of Angan Terha or even studio dhai? It seems you have become a spent force as far as humor is concerned?
Angan Terha was conceived and presented in a different milieu. Those were the days of Zia ul Haq when there were restrictions on the classical dance. I knew quite a few classical dancers who were left with no assignments. Saleem Nasir did quite a fine job enacting the role of a classical dancer who, out of sheer necessity, becomes a cook in a household. His lines sounded quite hilarious in those days. And as far a.. for Studio dhai, from the feedback that I got Studio Poune Teen that followed, was no less successful, he defended himself.
There was more to Angan Terha than Saleem Nasir's lines. There was Shakeel in his first light role. Arshad Mahmood was very good too and Bushra Ansari was just as hilarious as Saleem Nasir. I think Angan Terha has a timeless quality about it. It's well over years since Zia ul Haq departed and yet if you watch the video of Angan Terha today, the lines will titillate you. There was spontaneity, which is missing in your humor today. Obviously spontaneity and freshness do not last long. Take the case of Mushtaq Ahmad Yousufi, his last book doesn't have the same quality as his earlier works, particularly Chragh Taley, I argue. I agree with you that spontaneity doesn't last long.
The owner of the first two books Yousefi quality to a large extent but the last two games and seems to lack in that. But one must admit that what he is doing a lot of homework. Do you appreciate that humor writing, particularly for television, is a sensitive work. It's like walking on a tightrope. You have to keep a clear line that divides the humor of what we call in Urdu phakkarpan. He also said you have to avoid sounding stale. Anwar is the author intended is rare. If back and forth can be written Angan Terha and Studio Dhai and win glory, he can win the applause of the samples of fine plays and serials such as serious sickness Mad-E-Sitara Mehrunnisa and Ur. Where to go pick up his soul when his paint brush / why he has not done the fees and charges?
Cartoons I were not already done, but during the days as a journalist, and I did not draw caricatures of celebrities, he recalled.His a favorite among his writing for television is Shousha, who presented Shafi Mohammed, Hussain Talat and Sheikh Jawad as funsters for the first time . The sound Nasser essayed comedy only once before. There was also, and so it was the judge and find.
Among all those who performed it so far, he is classified Bushra Ansari higher. It is a multi-use. The man, who also gave a wonderful funster in the Silver Jubilee, Razzaq Raju they can mimic Noor Jehan, Musarrat match and Salma Agha or be the same in comedies, dramas and serious in that they can moisten your eyes with equal ease. Was the best that he has a great sense of timing, something very few comedians and, I remembered Anwar intentional.
Why do TV when he can earn much more by doing shows? I asked. I get the public through television is the largest at the end. What did not mention that the performance is like and choose to stay in the memory of certain people by appearing on television. If they stop doing so the demand for theatrical performances will begin in wane.Incidentally, Anwar last week completed 30 years meant his association with the television in Pakistan. On December 20, 1967, and was aired first play hero, who wrote, and also played the title role.
A lot of people do not realize that was a pioneer in the trend of singing cover versions by a program called The Silver Jubilee, written by Anwar intentional. And provided some of the finest figures of our film, which was limited to the records of 78 rpm scratchy, a new lease of life in this program. Began the new generation of the eighties of the last century to enjoy the melodious numbers like Noor Jahan, Terry de mukre tilway Kalla Kalla and proper satisfaction to Jane, baharan, rashke Shaman.
Thanks also to the Silver Jubilee and we got to listen to the sisters, Benjamin, who came with a bang. They sang in one voice, so to speak. And re-recorded quite a few very old subjects. The albums are good sellers and as it turned out that the pirates sell their cassettes more than EMI did.The came in a television program on the basis of cover versions of music by composer Khurshid Anwar old. The title of this Reem Jhim, after his popularity Jhim Rim side by side, the edge of jhim pade phuwar KOEL film. And provided two versions of the duo by Nahid Niazi, Najma Niazi, Noor Jehan and Muneer Hussain.
Similar programs at a later time, and under the same title hits the display consists of three directors of other great music € "Syed Ghulam Haider, Feroz Nizami and Attre Rashid. Were all these versions available on the cover of the cassette too and they did well treasonably in terms of sales as well. Ike many of us, I look with awe at this man who is Anwar intentional. I admire him for his memory is fast, and the sense of pieces of humor, puns him to speak, for accuracy and timeliness in his statements contradictory. I admire him for the skill of him because of his writings, representation, and compares him, his paintings , insatiable passion for fine arts.
I admire him most for his courage for standing in the face of these difficult times, high as a rebel on this deteriorating social order, to combat the errors with the belief in the film rights, being described as a blasphemy against the Pharaohs in today's political life. Sufficient reason why you are eager to meet him, said to him, to know him, even if superficially, to gain experience of talking to him …
On that morning of July for a nice, and you've jotted down in a reservoir in my opinion, all that I had always wanted to ask him. Jotting down on my note pad, and I drafted him and with him on stage, all were appointed to besiege him with questions that remained unanswered. It's not a person easy to get to know, and he has invisible barriers around it. Say what he wants to say. And yes, even wittier is the person who is on the screen.
Carelessly dressed in his typical crew-neck black tee with trousers and khussas, A.M. (as he fondly called) holds his packet of Dunhill and a pan in his hand. Ask him, Kya haal hain, and you get, Leave alone hall (present), lets talk of the mustaqbil (future), in return. We settle down over a cup of tea and the conversation begins.
He loves to reminisce about his past he still has strong links with his childhood. From a talented clan of ten brothers and sisters, his family tree boasts of Fatima Surriyya Bajiya, Zahra Nigah (poetess) and Mrs. Kazmi (dress designer). Your environment has a lot do in bringing out your talents. I guess we inherited a lot from my naana. He was a poet, a student of the classic Urdu poet Daagh Dehelvi. Bajiya wrote her first novel at the age of twelve, he says. Very few know that he belongs to Hyderabad Deccan. But they speak articulate Urdu and not the native Hyderabadi version of Urdu, because our elders wouldn't talk to us for days if we said much as aiyyo maan.
Time blossomed the artist in him he got down to painting. With some forty exhibitions to his credit, A.M. claims that only the true connoisseurs of art know that he is a painter. His caliber can be judged by the fact that his painting is booked for sale long before them near completion. Yet, life's realities ask of you to follow a dictated a profession at times to keep apace with inflation and basic human needs. He ended up at a semi Government organization. But he confesses it was not his cup of tea. His carving to revert to the world of creativity drove him to the telly scene twenty-six years ago. Meanwhile his passion for music brought him to EMI where he worked for a solid ten years. His first play was Mehman, way back in 1967.
Since then, there's been no looking back. Shosha, Fifty Fifty, Angan Terha, Silver Jubilee, Studio 2½ , Sitara Aur Mehrunnisa, numerous long plays (the most recent one being Half plate and now the match talked- about and looked forward to Stuodio Poney Teen. Aangan Terha was my best play. I was asked to go with it endlessly like Sona Chandi, but I knew that its beauty lay in ending it off in precisely 13 episodes. It was not just the script my team of actors was literally crying when it ended. I ended it by jumping 20 years later and making the central character appear old so that no other playwrights could on writing my play, he reveals.
Can this man see tomorrow? Is he something of a political clairvoyant who can see what is coming up next on the country's historical agenda? For Anwar Maqsood had used the lota as the election symbol of Mehboob Ahmed in Aangan Terha many years ago. And it is today that the lota symbolizes the spineless politicians who join hands with any party for a few bucks, sans integrity and values.You see the lota has no character of its own. Anyone going to the washroom takes it along for his own dirty needs and the lota helplessly goes along. This says a lot, he says with candor.
A question he is often lambasted with does he deliberately write so strongly to raise controversies and make jabs at government officials and departments? Well, I know that a lot of Studio Poney teen shall be snipped off and some of the episodes might never go on air, he says and changes the subject. Evasive he is! I've nearly for gotten my original question when my memo pa screams at me.
I repeat my question, interrupting him. No, I don't do it for publicity. I've had enough of it since the last 26 years. Besides what is wrong is what has to be corrected. I just want to do my bit to correct the system, he says. And which part of this defective whole has to be corrected first? The whole system shall have to undergo a revolutionary change and evolve into something better, he says.
Anwar Maqsood Pictures
| | | | |
| --- | --- | --- | --- |
| | Anwar Maqsood1 … | | Anwar Maqsood host Tel … |
| Anwar Maqsood with smi … | | BUSHRA ANSARI WITH ANW … | The Legendary Anwar Ma … |
| | | | |
Anwar Maqsood Videos