Urdu Novelist, Playwright Drama Writer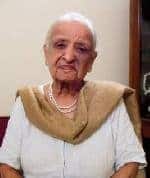 Fatima Surayya Bajia is a well known Urdu novelist, drama writer and playwright from Pakistan. She was born in Hyderabad, India and she has not joined any formal school. Her all education took place at home but despite it she is ranked as an eminent intellectual, reader and writer. She has been awarded many different awards in Pakistan and in abroad including "Japan's highest civil" award in acknowledgement of her work. She has also remained the advisor of "Chief Minister" of Sindh province of Pakistan. One statement of Fatima Surayya Bajia in Dawn:
"In this time of unrest and ugliness, of distrust and mayhem, I want to point out good in society."
She is a well-known personality of Pakistan and has a close relation with radio, television and stage as a feminist. She wrote her first long play named as "Mehman". She offers her services for literary program "Auraaq" and beauty care program "Aaraish-e-Khaam-e-Kakal". She also produces some programs for children and great programs for women especially she is the founder of "Khwateen key Meilaad". She is just 16 years younger then her mother and every one in her family has blessed by her special skills. Her personality is like "open darbar" because he never said No for any work and therefore any one can go to her to get solution of his/her problem. When you go to her home she will invite you for lunch or dinner.
She likes sweet dish too much which is made by one of her lovely neighbor girl. This girl is from some other country and makes a very special "Burmees" sweet dish and bajia loves this dish. This girl's husband is an advocate and Mr. Advocate and his wife is very dear to Bajiya. Bajiya says many blessings for this couple and says that this couple is like her own children.

Popular Drama Serials of Fatima Surayya Bajiya
Asaavari
Afshaan (adopted from A.R. Khatoon's novel)
Aroosa
Ana
Aagahi
Aabgeenay
Babar
Faraz Aik Karz
Ghar Aik Nagar
Phool Rahi Sarsoon
Shama (adopted from A.R. Khatoon's novel)
Tareek-o-Tamseel
Tasveer-e-Kainaat
Zeenat (adopted from Mirza Quleech Baig's sindhi novel )
She is the elder sister of "Zohra Nigah, Zubaida Tariq (Cooking expert) and Anwar Maqsood". A famous dress designer "Mrs. Kazmi is also sister of Fatima Surayya Bajia.
Fatima Surayya Bajia Pictures
| | | | |
| --- | --- | --- | --- |
| … | Mohtarma Fatima Suriya … | | |
Fatima Surayya Bajia Videos