Poet, writer, politician (PPP)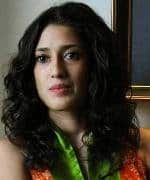 Fatima Bhutto was born in Kabul in 1982. Her father Murtaza Bhutto, son of Pakistan's former President and Prime Minister, Zulfikar Ali Bhutto and an elected member of parliament, was killed by the police in 1996 in Karachi during the premiership of his sister, Benazir Bhutto.
Education:
Fatima completed her BA degree in Middle Eastern studies from Barnard College of Columbia University after receiving her secondary education at the Karachi American School. She then earned a Masters degree in South Asian Studies from the School of Oriental and African Studies at the University of London.
Her Literary Contributions:
Fatima is the author of two books, a volume of poetry published when she was 15 years old in her father's memory a year after his death called " Whispers of the Desert " and a collection of first hand survivor's accounts from the October 8, 2005 earthquake in Pakistan entitled " 8:50 am " Both were published by Oxford University Press. The proceeds from '8:50 am' will be given back to child survivors of the quake. Fatima currently writes a weekly column for Pakistan's largest Urdu daily newspaper, Daily Jang, and its English sister paper: The News International. Fatima also wrote a weekly diary from Lebanon this past summer during the Israeli invasion.
Her family:
Fatima's life to date has been shaped by tragedy, particularly the 1996 killing of her father, Murtaza, Benazir's younger brother. Like almost everything that happens within or around the wealthy Bhutto dynasty, Murtaza's death remains rich in intrigue, and from it has flowed much of the suspicion and bitterness that now characterise family relationships.
Murtaza came to prominence when his father, Zulfikar Ali Bhutto, Pakistan's prime minister from 1973-1977, was arrested and sentenced to death by the country's military dictator, General Mohammad Zia-ul-Haq. The aim of the execution was to put an emphatic end to the Bhuttos' influence on national life, but its effect was to radicalise the family's followers, and Murtaza, with his brother, Shahnawaz, having fled abroad, embarked on a campaign of violent reprisals. While living in exile in Kabul, Afghanistan, Murtaza married a local woman, and in May 1982, Fatima, their only child, was born. Unfortunately, the marriage did not last. Thus Fatima grew up, effectively stateless, always on the move, and constantly menaced by the pursuing agents of Pakistan's security forces. In Syria, Murtaza fell in love with Ghinwa Bhutto, whom Fatima considers to be her real mother and political mentor. For all the complications and privations of life on the run, it is clear, too, that she worshipped her father, "a wonderful man" as she puts it, and continues to cherish his controversial legacy.
Fatima's relationship with Benazir:
Fatima's relationship with her aunt remained intense ever since her father was killed in a police shoot out. When Benazir returned to Pakistan after many years of exile in London, Fatima had indignantly written: "Ms Bhutto's political posturing is pure pantomime… I am suspicious of her talk of securing peace. My father, a vocal critic of her policies, was killed in a carefully planned police assassination while she was prime minister."
It was only with the shock of Benazir's death that Fatima showed a glimmer of forgiveness. "My aunt and I had a complicated relationship," she wrote in her weekly column. "That is the sad truth. In death there is, perhaps, a moment to call for calm. To say, enough, we cannot take this madness any more."
A proud individual – making the most of her:
She doesn't believe in birth-right politics. She doesn't think, nor has she ever thought, that her name qualifies her for anything.
Following the assassination of her aunt, Benazir Bhutto, and everyone speculated entry into the political arena. On the contrary, she is active in social and political scene in Pakistan, but has no desire to run for political office. Has stated repeatedly that at the present time, she prefers to remain active through her ​​writing, rather than through elected office. It is still actively supporting the presidency and her mother of the wing that are not popular in the Pakistan People's Party (Shaheed Bhutto group), which failed to win a single seat in the 2008 election, because it believes in the past, struggling even to the very.
Prolific writer, in fact, Fatima has all what it takes to be successful for a young lady and this is exactly what it is – despite the bruises of the tragedies that befell them between now and then
Fatima lives and writes in Karachi, Pakistan.
Fatima Bhutto is on record as saying she does not believe in 'birthright politics.' Yet many doubt she will resist the lure of a political career that can be expected to rest squarely on her membership of Pakistan's most celebrated, if tarnished, political dynasty – the Bhuttos. As the proud bearer of the family name, Fatima has found it hard to build on her reputation as an implacable foe of the very system that guarantees her the kind of public attention of which others of lesser birth can only dream.
The publication of her new book, Songs of Blood and Sword: A Daughter's Memoir, in which she tells the story of Pakistan through the prism of her feuding and feudal family, provided just the opportunity for me to put to her this central conundrum.
Fatima Bhutto Pictures
| | | | |
| --- | --- | --- | --- |
| Fatima- Bhutto in her … | Fatima Bhutto … | | Fatima Bhutto photos b … |
| | | | |
Fatima Bhutto Videos