Tv anchor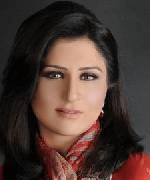 Fereeha Idrees is a TV anchor and journalist in Pakistan. She hosts Waqt News channel's prime time current affairs show at 8pm.
Biography
Fe'reeha Idrees started her journalistic career in the United Kingdom by joining a woman's renowned magazine. Later on, she worked with The Guardian, BBC, Channel 4, The Daily Mirror and wrote extensively for many publications in Pakistan and Europe. She also worked as a spokesperson of the Muslim Council of Britain.
She holds a post graduate degree in Broadcast and Print Journalism from the University of Westminster, UK.
She worked with CNBC Pakistan as Bureau Chief and hosted 8pm show 'Islamabad Sey'. Ms. Idrees then moved to SAMAA Tv and hosted flagship current affairs show 'News Beat'.
Fareeha Idrees Pictures
Fareeha Idrees Videos