Human Rights Activist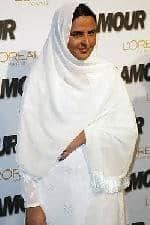 Mukhtaran Bibi born circa 1972, now known as Mukhtār Mā'ī, is a Pakistani woman from the village of Meerwala, in the rural tehsil (county) of Jatoi of the Muzaffargarh District of Pakistan. In June 2002, Mukhtār Mā'ī was the victim of a gang rape as a form of honour revenge, on the orders of a panchayat (tribal council) of the local Mastoi Baloch clan that was richer and more powerful as opposed to her Tatla clan in that region.
Although custom would expect her to commit suicide after being raped, Mukhtaran spoke up, and pursued the case, which was picked up by both domestic and international media. On September 1, 2002, an anti-terrorism court sentenced 6 men (including the 4 rapists) to death for rape. In 2005, the Lahore High Court cited "insufficient evidence" and acquitted 5 of the 6 convicted, and commuted the punishment for the sixth man to a life sentence. Mukhtaran and the government appealed this decision, and the Supreme Court suspended the acquittal and held appeal hearings. In 2011, the Supreme Court too acquitted the accused.
Though the safety of Mukhtaran, and her family and friends, has been in jeopardy she remains an outspoken advocate for women's rights. She started the Mukhtar Mai Women's Welfare Organization to help support and educate Pakistani women and girls. In April 2007, Mukhtar Mai won the North-South Prize from the Council of Europe. In 2005, Glamour Magazine named her "Glamour Woman of the Year". According to the New York Times, "Her autobiography is the No. 3 best seller in France … movies are being made about her, and she has been praised by dignitaries like Laura Bush and the French foreign minister". However, on April 8, 2007, the New York Times reported that Mukhtar Mai lives in fear for her life from the Pakistan government and local feudal lords. General Pervez Musharraf, the former president of Pakistan, has admitted on his personal blog that he placed restrictions on her movement in 2005, as he was fearful that her work, and the publicity it receives, hurt the international image of Pakistan.

Rape incident
News accounts of the rape incident vary. The account that follows is based on the testimonies of witnesses in the court that sentenced Mukhtaran's rapists to death, supplemented with details from the text of the Lahore High Court judgement.
Mukhtaran, who has been suspected in June Shaqoor her teenage brother, accusing him of committing adultery with a woman Mastoi Mastoi, and Salma, also known as a breeze. In the trial, the judge commented that this accusation was not supported.
Early in the afternoon of Saturday, June 22, 2002, was abducted by three men Shaqoor Mastoi. Was taken that afternoon to the residence of main accused, Abdul Khaliq, the brother of Selma.
Shaqoor shouted for help, while being taken in the house of Abdul Khaliq, and relatives heard his cries. Mukhtaran rushed, her mother and other women in the house outside, where many of the men claimed that the Mastoi Shaqoor had committed adultery with Salma. Women went immediately to the house of Abdul Khaliq to demand his release, but he refused to Abdul-Khaliq. Mukhtaran mother then sent her brother to get the police. Phones were not there or the police in Meerwala, and Jatoi police station was 18 km to the north more than dirt roads.
Brought together some members of the clan chosen, the Tatla Muslim. They were told that he had been held this cousin of Shakur Mastoi, because he had been accused of unlawful sex with Salma. Separately, and were collected from 200 to 250 Mastoi in the open air, and less than a hundred meters from the house of Abdul Khaliq's. According to some accounts, and the formation of a tribal council Mastoi, and consists of three of the defendants: Ramadan Pachar, GF Mastoi clan and head Mastoi, Faiz Muhammad Mastoi, also known as Faiza or flood.
The following week, a local Muslim imam (mosque prayer leader), Abdul Razzaq, condemned the rape in his sermon on the Friday after it occurred. He brought a local journalist, Mureed Abbas, to meet Mukhtaran's father, and persuaded the family to file charges against the rapists.
Mukhtaran and her family went to the Jatoi police station on June 30, 2002 to file charges.
Media coverage
In the following days, the story became headline news in Pakistan, and remained so for months. By 3 July, the BBC had picked up on the story. Time magazine ran a story on the case in mid-July. Major international newspapers and networks reported on developments in the case.
Government reactions
Early in July, 2002, Pakistan's Chief Justice called Mukhtaran's rape the most heinous crime of the twenty first century. He summoned senior police officials and castigated them for incompetence in their handling of the case.
The Government of Pakistan awarded Mukhtaran with a sum of 500,000 rupees (8,200 U.S. dollars) on 5 July 2002. Mukhtaran reportedly told Attiya Inayatullah, the Women's Development Minister who gave her the cheque that she "would have committed suicide if the government had not come to her help.
Exit-Control List
On 10 June 2005, shortly before she was scheduled to fly to London on the invitation of Amnesty International, Mukhtaran was put on Pakistan's Exit Control List (ECL), a list of people prohibited from traveling abroad, a move that prompted protest in Pakistan and around the world. Parvez Musharraf was out of the country in Australia and New Zealand, but admitted to the press that he had placed Mukhtaran on the blacklist, because he did not "want to project a bad image of Pakistan". Although Pakistan had claimed that Mukhtaran had decided on her own not to go to the U.S., because her mother was sick (which she was not), Musharraf in effect acknowledged that this was a lie.
On 12 June 2005 Mukhtaran was abruptly asked by the government to travel to Lahore to meet with provincial assembly member Shagufta Anwar, and then go to Islamabad to meet with Presidential advisor, Nilofer Bakhtiar. Mukhtaran told, that she did not know the purpose of the travel except that she will have to meet "one Shagufta and in Islamabad the PM's adviser". She again complained against the police personnel assigned at her residence in Meerwala saying that they had made life miserable for her and her family and that her aide Naseem was denied exit from Mukhtaran's house. Further the local police were pressing her to surrender her passport, coinciding with an invitation extended by an organization of Pakistani doctors in North America for Mukhtaran to attend a moot being organized there in the current month to discuss the state of women and human rights in Pakistan. Mukhtaran observed that "I think the government does not want me to attend that moot for this reason, perhaps, my name has been put on the Exit Control List".
On 13 June following a lunch at the Chief Minister's House in Lahore, she left for Islamabad with Bakhtiar's secretary assigned to 'escort' her. Contact with Mukhtaran could not be established to know the purpose of her visit to Lahore, because her cellular phone did not respond for hours.
Passport confiscated
On 19 June 2005, The New York Times columnist Nicholas D. Kristof reported that as Mai returned from the US embassy in Islamabad, after getting her passport stamped with a US visa, it was "confiscated" by Nilofer Bakhtiar, after Musharraf's government claiming she was now free to travel to the U.S., and removing her name from the ECL, thus rendering her unable to travel outside the country. A column by Khalid Hasan in Pakistan's Daily Times called the government's actions "folly" and "ham-fisted", and said that it had "failed abjectly" to support the liberal "convictions it claims to have" with actions. Mai has since refused to talk about what happened in Islamabad, when she withdrew her application for a visa to the United States or who had taken her passport.
On 27 June 2005 Mukhtaran's passport was returned to her.
On 29 June 2005, on his official website, Musharraf wrote that "Mukhtaran Mai is free to go wherever she pleases, meet whoever she wants and say whatever she pleases.
Anti-Terrorist Court
Mukhtaran's attackers, and the Mastoi of the so-called panchayat that conspired in her rape, were sentenced to death by the Dera Ghazi Khan Anti-Terrorism Court (ATC) in 2002. The ATC venue was ruled appropriate in this case because the Mastoi had intimidated and terrorized (and continue to threaten) Mukhtaran's clan and the people of the area. The court convicted six men (4 rapists and 2 of the village jurors) and sentenced them to death on 1 September 2002. Eight other accused men were released. Mai filed appealed in the Multan bench of the Lahore high court against the acquittal of the eight men set free on 3 September 2002.
An Anti-Terror Court (ATC) is a type of court in Pakistan that specializes in prosecuting cases related to terror or mass intimidation. ATCs in Pakistan have been criticized by human rights organizations for having lower standards of proof and evidence than regular courts—ATCs admit hearsay as evidence, and do not require guilt to be proven to the reasonable doubt standard.
Mai went on to become a symbol for advocates for the health and security of women in her region, attracting both national and international attention to these issues. Mukhtaran used the compensation money awarded by the Pakistani government as well as donations from around the world to build two local schools for girls. There were no schools for girls in Mukhtaran's village before this and she never had the opportunity to get an education.
Appeal and the Lahore High Court
Although the Anti-Terrorism Courts had originally been conceived as a way to provide swift and conclusive convictions for heinous crimes, Pakistan's Supreme Court ruled in 1998 that ATC verdicts could be appealed in Pakistan's regular court system, which has higher evidentiary standards.
On 3 March, the Lahore High Court reversed the judgement by the trial court on the basis of "insufficient evidence" and subsequentally five of the six men sentenced to death were acquitted. The Pakistani government decided to appeal the acquittal, and Mukhtaran asked the court not to order the release of the five men, who then remained in detention under a law that allows for a 90-day detention without charges.
Legal representation
Mukhtaran has been represented by panels of lawyers. One such team is headed by Pakistan's Attorney General, Makhdoom Ali Khan. Another panel is led by Aitzaz Ahsan, a lawyer and politician belonging to the Pakistan Peoples Party, who has been representing Mukhtaran pro bono. However, her rapists were found not guilty. Advocate, Malik Muhammad Saleem, won this case against Mukhtaran and the accused were released. The Federal Sharia Court in Pakistan decided to suspended this decision of Lahore High Court on March 11 arguing that Mai's case should have been tried under the islamic Hudood laws. Three days later the Supreme Court ruled that the Federal Sharia Court did not have the authority to overrule the decision and decided to hear this case in the Supreme Court.
Retrial of rapists

The Lahore high court ruled on 6 June 2005 that the accused men could be released on payment of a 50,000 rupees ($840) bond. However, the men were unable to come up with the money, and remained in jail while the prosecution appealed their acquittal. Just over two weeks later, the Supreme Court intervened and suspended the acquittals of the five men as well as the eight who were acquitted at the original 2002 trial. All 14 were retried in the Supreme Court.
And on April 21, 2011 the Supreme Court upheld the Lahore High Court verdict. It confirmed the acquittal of five of six accused and commutting the sixth man's death sentence into life imprisonment. But the lawyer and supporters of Muhataran Bibi plan to file a review petition against this verdict.
Bronwyn Curran's research
Bronwyn Curran, an Australian author of a 2006 book on the Mukhtaran Mai case and a former Islamabad correspondent of AFP, claimed that "after many months painstakingly poring through every police statement, medical record, witness testimony, and cross-examination transcript in this case, coupled with multiple visits to Mirwala, Jatoi and Dera Ghazi Khan for extensive interviews with members of both sides of this case, I reached the same conclusion as the Supreme Court has in 2011." She claims that "Ms Mai is a victim of characters around her who have used her, her family, the local police and courts for their own purposes." Ms Mai was shamefully taken advantage of and had little control over events once the charges, filed not by her or her family but by two unrelated men, went public.
Threats
On April 8, 2007, New York Times reported that Mukhtaran lives in fear for her life from the Pakistani government and local feudal lords. According to the New York Times, Mukhtaran her friends, colleagues and their families are at great risk from violence by local feudal lords, and/or the government of Pakistan.

Post-case work
Mukhtaran began to work to educate girls, and to promote education with a view towards raising awareness to prevent future honour crimes. Out of this work grew the organization Mukhtar Mai Women's Welfare Organization (MMWWO). The goals of MMWWO are to help the local community, especially women, through education and other projects. The main focus of her work is to educate young girls, and to educate the community about women's rights and gender issues. Her organization teaches young girls, and tries to make sure they stay in school, rather than work or get married. In Fall 2007, a high school will be started by her group. The MMWWO also provides shelter and legal help for people, often women, who are victims of violence or injustice.
In June 2010, it was reported that Pakistan Peoples Party legislator Jamshed Dasti has threatened gang-rape Mai to withdraw her appeal in the Supreme Court against the accused rapists. Mai said in an exclusive interview to the Express Tribune, that Dasti threatened her last week through his messengers in Mir Wala (Muzaffargarh) and through the supporters of Federal Minister for Defence Production, Sardar Qayyum Jatoi, whose constituency she resides in, is putting pressure on her family in various ways i.e. to remove the police check post from outside their house. She stated her family was living in fear. Dasti, a critic of Mai, confirmed that he had requested her to reach a compromise on the matter.
On April 21, 2011, Malik Saleem, defense lawyer for the men accused of gang-raping Mukhtaran Mai under orders of the Mastoi clan, announced that five have been acquitted by the Supreme Court of Pakistan while the sixth suspect, Abdul Khalique had his life sentence upheld. Although the release of the suspects places Mukhtaran Mai in even greater danger she has vowed not to shut down her school. The Supreme Court's decision shocked and disappointed many Pakistanis especially human rights activists.

Awards and acclaim
On 2 August 2005, the Pakistani government awarded Mukhtaran the Fatima Jinnah gold medal for bravery and courage.
2 November 2005, The US magazine Glamour named Mukhtaran as their Woman Of The Year.
12 January 2006, Mukhtaran Mai published her memoir with the collaboration of Marie-Thérèse Cuny under the title "Déshonorée." The originating publisher of the book is OH ! Editions in France and her book is published simultaneously in German by Droemer Verlag under the title "Die Schuld, eine Frau zu sein".
January 16, 2006, to coincide with the publication of her memoir, Mukhtaran Mai travelled to Paris (France) and was received by Foreign Minister Philippe Douste-Blazy.
2 May 2006, Mukhtaran spoke at the United Nations headquarters in New York. In an interview with United Nations TV, Mai said that "she wanted to get the message across to the world that one should fight for their rights and for the rights of the next generation." She was welcomed by UN Under-Secretary General Shashi Tharoor, who said, "I think it is fair to say that anyone who has the moral courage and internal strength to turn such a brutal attack into a weapon to defend others in a similar position, is a hero indeed, and is worthy of our deepest respect and admiration".
Her story is also covered in Terence McKenna (film producer)'s documentary about sexual violence in Pakistan, Land, Gold and Women.
Marriage
On March 15, 2009, Mai married Nasir Abbas Gabol, a police constable from the area near Multan, in Muzaffargarh district, Punjab province. On December 05, 2011, she gave birth to a baby boy in Multan.
Mukhtaran Bibi Pictures
| | | | |
| --- | --- | --- | --- |
| Mukhtar Mai has campai … | | | |
Mukhtaran Bibi Videos