Faisal Iqbal Pakistan Cricket Players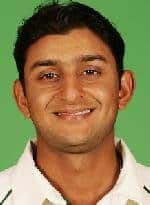 Faisal Iqbal is a Pakistani cricketer. He is a right-handed batsman and occasional right-arm medium-pace bowler. He is the nephew of Javed Miandad and elder brother of Fahad Iqbal, also a cricketer.
Iqbal was a prolific junior-level scorer. He played two Tests in South Africa in 2003-04 but after not performing well was dropped. Upon returning to Test cricket after a two-year hiatus, he scored his maiden Test century against India to help Pakistan win the 2005–06 Test series in the final Test in Karachi.
A gutsy strokeplayer with a sound defence and an attitude to boot, Faisal Iqbal is an exciting middle-order prospect for Pakistan. A prolific performer at junior level, Iqbal's elevation into the Test team was criticised on ground of nepotism – he is Javed Miandad's nephew. But he demonstrated that he was worth that Test cap with an aggressive counter-attacking 83 off 85 balls in the first Test against Australia in Colombo in 2002-03. He was particularly impressive against Shane Warne, using his feet superbly to seize the momentum for Pakistan, and he did it all with a swagger that was refreshingly reminiscent of his uncle. He couldn't repeat his performance in the rest of that series, or in the two Tests he played in South Africa in 2002-03.
A hiatus followed from the national side though he remained a performer at domestic level. It seems to have finally paid off when in 2005-06, on the back of an astonishingly successful domestic season, Iqbal was called up to play for Pakistan against India in his hometown of Karachi, as a replacement for the injured Inzamam-ul-Haq. A failure in the first innings meant pressure in the second was plentiful; it didn't seem to affect him as with some assured, trademark backfoot play and composed defence, he scored an attractive maiden Test hundred, eventually assuring Pakistan a comfortable win. He got another opportunity in the very next Test against Sri Lanka in Colombo and didn't disappoint; if his previous noteworthy innings had been attacking ones, here was a good, honest rearguard, as his 60 helped Pakistan see off Murali on the last day to secure an honourable draw. Soon after, at Lord's, he was called on to display similar traits to eke out another battling last-day draw. Fifties in three of his last four Test innings have put him back in the mix for a permanent spot in the Pakistan middle order though those matches have been played over the course of two years.

Faisal Iqbal Pictures
| | | | |
| --- | --- | --- | --- |
| … | | | |
Faisal Iqbal Videos