Bushra Farrukh Writer, Poet, Artist PTV & Radio Pakistan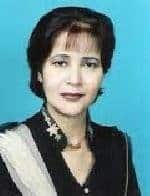 Bushra Farrukh was born on February 16, 1957 in Peshawar. She is a renowned Pakistani poet. She is considered to be as one of the best female Urdu poets of Pakistan. She has also served Pakistan Television and Radio Pakistan as an announcer. She is the artist of Khyber-Pakhtunkhwa who has performed in four different languages Urdu, Pashto, Hindko and English at television and radio. Bushra Farrukh has taken part in many radio and television programs. All her programs have been admired particularly among the youth. Bushra Farrukh is a poetess of Khyber-Pakhtunkhwa and her three poetry collections have been published. Her Literary contributions include: Bohat Gehri Udasi Hai (Farrukh) in 1985, Adhuri Mohabbat Ka Poora Safar (WTO) in 1990 and Ik Qayamat hai lamha e Fikiria (an anthology of Urdu poetry) in 1987.
She has the privilege of being the first female announcer and drama artist of Pakistan Television (Peshawar center). Bushra Farrukh has performed in more than 2000 radio and television programs. All her programs enjoyed huge popularity especially among the youth.
Bushra Farrukh is a well-known and distinguished poetess of NWFP and her three poetry collections Ik qayamat hai lamha-e-maujood, Adhoory Muhabbat ka poora safar and Bohat Gehri Udasi Hai' have been printed. All her books got tremendous feedback from the literary class as well as from readers. Her first poetry collection ik Qayamat Hai Lamha-e-Majood has won Rozan International Literary Award while Abasin Arts Council has awarded Sardar Abdur Rab Nishtar Award to her 2nd collection Adhuri Mohabbat Ka Poora Safar. Two additions of the above-mentioned book have been published so far.
Bushra Farrukh is also actively involved in social and literary activities and has remained General Secretary of the Women's Writer Forum (WWF) the only representative literary organization of women in NWFP. Apart from being the office bearer of different Literary and Cultural Organizations she presently has been serving the WWF as Chief Organizer for last two years.
In addition to this she is the in-charge of Literary Society of ICMS, the famous Educational Institution of Peshawar.
In recognition of her literary cultural and social services, she has received many awards, certificates and gold medals from different governmental and nongovernmental organizations.
Bushra Farrukh Pictures
Bushra Farrukh Videos