Arbaaz Khan Pakistani Film actor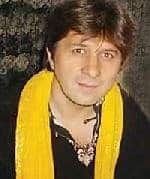 Arbaaz Khan is a Pakistani film actor. Arbaz Khan is a superstar of Pashto films. He is son of top Pashto film actor Asif Khan. His debut film was an Urdu film Ghunghat, released on July 12, 1996. He work in several Urdu and Punjabi language films.
In 2003, Arbaaz Khan joined Pashto films industry Pollywood, His first Pashto film Meena Qurbani Ghuwari became a huge hit.
In June 2004, he was married to film actress Khushboo. And they have a son Aryan Khan.
Filmography
* 1996
1. Ghunghat, Urdu film
2. Bazigar, Urdu film
* 1997
1. Umar Mukhtar, Urdu film
2. Aanchal, Urdu film
* 1998
1. Gaand Jal Rahi Hai, Urdu film
* 1999
1. Paranda, Punjabi film
* 2000
1. Mehbooba, Urdu film
2. Billi, Urdu
3. Daku Rani Urdu film
* 2001
1. Shalwar, Urdu film
* 2002
1. Topa Pyar Da, Punjabi film
* 2003
1. Yeh Wada Raha, Urdu film
2. Meena Qurbani khuwari, Pashtu film
* 2004
1. Badri Jamala, Pashto film
2. Bashtaghrey, Pashto film
3. Dus Khush, Pashto film
4. Goroba Raqeeba, Pashto film
5. Kabley, Pashto film
6. Khabrey, Pashto film
7. Mehma Khrabgi, Pashto film
8. Nave Yaar Da Mubarak Sheh, Pashto film
9. Niazbeen, Pashto film
10. Qumandan, Pashto film
* 2005
1. Dey Zaan Khair Ghawarah, Pashto film
2. Faqeerano Sara Mah Cheera, Pashto film
3. Jondand Mey Jana Sara, Pashto film
4. Khani Na Faqeer Ba Maney, Pashto film
5. Kyun Tum Se Itna Pyar Hai, Urdu film
6. Nadaan Zargeye, Pashto film
7. Parcham, Urdu film
8. Pekhawaray Mardanay, Pashto film
9. Qatil Khok De, Pashto film
10. Sahib Log, Urdu film
11. Satadeya Woinam Toba, Pashto film
* 2006
1. Lag Da Zre Na Tapos Oka, Pashto film
2. Sabar Sha Zargiya, Pashto film
3. Andaaz, Pashto film
4. Dasey Rata Meh Gora, Pashto film
5. Ghulami Na Manam, Pashto film
6. De Ta Yarana Wai, Pashto film
7. Musafar, Pashto film
8. Pa Zor Peh Chagla Bozam, Pashto film
9. Tata Chehilche Mayan Sha, Pashto film
10. Zamana Satarge Yadegi, Pashto film
* 2007
1. Dunya Mey Sta Sanama, Pashto film
2. Zre Mey Ta Oray Dey, Pashto film
3. Tiger, Pashto film
4. Sta Mohabbat Zama Saza Shuwa, Pashto film
5. Haqueqat, Pashto film
6. Dita Yarana Woi, Pashto film
7. Kha pakki khushali, Pashto film
8. Pakistan zama janan, Pashto film
* 2008
1. Sharabi, Pashto film
2. I Love You, Pashto film
3. Sharif Badmash, Pashto film
4. Yarana, Pashto film
5. Ishq, Pashto film
6. Target
* 2009
1. Sitamgar, Pashto Film
2. Zakham, Pashto Film
3. Ishaq Loya Martaba Da,Pashto Telefilm
Arbaaz Khan Pictures
| | | | |
| --- | --- | --- | --- |
| … | … | … | … |
| | | … | Arbaz Khan and Sidra N … |
| … | … | … | |
| … | | | |
Arbaaz Khan Videos