Bilawal Bhutto Zardari, Chairman PPP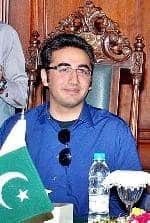 Bilawal – the name means "one without equal" – was born in September 1988, three months before his mother Benazir was elected prime minister for the first time.
She went into self-imposed exile in April 1999, taking Bilawal and his two younger sisters with her, and divided their time between London and Dubai. For most of this time, his father Asif Ali Zardari was in jail in Pakistan on blackmail and corruption charges.
As a teenager, Bilawal said: "I have gone through lots of things and he wasn't there. At the time when we needed him, he was taken away. We were denied a normal life."
Bilawal won a place at Christ Church College in Oxford, also attended by his grandfather, Zulfiqar Ali Bhutto, who founded the PPP. His mother was at Lady Margaret Hall and became president of the Oxford Union.
Victoria Schofield, a close friend of Miss Bhutto who has known Bilawal since he was a baby, said she was convinced he would rise to the challenge presented him.
"He was devoted to his mother, there is no doubt about that. He is not a flash spoilt brat by any means." "He will be so emotionally connected to what his mother has suggested that there will be no question of him doing anything different."
Despite the expectation upon his shoulders, he is determined to carry on with his life at Oxford.
"It was his mother's greatest joy that he got to Oxford," said Ms Schofield, adding that Miss Bhutto would have expected him to return to his studies. However, that university life could well change, with increased security in the wake of his mother's death. Ms Schofield believes that Bilawal will also have to learn quickly about his homeland
Early life and education
Benazir Bhutto carrying Bilawal at Andrews Air Force Base upon her arrival for a state visit to the United States in 1989.
Bilawal was born on September 21, 1988. He is the son of Asif Ali Zardari and Benazir Bhutto. It was three months old when his mother became the first prime minister.
Bilawal has been recognized in the prestigious Lahore College Aitichison, but due to some security problems, it could not continue. Instead, he went to Karachi Grammar School during the period of his mother for the second time in as prime minister. He also attended the International Froebel School in Islamabad. Pakistan left with his mother in April 1999. His father was in prison in Pakistan 1996-2004 of corruption.
He spent his childhood in Dubai and London during the self-imposed exile of his family. Attended later in the Rashid School for Boys in Dubai, where he was Vice President of Student Council. [5] has a black belt in Taekwondo but regrets that he can not play cricket because of the circumstances of his family.
University of Oxford
Bilawal matriculated at Christ Church, a founding college of the University of Oxford, in mid-2007, to study modern history, the study of British history before moving on to the general history. Benazir also joined him at the Oxford Union debate society. In December 2007, and returned to Pakistan after the assassination of Bhutto. Also returned to Pakistan in September 2008 to see his father sworn in as President of Pakistan. Bilawal completed his studies in June 2010
Chairman of Pakistan People's Party
Appointment
After the assassination of Benazir Bhutto, Benazir's political will declared Asif Ali Zardari as Benazir's successor for party leadership. However, Bilawal became Chairman of the Pakistan Peoples Party because Zardari favoured Bilawal to represent Bhutto's legacy in part to avoid division within the party due to Zardari's own unpopularity. Zardari planned to act as co-chairman of the PPP for at least three years until Bilawal completed his studies overseas.
Bilawal was appointed chairman of the PPP on 30 December 2007. Asif Zardari also announced Bilawal's name change from "Bilawal Zardari" to "Bilawal Bhutto Zardari". At that time he was still studying at Oxford.[18] It had been estimated that Bilawal's security at Oxford may cost at least one million pounds each year.
In 2011 Bilawal returned to Pakistan and became more prominent in politics, notably when his father went for medical care to Dubai in December 2011. Tumandar of Zardari Baloch tribe
Bilawal Bhutto Zardari with Abdul Qadir Patel
In 2011 it was announced that Bilawal would be the next Tumandar (Chief) of the Zardari tribe of Baloch as his father Asif Ali Zardari passed on the title to Bilawal rather than becoming the Tribal Chief himself after the death of his father Hakim Ali Zardari. A formal ceremony would be held later.
Personal life
Bilawal has two younger sisters — Bakhtawar and Asifa. His name means "one without equal". His first language is English, but he can also speak Arabic and Urdu.
Bilawal Bhutto Zardari Pictures
| | | | |
| --- | --- | --- | --- |
| Bilawal and Sherry … | bilawal bhutto … | bilawal bhutto zardari … | |
| | Bilawal Bhutto Zardari … | Bilawal Bhutto Zardari … | Bilawal Bhutto Zardari … |
| | Speech by Bilawal bhut … | Bilawal in China … | |
| | | | |
Bilawal Bhutto Zardari Videos