All Rounder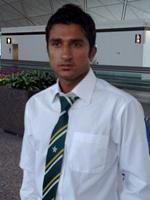 22 year old Bilawal Bhatti has already earned high praise from his coach at SNGPL, Bilawal can bowl around 140 kph, he hits the deck hard and he can swing the ball both ways left and right. He height is 5'10" and he keeps working hard.
He bone in September 17, 1991, Muridke, Punjab.He have always had a passion and desire to play cricket. He started playing cricket in school in 8th grade in Muridke. He was also playing a lot of tape ball cricket around that time and then I joined a local cricket club in Muridke. You could say I was cricket crazy and still am.
He come from the same town as Imran Nazir and Qaiser Abbas and actually played for the same club as Imran Nazir which was Muridke Gymkhana. He played district level cricket, before He moved into playing Under 19 cricket for Sialkot.
He was first spotted by former Pakistan batsman Shahid Anwar while He was playing a match for Muridke.
"his first season at Sialkot Under 19s, the Pakistan Cricket Board introduced a ruling that three cricketers from each under 19 team should be promoted to 1st class cricket. In that season He had taken 52 wickets at Under 19 level for Sialkot and was one of the three best performers, so he was promoted to first class cricket for Sialkot."
2009 at the age of 17 and took four for 87 against Lahore Ravi. He played a season for Sialkot, then moved into State Bank and I have this season moved to SNGPL."
Bhatti has taken 44 wickets in 9 matches at an average of just over 16 apiece in the ongoing Quaid E Azam Trophy and described his bowling style and spoke of his cricketing heroes. He is skiddy pace bowler who can swing and seam the ball around. He always admired Imran Khan as an all rounder and watched videos of him as a child. He has been an inspiration to so many Pakistani cricketers. In fast bowling terms his favouite quick bowler was Waqar Younis.He loved watching him play cricket.
He like every first class cricketer out there, is to play for my country. But before he do that, he want to establish myself as a 1st class cricketer – perform well in first class cricket. He have been improving steadily over the last couple of seasons, then hopefully get selected for "A" tours and then hopefully represent my country.
Bilawal Bhatti Pictures
Bilawal Bhatti Videos