Pakistani Actress & Model Ayesha Khan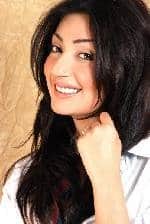 Ayesha Khan is a famous Pakistani female model and actress. Ayesha Khan is a complete package of personality, hot body, amazing talent, natural acting and sexy look. She is a young girl but proved herself a mature actress. She is performing a lot of dramas and television commercials.
Ayesha Khan Age
Her date of birth is September 27, 1982. Her Her zodiac sign is Libra. She has proved herself a successful and matured actress in her small professional life. She is hot choice of directors now a days.
Ayesha Khan Starting ( beginning ) of Profession
She is also very different from the regular TV starlets and a lot of people understandably ask her what she is doing in showbiz. Initially, she worked with PTV directors and found them very professional. They made me feel comfortable and secure. After my first play went on air, I got offers from all over and I felt like such a star. But then I went back to Canada for what I really wanted to do to study architecture and interior designing. While I was there I heard that my projects had won awards.
After completing her graduation she was discovered and given a break by hum tv drama serials, Where she proved herself with all abilities to act for her passion.
On her return from Canada, she was again flooded with offers. I thought nobody gives you a second chance, especially with so many girls around!
She has done three popular serials, Man-o-Salwa, Maane Na Ye Dil and Khamoshiyan. My role in Khamoshiyan was a real challenge. I really had to think out-of-the-box for it. In it Aisha plays a psychotic woman who is loud, obnoxious, extremely possessive and I can't relate to any of those things. I am a laidback sort of a person as far relationships go. While she is dependent I am the exact opposite.
But the project closest to Aisha's heart is Maane Na Ye Dil. We all believed in it from day one. You know how you read a script and know that this is going to be it? Right from the beginning to the end all of the actors were a part of each dialogue, each episode, what the next twist can be, how we can end this. I had never worked with Faisal Rehman before and it was a dream come true. He is perfect as Shaheer. Deepti is very strongheaded and is very much her character; Qureshi is a hopeless romantic and that's what he plays. There was a lot of me in Kiran, but I can't exactly say that Roshni is also me.
In Zeba Bakhtiar's Mehmaan, Aisha was flaunted in the promos but had limited frames in the serial. I had never done a gaon ki larki or something even remotely as unglamourous. Zeba saw my Pathan roots and convinced me to do three episodes. Sometimes things don't turn out as you expect. I will to be more careful while choosing projects in future. I don't want to do the overly dramatic, ronay dhonay walay roles. I want to stand out in an offbeat manner and make sure that I look natural.
While she enjoys working with Faisal Rehman, Noman Ijaz and Sania Saeed, Aisha says she would love to work with Nadia Jamil, and Mehreen Jabbar as well. All the roles that I have ever wanted to do I have. Now I want to do some glamourous ones and I would love to do a Khuda Kay Liye. There is so much noise about Indian films but I am not pushed. I would probably do an art film the thumka latka jhatka is just not me. In romantic films a halka phulka thing is okay but pure hardcore commercial film. I don't think so.
Ayesha Khan Special Efforts and Value
Can be attributed Aisha Khan to play some of the characters are extremely popular on TV of Pakistan. He was one of the most famous works have the character of Sajjal in mehndi, a serial drama produced by Evernew Pictures and directed by Fadel Jawad, where she played opposite Humayun Saeed.
Played Aisha Khan also played opposite Roshini Faisal Qureshi in the television drama series of Manay Hum Dil Na Yi, directed by Jawad Babar, in Khamoshiyan, the opposite of obsessive girlfriend Noman Ijaz, and again on TV home.
Ayesha Khan Acting Performance
Ayesha Khan also played Roshini opposite Faisal Qureshi in the Hum TV drama series Manay Na Ye Dil directed by Babar Jawad. In Khamoshiyan, she played an obsessive girlfriend opposite Noman Ijaz, again on Hum TV.
Ayesha Khan – Best Pakistani Actress
She came, she saw and she conquered stands true for this actress. Her debut plays were Deewan-e-Khaas, and Doosri Aurat but drama serial Mehndi changed her entire career graph. Since then, she was popularly known as Mehndi wali larki.
Her drama serial, Vasl proved to be a great success where she was praised as being one of the best actresses Pakistan has ever had in the showbiz industry.
Ayesha Khan Famous Plays & Drama Serials
· Chaar Chaand
· Deewan-e-Khaas
· Doosri Aurat
· Maan o salwa
· Maane Na Yeh Dil
· Mehman
· Mehndi
· Mujhay Apna Bana Lo
· Saraab
· Bol Meri Machli
· Vasl
· Tum Yehi Kehna
· Khuda Zameen Se Gaya Nahin
· Baal Baal Bach Gaye
· Masi aur malka
· Haroon tou pia
Sheeshay Ka Mahal
· Jeena Isi Ka Naam Hai
· Socha na tha
· Meri Adhoori Mohabbat
· Mulaqat
Hot Spot
First reaction to fame: What the hell is happening?!
Idea of a perfect evening out: The typical flowers, candlelit dinner, maybe a movie.
What kind of people can you relate to the most: Secure people.
Ultimate role you would like to play: None, really.
Biggest challenge in life so far: Trying to sugar-coat everything I say. I'm very blunt.
Are you superstitious about luck/karma/horoscope: Yes.
Who would you like to be on a desert island with: Imran Khan
Favourite way to chill out: Popcorn, movie, friends, my couch.
Favourite clothes to hang out in: Jeans and a T-shirt.
What does money mean to you: Little more shopping.
How would you rate yourself as an actress on a scale of 1 to 10: 8ish.
Where do you see yourself in the next five years: Somewhere around here, not necessarily acting, maybe directing, married with one kid at least!
All time favourite film: Dilwale Dulhaniya Le Jayenge
All time favourite music: Anything by U2
All time favourite food: Pasta, biryani.
Your man should smell of: Doesn't matter. But better always smell good.
A present you can't say no to: Diamonds!
What puts you in a bad mood: Poor personal hygiene, being stingy.
One thing you really like about yourself: Hardworking, focused.
Ayesha Khan Pictures
| | | | |
| --- | --- | --- | --- |
| Ayesha Khan … | Ayesha Khan … | | Ayesha Khan Photo Shoo … |
| | Ayesha Khan Beautiful … | Ayesha Khan … | Ayesha Khan Photo … |
| Ayesha Khan profile Pi … | Humayun Saeed Ayesha K … | Ayesha Khan and Humayu … | |
| actress model Ayesha K … | Ayesha Khan with Faisa … | Ayesha Khan with Noman … | |
| Pakistani Actor Humayu … | Noman Ejaz with Ayesha … | | |
Ayesha Khan Videos