Anjuman was one of the most successful Punjabi film heroines of Pakistan. She is the No 1 pakistan punjabi film heroine, Anjuman came from Multan to Lahore. Her first appearance was, however, in the Urdu film, Waadey ki Zanjeer .she had the figure of a traditional Punjabi Mutyaar, which suited Punjabis at the time that's why she was more successful in Punjabi Films.
Her jodi was very papulor with famous with Sultan rahi she have a aunique record, which she shared with her century partner hero Sultan Rahi Anjuman had record 117 film with Sultan Rahi and the largest number of diamond and platinum jubilee films by any film heroine. Anjuman was so beautiful .She was queen of Punjabi cinema in Pakistan .
Anjuman's entry into film world was accidental. Yesteryears actress Zeba saw her dancing at a function, and advised Anjuman to join film industry. Despite her initial apprehension, she entered the film industry when Shabab Kiranvi casted her in his Urdu film, Wadey Ki Zanjeer (1979). Her initial Urdu films including Do Rastey, Aap se kya Parda and Rishta failed to make an impression at box-office.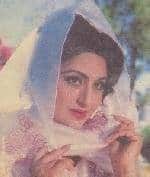 However, her pairing with legendary Punjabi hero Sultan Rahi and her playback voice Noor Jehan in Punjabi film Chan Veryam proved to be very beneficial as the film did excellent business at the box office. After the release of Chan Veryam, Sultan-Anjuman-Noor combo gave hits after hits throughout the 80's. Their successful pairing included diamond jubilee hits Chan Veryam, Sher Khan, and Sala Sahib.
Anjuman, the queen of Lollywood for what seems like an eternity has finally decided that her fan base has dwindled enough for her to call it a day. Finally the ravages of time may have caught up with our Multani Beauty, or so it appears.
Also her intransigence in refusing to accept any role that doesn't present her in the romantic lead of her movie has led to producers shying away…..if that wasn't enough, Anjuman's pride refuses to allow her to accept any pay check that is less than what she accepted during her hey day, fifteen years ago!
Anjuman in sultry siren mode!
Having mounted a faltering comeback that has sadly ground to a premature standstill, Anjuman has decided to throw in the towel, but rather than face the humiliation of being a has been in the fickle tinselly world of Lollywood, she has decided to quit Pakistan altogether and head for a life of anonymity in the UK where her on-off-on husband Mubeen Malik owns a flat.
Though her departure is going to be a crushing blow to many of her die hard fans, Lollywood's loss looks like becoming the west's gain as Anj has already started rehearsing for a series of stage shows that have been planned with her sharing top billing with some of Bollywood's top stars. Anjuman has already started singing lessons and is working untiringly on some super vigorous dance routines guaranteed to stun an unsuspecting audience.
The shows are planned for the UK, the US, and Canada and will keep our Multani Beauty busy. For us remaining in Pakistan, life will appear daunting without any new Anj starrer to look forward to. We shall have to make do with past glories, which thankfully, there are a stack full of. Rumour has it that Anjuman is planning on setting up an academy for acting, dancing and singing in London.
Anjuman's recent history traces back to the days when she had just enjoyed an extended hey dey ruling the roost alongside Sultan Rahi and Mustafa Qureshi. In the mid 80's the extent of their dominance was such that it was not considered a viable project unless these three elements were part of the set up. Film after film after film saw the three stars appear with different names, but merely repeating their roles from the previous effort. None the less, the public lapped it up and all three became icons of an era.
Anjuman got married at this stage to an Income Tax officer by the name of Mubeen Malik and quit films to pursue life as a good wife and mother to be. Malik soon grew fed up of Anj's lifestyle which he saw as being less than perfect. There were reports of Malik being shocked at his wifes "fast" life and slowly but surely bickering and fighting became the tone of their marriage. During this time the one man industry of Sultan Rahi was brought down by a brutal and callous murder on the National Highway.
Lollywood was deprived of its most enormous star and the industry was gutted with the body blow of their one and only hero's death. The Punjabi film industry virtually ground to a halt, crushed by the loss of the great Rahi.
Anjuman and Malik meanwhile managed to tolerate each other and she produced a couple of kids and life went on like this for a few years until her kids were old enough to manage without her constant care. The cravings to work infront of the camera returned gradually and this desire was given further impetus when all of a sudden the Punjabi industry was single handedly revived by the storming success of Syed Noor's Choorian. Suddenly, the big industry guns that had fallen silent following Rahi's death, returned with a roar of new announcements signalling an exciting new wave of Punjabi cinema. Suddenly people realized that whatever the case, life was meant to go on, even after Rahi's loss.
Choorian's success (18 crore rupees amassed to date) was the deciding factor for Anj and she decided that she was going to return to the studio's. There were a couple of issues that needed addressing rather urgently though. Anjuman had always been a touch beefy, but recently she had ballooned up rather too much and so she had to vanish for a few weeks to go on a fitness routine that would have her return with at least some semblance of shape.
The second issue was that Queen-maker Syed Noor had found a new muse who he was utterly fascinated by and was set on casting her in every juicy role he created. Surprisingly it was Noor's favourite Saima and not siren Reema who stood in Anjuman's path back to number one. Ok, so if Syed Noor wasn't interested there would be others who would be, and thus Anjuman signed a couple of films and her return vehicle was to be a film with her in the title role of Chaudrani. The adoring masses welcomed their beloved Queen home and lifted Chaudrani to considerable success upon release.
Anj was back, but lady luck is desperately fickle and very soon the golden touch began to fade. Anjuman however perceived Chaudrani's success as vindication of everything she had planned. She put her foot down and refused any further character roles opting only for solo heroine projects. Then she jacked up her price to a lofty 3 lacs, the demand that she made in her pomp. Suddenly she felt that she was in a position to be calling all the shots, but in this industry you are as good as your last hit and she was soon to taste the vagaries of stardom. Her next release was Jag Mahi opposite similarly dinosauric Ghulam Mohiuddin. The film had a very tepid response and barely lasted a few weeks playing to largely empty halls. Anjuman's next release was going to prove a litmus test of sorts and this she failed disastrously. The film Peengan opposite Saud was met with derision and unprecedented rejection.
Audiences started shouting slogans of "Maa Puttar" and "Buddhee Ghori Laal Lagaam" during the film which had a shattering effect on Anjuman's confidence. Yet her pride and stubbornness refused to budge on her stance on character roles as well as the size of her pay check. Peengan was laughed off the cinemas and suddenly the industry began to mutter about Anjuman being like a kiss of death if she was in the romantic lead.
There was much depression in the Malik household as news spread from the industry that distributors had made an announcement that they would not be handling any Anjuman starrer for fear of financial loss. The poor producers who she had already signed for suffered enormous losses. A few films which had been partly completed were recalled by the producers and shorn of any Anjuman involvement.
In the film Badmaash for which Anj had already canned two songs and numerous scenes, she was was abruptly dropped and replaced by upcoming starlet Noor. The producer felt they would be better off cutting Anjuman from the film and likewise cutting their costs rather than going ahead with the project with Anj as the leading lady. This was an indignity that was very difficult to bear for Anjuman who fell to the depths of depression during this period.
Further news arrived that Anjuman's scenes from the film "Badmaash tey Qanoon" had also been dropped and edited out of the film and that she had been replaced by Nargis. This was the final straw for Anjuman, the humiliation proving too much to take. She announced her immediate retirement and that she was just hanging around to complete her couple of on hand assignments and that she would shortly be leaving for greener pastures far, far away from Lollywood. Her final two movies due shortly will be Jatee DaVeer and Ek Thi Punjab Di which is a title befitting a final Anjuman effort.
Shama, Pakistani leading film industry rag laments that fame and glory went to Anjuman's head and that she ought to have accepted the ravages of father time and taken on character roles. They also feel that by insisting on her price of Rs. 3 lac from her glory days was quite unreasonable considering her rapidly fading/faded beauty. Perhaps, they contend, she could have prolonged her fading out period a little longer had she not been so stubborn and had not alienated her producers and directors by sitting on a high horse waiting for the world to come pay courtesy on a queen whose days were up.
Pity that a glittering career had to end on a sour note and that Anjuman had to leave with her head sort of bowed in defeat rather than go out in a blaze of glory. Who knows maybe Ek Thee Punjab Di might become a success based on the fact that it is the swansong of a Lollywood legend. Doubtful, but who knows. Anjuman, you will always remain the pride of Multan.
You will get only quality and clean content from this site. you will not find any nudity like nude picture of Anjuman, nude Anjuman, Anjuman naked pictures, Anjuman porn, Anjuman scandals, Anjuman sex photos, Anjuman nude photos, Anjuman sexy pictures. pakistani nude girls etc. we provide only clean and best content about Pakistani models and actress.
Anjuman Pictures
| | | | |
| --- | --- | --- | --- |
| … | | | |
| | | | |