Aijaz Aslam – profile, interview & pictures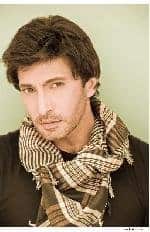 Aijaz Aslam is one of the most popular and well known actor, model and dress designer in the world of media in Pakistan. He is a popular personality in pakistani youth. Aijaz Aslam was born in Pakistan. His date of birth or birthday is 3 October 1972. Aijaz was born in a middle class family. He proved to be a bright student in his school days.
He proved to be a bright student in his school days. His father made occasional appearances in Pakistani television plays, when Pakistan television was in its infancy.
In 1989, he stepped into the world of modeling and achieved name and fame beyond his wildest expectations. Aijazz Aslam started his career as a model. His first assignment being a photo shoot for Men's Club Magazine. A man who is as multifaceted as his looks, he went on to shoot the Gillette commercial.
Aijaz's true genius is to design and create items, which are widely used by artists, who work in Pakistan television dramas serials and in other related entertainment industry. No fashion show or advertisement is considered complete without Aijaz'a presence. He became the defining voice for quality fashion products. His manufactured items, like boxer shorts, are very popular. He achieved excellence in wedding sherwani's, too.
The popularity of Aijaz soared sky high in quick response to public perception. He just would not permit failure. His enormous output in his business and in showbiz, has embedded itself in the Pakistani psyche.
Some of Aijaz Aslam's popular television drama serials and plays are Kahan Se Kahan Tak on Ptv, Khahish e Benaam on Geo Tv, Kashkol on Ptv, Dharkan on Ptv, Mehndi on Ptv, Sherdil on Ary, Hum Se Juda Na Hona on Ptv, Mujhe Apna Bana Lo on Hum Tv, Tum Kahan Hum Kahan on Geo Tv, Main aur Tum on Ary, Kabhi Na Kabhi on Ary Tv, Thora Thora Piyar on Geo, Phir Youn Love Hua on Ptv, Doosri Aura on Ptv, Tere Ishq Mein on Geo Tv, Socha Na Tha on Ary Tv, Na Tum Jano Na Hum Janain, Kismet, Halaat, Botal Gali, Rani ka Raja, Waqt, Piyasi etc.
One thing that Aijazz Aslam has always maintained is complete and total professionalism and hard work. With a huge fan following and everyone looking to replicate his sense of style, Aijazz realized that beyond being an actor and model he has the potential to plug into the designer realm of business. Today Aijazz is truly a force to be reckoned with where he is an Actor, Commercial Model, Producer and Clothes Designer.
Aijaz Aslam Career:
Aijaz Aslam successfully completed a fashion designing course in London. Then in 1989, he stepped into the world of modeling and achieved name and fame beyond his wildest expectations.
In 1993, Aijaz debuted from Karachi television station's super hit drama serial, Kashkol, which changed his life forever. Renowned writer, Hameed Kashmiri, top of the line director, Nusrat Shaheen, artist of the highest repute, Talat Husain and the likes of him, made Kashkol one of the greatest drama serials in the annals of Pakistan television.
Aijaz Aslam is not only a good model he also got an attractive personality. He is very popular in young generation of Pakistan. His plays, modeling and dress designs are very popular in both girls and guys equally.
Today Aijaz is truly a force to be reckoned with where he is an Actor, Commercial Model, Producer and Designer. Currently he is the brand ambassador for Standard Chartered Bank and in the middle of various television and silver screen projects
Interview
He's seated in the loft of his designer outlet. The muffled sound of traffic on Zamzama Boulevard below is lost amidst the sound of Aijazz Aslam cracking his knuckles. His Kashmiri features – broad shoulders and lanky frame – are clearly a manifestation of vigorous daily workouts, dominating the small space we're seated in.
Aijazz has climbed the rope of fame steadily, first by establishing himself as a model, then an actor and now a designer. His first commercial was an obscure venture way back in 1988 which went unnoticed.
"After a struggling period in 1992, an opportunity arose with a shaving cream ad. Luckily, some hotshot model who was supposed to do it was unavailable." Aijazz stepped in and got his break. It was in 1994 that he received a call from Kazim Pasha for his now memorable role in Kashkol.
"My mother wasn't too pleased about my acting ambition. I initially turned down the offer." Needless to say, Aijazz was finally able to convince his mother and, lo and behold, Kashkol went on air.
"I couldn't comprehend the enormity of the fame I received at the time," he beams, reminiscing. "I mean, I was flooded with interviews and offers of every kind. It was overwhelming to say the least!"
Aijazz has come a very long way from being the shy, overweight teenager that he was.
"Even though I have matured, in every phase of life a special friend has always been by my side. Even today, when I find myself enveloped in the glitz and glamour of showbiz, there is no one who can hold a candle to my friends of yesteryear."
"I trust people very easily," he says with a frown. "That makes me vulnerable. But I've learnt over the years." A large part of the interview focused on Aijazz's obsession for the past. "Even when I pass by places associated with my childhood or youth, a wave of nostalgia overwhelms me."
He reveals that as a child he was thoroughly pampered – the result of being the youngest sibling shepherded by three elder sisters. But the one person who has always been a stalwart support and a perpetual source of inspiration is his father.
"My most vivid childhood memory is when my dad slapped me for the first time when I couldn't learn my two times table," he says, grinning sheepishly.
Recalling his academic life and college days he's quick to say, "No romances as such. "When I goad him about his teen years, "Well," he says warming up, "I remember in a mela in our college a friend of mine sent a rose to a girl and I also sent one to her. The girl ended up with roses from quite a few of us," he says sporting a grin.
"It was in college that my father bought me my first bike after a lot of pleading." Aijazz's love for bikes and mean, lean machines was not just a passing phase. Even today he's the proud owner of a bike. "I only ride it on the track, not on the roads," he drawls.
He's quizzed whether he had a hoard of girlfriends whom he would take for a spin on his two-wheeler.
"No, no," he exclaims, brushing off the comment. "Seriously," he laughs at the look of mocking disbelief this writer shoots his way.
"I'm very health conscious. I've never smoked," he declares proudly. That's just part of the mantra Aslam follows to keep fit. "Actually," he says slowly as if gearing himself up to confide a deep, dark secret, "I was really fat when I started college. My waistline was 38. Once I started getting into shape, I loved it! There was no looking back." Even today his day doesn't start without a trip to the gym every morning.
"Look, physical appearance matters, especially in the profession I'm in. Only those people can survive who have made a conscious effort to maintain themselves."
As far as appearances go, everyone has noticed the new 'look' Aijazz has been sporting these days.
"I kept a French beard and cropped my hair for my role in Thori Khushi Thora Ghum. The next thing you know I became a trendsetter and people were copying that look." He also relishes his recent inclination to do negative roles. "It gives me more of a performance margin."
Talking about Mehndi, he dispels any rumours of rivalry on a set with such a star-studded cast.
"It's simple. You just need to concentrate on your part of the work and not be bothered with anyone else. This jealousy business certainly doesn't happen with the male actors," he retorts. The upcoming ventures he's excited about are Zulfiqar Sheikh's Maa, shot in Scotland and another play for which he'll be flying to the UK.
His career as a designer seems to be thriving with four outlets in top-notch areas of the city.
"I was doing a lot of fashion shows in the early '90s and had become well versed in what was 'in'." As fate would have it, at about the same time Aijazz's brother-in-law started his own garment venture and floated the idea of him getting involved.
After a stint of whipping up a batch of unbranded shirts, in 1995 Aijazz bought his very first outlet in Zamzama, which sported his jazzed up name, 'AIJAZZ.' "Again, it was my father who was willing to risk his finances in this enterprise."
Channeling all his energy towards his nascent career he disappeared from the showbiz arena for a while.
"My Kashkol fame was such that it kept me in the public eye and initially even helped me become known as a designer," he admits.
"I wouldn't say that designer wear is just for the elite, though it is a 'limited' affair. It's true that only a few people know the worth of a label but even college going boys who can hardly afford designer-wear wait for new designs."
In 2000, Aijazz flew to London to do a few courses in designing. "Before that, things were happening as a fluke but I became so much more organized and professional after these courses." He's planning to pursue further courses.
"I refuse to demean anything I do by labelling it as a 'hobby.' Acting is not a hobby; neither is designing. I take both things very seriously," he states flatly.
Aijazz confesses comfortably to not being a very religious person. When questioned about the latest tendency of singers and actors leaning towards religion, he comments doggedly, "One should certainly not use religion to justify things."
Moving on to the subject of his better half, "It was an arranged marriage. I was a good boy," he declares with a grin. "My wife…," he ponders, "I love the fact that she's not a typical wife.
She doesn't nag. She's brilliant with my kids – Misha and Mohammed – and manages time beautifully,y," he raves. "But she is touchy about the lack of time I spend with the family," he admits.
Sabeen Aijazz was very young when she tied the knot with Aijazz but was armed with ambition. Her husband has been behind her all the way when she started pursuing her career as a photographer.
Doing away with all false pretenses of modesty, Aijazz admits, "I'm at my peak now!" But he still vies to reach for more. "I want to become a legend. A legend needs to have a will of steel and die-hard sincerity to his work." Well, does he have these million dollar ingredients? Let's wait for time to tell!.
Short Biography Summary:
Birth Name: Aijaz Aslam
Nick Name: Aijaz
Age or Birthdate: 3 October 1972
Height: 5'6″
Hair Color: Black
Eye Color: Black
Birth Place: Pakistan
Wedding or Marriage Status: Married
Languages: Punjabi, Urdu, English
Hobbies: Read Booking, Music
Aijaz Aslam is a man with the guts and he is the top class actor and model in Pakistan. Here is a nice collection of some awesome, beautiful and impressive pictures of Aijaz Aslam. In this photo gallery, we have compiled a list of beautiful pics of Aijaz Aslam that are very attention grabbing and just nice to look at. Let's have a look at these photographs in detail.
Aijaz Aslam Pictures
| | | | |
| --- | --- | --- | --- |
| Aijaz Aslam … | Aijaz Aslam … | Aijaz Aslam … | Aijaz Aslam … |
| Aijaz Aslam … | Aijaz Aslam … | Aijaz Aslam … | Aijaz Aslam … |
| Aijaz Aslam … | Aijaz Aslam … | Aijaz Aslam … | Aijaz Aslam … |
| Aijaz Aslam … | Aijaz Aslam … | Aijaz Aslam … | |
Aijaz Aslam Videos