Abida Parveen Pakistani Folk Singer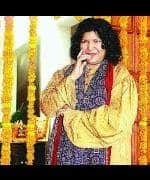 Abida Parveen is a Pakistani singer and one of the foremost exponents of Sufi music (Sufiana kalaam). She sings mainly ghazals, Urdu love songs, and her forte, Kafis, a solo genre accompanied by percussion and harmonium, using a repertoire of songs by Sufi poets. Parveen sings in Urdu, Sindhi, Seraiki, Punjabi and Persian, and together with Nusrat Fateh Ali Khan is considered one of the finest Sufi vocalists of the modern era. A few years ago she has taken a Bay'ah, and formally entered into the tutelage of a spiritual master, Muhammad Najeeb Sultan. She has expressed Muhammad Najeeb Sultan as her spiritual master in many songs. In December 2009 she launched an album in his name.
Early life

Abida Parveen, a Sindhi, was born in mohalla Ali Goharabad in Larkana (Sindh province, Pakistan). She received her musical training initially from her father, Ustad Ghulam Haider, and later from Ustad Salamat Ali Khan of the Sham Chorasia gharana. Growing up, she attended her father's music school,where her foundation in music was laid
Career
Abida Parveen embarked upon her professional career from Radio Pakistan, Hyderabad, in 1973. Her first hit was the Sindhi song "Tuhinje zulfan jay band kamand widha".She is considered one of the most prominent contemporary exponents of the great ghazal and kafi musical styles from the Indian subcontinent. Rooted in the intense encounter between sensitivity and spirituality that is Sufism. She never ceases to sing her fiery love for the Divine. The earliest memories of her childhood are all linked to her passion for music and her desire to sing. Born in 1954 in Larkana, Sindh into a family tat maintains close associations with the shrines of Sufi saints. She was imparted her initial training in the art of music from her father, Ustad Ghulam Haider, and later from Ustad Salamat Ali Khan of Sham Chorasia gharana. Her father, whom she refers to as reverently as Baba Sain, was also a singer and had his own small music school where he taught only male pupils. He was devoted to the Sufi poets and that is from where Abida gets her devotional inspiration. For her the Sufi poets of Sindh and Punjab are the ones who speak of the inner truths of the self and in their poetry, where she finds solace and peace. As she was growing up, Abida attended her father's music school and that was where her foundation in music was laid.
Hyderabad Radio first introduced her in 1977. She is today the most popular and well-known folk and ghazal singer of Pakistan who breathed a new life into ghazal and semi-classical music. She holds an audience of thousands spellbound. Her appearance is a complete reverse of many other stage performers. She begins each number as solemnly as the previous one as the evening progresses, sinking deeper and deeper into her kafi's and Sufiana kalam of the mystic poets. She is a woman of very few words and asks to be judged only by her music. This folk phenomenon, called Abida Parveen, is deeply religious and profoundly humble.
Abida Parveen is the finest singer of ghazal, geet and sindhi, seraiki and punjabi kafees. "While khayal and thumri became a part of her childhood training, her effective rendering of folk and traditional music with great sophistication and without losing the basic characteristics of the regional music of sindh has made her a versatile singer."
Coke Studio
Abida performed on the internationally acclaimed Pakistani show Coke Studio, on which she sang three songs, including Ramooz-e-Ishq, Nigah-e-Darwaishaan, and Soz-e-Ishq.
Personal life

Abida was married to Ghulam Hussain Sheikh, senior producer at Radio Pakistan, who died a few years ago and who nurtured her development as a singer in her early years. The couple had a daughter Priya, an MBA who acts as her adviser, and a son Saranj.
Awards
President of Pakistan's Award for Pride of Performance (1982), and the Sitara-e-Imtiaz (2005).
Discography
* Aap Ki Abida
* Are Logo Tumhara Kiya
* Best of Abida Parveen (1997)
* Baba Bulleh Shah
* Abida Parveen Sings Songs of the Mystics Vol 1
* Arifana Kalam
* Chants Soufis Du Pakistan
* Faiz by Abida
* Ghalib by Abida Parveen
* Ghazal Ka Safar Vol I
* Ghazal Ka Safar Vol II
* Har Tarannum
* Hazrat Sultanul Arafin Haq Bahu Rematullah
* Heer By Abida
* Ho Jamalo
* Ishq Mastana
* Jahan-e-Khusrau
* Jeewey Sain Yan Jeewey
* Kabir by Abida (2002)
* Kafian Bulleh Shah
* Kafiyan Khwaja Ghulam Farid
* Khazana
* Kuch Is Ada Se Aaj
* Latthe Di Chadar
* Mahi Yaar Di Ghadoli
* Mere Dil Se
* Meri Pasand – Abida Parveen
* Raqs-e-Bismil – Dance of the Wounded
* Sarhadein
* Sings Amir Khusrau
* Tera Ishq Nachaya
* The very best of Abida
* Yaadgar Ghazalen Vol 1
* Rukh-e-Murshid (A tribute to Abida Parveen's Murshid Sahibzada Muhammad Najeeb Sultan)

Interview
Iconic, profound, subliminal — to wax lyrical of Abida Parveen is natural. A legend both at home and abroad for her grace and soulful Sufi strains, Parveen over the years has stayed true to her classical origins, which she mastered under the tutelage of Ustad Salamat Ali Khan. Having started off her career from Radio Pakistan, Hyderabad, she credits her husband, late Ghulam Hussain Sheikh, a respected director of music at Radio Pakistan, for its success. A recipient of the 1982 President's Pride of Performance Award and the 2005 Sitara-e-Imtiaz, Parveen is indeed one of the foremost exponents of kaafi poetry and ghazal singing in Pakistan.
Abida Ji continues to perform at venues both sacred and secular; from the devotional shrines of saints across Pakistan to the world's greatest concert halls. This year, experience the legendary Abida Parveen's grace and soulful Sufi strains at Coke Studio.
1. How was the experience of being a part of Coke Studio?
The atmosphere built was similar to the ones at shrines. Coke Studio has its own flavour, concept, colours, everything unique in its truest sense. It felt like everything has merged into one to produce a fusion which is often only witnessed in shrines. Every person involved, from the producers, to coordinators, to the technicians to the musicians, they have created an environment which has lead to new and undiscovered paths.
2. In the past two years, Coke Studio has introduced a different brand of fusion music to Pakistanis. Is this the only platform left for folk and indigenous music to thrive?
This project which Rohail Hyatt has started is indeed great and I would like to be a part of it for a long time. The music that comes out of this project reaches both the heart and soul and it always compliments the lyrics without overriding the true message of the kalams. This platform builds on those messages of our Sufi elders.
During the recording, I was actually waiting to perform with these musicians as every stage in Coke Studio is different and I was tensed about my performance. I think if you don't feel a level of heightened tension about your work you cannot prepare properly. This new generation of artists have their own taste and they also respect Sufi kalams. The connection of soul and heart has nothing to do with age and they all felt enlightened from within.
Recently, Abida with her magical voice created a mystical environment in the Fez Festival held in Fez, Morocco in June, where she entranced an audience of 10,000. She performed at Royal Festival Hall in London on September 15, 2001 and captured the hearts of listeners.

Abida Parveen Pictures
Abida Parveen Videos