Music of Pakistan Nusrat Fateh Ali Khan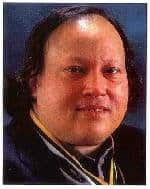 Nusrat Fateh Ali Khan (October 13, 1948 – August 16, 1997) was a musician from Pakistan, primarily a singer of Qawwali, the devotional music of the Sufis (a mystical tradition within Islam). He featured in Time magazine's 2006 list of "Asian Heroes".
Biography
Early life and career
Born Nusrat Fateh Ali Khan on October 13, 1948 in the city of Faisalabad, Pakistan. It was the fifth child and first son of Mr. Ali Fateh Khan, a musicologist, vocalist, instrumentalist, and Qawwal. Khan's family, which included his four older sisters, and his younger brother, grew Farouk Fateh Ali Khan in central Lyallpur. Began Khan have one daughter, appeal, by learning to play the drums alongside his father before progressing to learn Raag Vidya and Bandish Paul, in 1979, Khan married the daughter of his uncle first, Nahid (daughter brother Fateh Ali Khan, Salamat Ali Khan). He then went to learn to sing in the classical framework of the imagination. Khan and cut training short with his father when his father died in 1964, leaving uncles Khan, the father, Mr. Mubarak Ali Khan and Mr. Salamat Ali Khan, to complete his training
His first performance was at a traditional graveside ceremony for his father, known as chehlum, which took place forty days after his father's death.
In 1971, after the death of Ustad Mubarak Ali Khan, Nusrat became the official leader of the family Qawwali party and the party became known as Nusrat Fateh Ali Khan, Mujahid Mubarak Ali Khan & Party.
Khan's first public performance as the leader of the Qawwali party was at a studio recording broadcast as part of an annual music festival organised by Radio Pakistan, known as Jashn-e-Baharan. Khan sang mainly in Urdu and Punjabi and occasionally in Persian, Brajbhasha and Hindi. His first major hit in Pakistan was the song Haq Ali Ali, which was performed in a traditional style and with traditional instrumentation. The song featured restrained use of Nusrat's sargam improvisations.
Early in his career, Khan was signed up by Oriental Star Agencies [OSA] of Birmingham UK to their Star Cassette Label. OSA sponsored regular concert tours by Nusrat to the U.K. from the early '80s onwards, and released much of this live material on cassette, CD, videotape and DVD.
Later career
Khan teamed with Peter Gabriel on the soundtrack to The Last Temptation of Christ in 1985, with Canadian musician Michael Brook on the albums Mustt Mustt (1990) and Night Song (1996), and with Pearl Jam lead singer Eddie Vedder in 1995 on two songs for the soundtrack to Dead Man Walking. He also contributed to the soundtrack of Natural Born Killers.
Peter Gabriel's Real World label later released five albums of Nusrat's traditional Qawwali, together with some of his experimental work which included the albums Mustt Mustt and Star Rise. Nusrat provided vocals for The Prayer Cycle, which was put together by Jonathan Elias, but died before the vocals could be completed. Alanis Morissette was brought in to sing with his unfinished vocals. Nusrat also collabrated with Michael Brook to create music for the song 'Sweet Pain' used in the movie Any Given Sunday. He also performed traditional Qawwali before international audiences at several WOMAD world music festivals and the single Dam Mast Qalandar was remixed by electronic trip hop group Massive Attack in 1998.
His album Intoxicated Spirit was nominated for a Grammy award in 1997 for best traditional folk album.
Khan contributed songs to, and performed in, several Pakistani films. Shortly before his death, he recorded a song each for two Bollywood films, Aur Pyaar Ho Gaya (in which he also sang the song onscreen) and Kachche Dhaage. He sang the title song of the film, Dhadkan. He also sang Saya bhi saath jab chhod jaye for Sunny Deol's movie, Dillagi. The song was released only in 1999, two years after Nusrat's death.
Khan contributed the song 'Gurus of Peace' to the album 'Vande Mataram', composed by A.R. Rahman, and released to celebrate the 50th anniversary of India's independence.
According to the Guinness Book of World Records, Nusrat Fateh Ali Khan holds the world record for the largest recorded output by a Qawwali artist—a total of 125 albums as of 2001.
Death

Khan was taken ill with kidney and liver failure on August 11, 1997 in London, England while on the way to Los Angeles in order to receive a kidney transplant. He died of a sudden cardiac arrest at Cromwell Hospital, London, on Saturday, August 16, 1997, aged 48. His body was returned to Faisalabad, Pakistan and his funeral was attended by the public.
After his death, the song "Solemn Prayer", on which Nusrat provided vocals, was used by Peter Gabriel on his album Up and in the soundtrack to the film Blood Diamond.
Awards and Titles
Nusrat Fateh Ali Khan is widely considered to be the most important qawwal in history. In 1987, Khan received the President of Pakistan's Award for Pride of Performance for his contribution to Pakistani music. In 1995 he received the UNESCO Music Prize. In 1996 he was awarded Grand Prix des Amériques at Montreal World Film Festival for exceptional contribution to the art of cinema. In 2005, Nusrat was awarded the "Legends" award at the UK Asian Music Awards.
TIME magazine's issue of November 6, 2006, "60 Years of Asian Heroes", lists him as one of the top 12 Artists and Thinkers in the last 60 years. He also appeared on NPR's 50 Great Voices list in 2010In August, 2010 he was included in CNN's list of the twenty most iconic musicians from the past fifty years
Many honorary titles were bestowed upon Nusrat during his 25-year music career. He was given the title of Ustad after performing classical music at a function in Lahore on his father's death anniversary.
Composition of Nusrat's qawwali party
The composition of Nusrat's ensemble — called a party (or Humnawa in Urdu) — changed over its 26 years. Listed below is a snapshot of the party, circa 1983:
1. Mujahid Mubarak Ali Khan: Nusrat's first cousin, vocals
2. Farrukh Fateh Ali Khan: Nusrat's brother, vocals and lead harmonium
3. Rehmat Ali: vocals and second harmonium
4. Maqsood Hussain: vocals
5. Rahat Nusrat Fateh Ali Khan: Nusrat's nephew & pupil, vocals
6. Dildar Hussain: percussion
7. Majawar Abbas: mandolin and guitar/chorus, handclapping
8. Mohammed Iqbal Naqvi: secretary of the party, chorus, handclapping
9. Asad Ali: chorus, handclapping. Nusrat's cousin
10. Ghulam Farid: chorus, handclapping
11. Kaukab Ali: chorus, handclapping
The one significant member of the party who does not appear on this list is Atta Fareed. For many years, he alternated with Rehmat Ali on vocals and second harmonium. He is easily identifiable in videos since he plays the harmonium left-handed.
This snapshot is non-representative in one respect: harmoniums were usually the only instruments. Only rarely were instruments like mandolin or guitar used.
Awards and recognition
TIME magazine's issue of November 6, 2006, "60 Years of Asian Heroes", lists Nusrat as one of the top 12 Artists and Thinkers in the last 60 years.
Jeff Buckley cited Nusrat as a major influence, saying of him "He's my Elvis", and performing the first few minutes of Nusrat's hit "Yeh Jo Halka Halka Suroor Hai" (including vocals) at a live concert.
Films

Documentaries
* Nusrat Fateh Ali Khan: le dernier prophète (1996). Directed by Jérôme de Missolz.
* Nusrat has Left the Building… But When? (1997). Directed by Farjad Nabi. (This 20-minute docudrama focuses on Nusrat's early career.)
* A Voice from Heaven (1999). Directed by Giuseppe Asaro. New York, NY: Winstar TV & Video. (This 75-minute documentary, available on VHS and DVD, provides an excellent introduction to Nusrat's life and work.)
* Samandar Main Samandar (2007). A documentary aired on Geo TV detailing Nusrat Fateh Ali Khan's career.
* The King of Qawalli (2009). A short film aired on Dawn News about Nusrat's life and career.
Concert films
* The JVC Video Anthology of World Music and Dance (1990). Video 14 (of 30) (South Asia IV). Produced by Ichikawa Katsumori; directed by Nakagawa Kunikiko and Ichihashi Yuji; in collaboration with the National Museum of Ethnology, Osaka: JVC, Victor Company of Japan; Cambridge, Massachusetts: distributed by Rounder Records. Features a studio performance by Nusrat Fateh Ali Khan and Party (two Urdu-language songs: a Hamd, and a Manqabat for Khwaja Mu`inuddin Chishti. Filmed in Tokyo, Japan, September 20, 1987, for Asian Traditional Performing Arts).
* Nusrat! Live at Meany (1998). Produced by the University of Washington. (87-minute recording of a January 23, 1993 concert at Meany Hall, University of Washington in Seattle, during Nusrat's residency at the Ethnomusicology Program there.)
* Live in Concert in the U.K. (DVD, vols. 1-17) [OSA]; recorded between 1983 and 1993; first thirteen listed below:
o Live in Concert in UK (DVD vol. 1)
o Live in Concert (DVD vol. 2)
o Live in Concert (DVD vol. 3)
o Live in UK (DVD vol. 4)
o Live in UK (DVD vol. 5)
o Live in Concert (DVD vol. 6)
o Live in UK (DVD vol. 7)
o Live in UK (DVD vol. Cool
o Live in UK (DVD vol. 9)
o Live in UK (DVD vol. 10)
o Live in UK (DVD vol. 11)
o Digbeth Birmingham 12 November 1983 (DVD vol. 12)
o Digbeth 30 October 1983 (DVD vol. 13)
* Akhiyan Udeek Diyan (DVD) [Nupur Audio]
* Je Tun Rab Nu Manauna (DVD) [Nupur Audio]
* Yaadan Vicchre Sajan Diyan Aayiyan (DVD) [Nupur Audio]
* Rang-e-Nusrat (DVD, vols. 1-11) [Music Today]; recorded between 1983 and 1993 (same material as the OSA DVDs)
* VHS videotapes, vols. 1-21 [OSA]; recorded between 1983 and 1993 (same material as the OSA DVDs)
o Luxor Cinema Birmingham (VHS vol. 1, 1979)
o Digbeth Birmingham (VHS vol. 2, 1983)
o St. Francis Hall Birmingham (VHS vol. 3, 1983)
o Royal Oak Birmingham (VHS vol. 4, 1983)
o Private Mehfil (Wallace Lawley Centre, Lozells Birmingham, November 1983) (VHS vol. 5)
o Private Mehfil (VHS vol. 6, 1983)
o Natraj Cinema Leicester (VHS vol. 7, 1983)
o Live In Southall (VHS vol. Cool
o Live In Bradford (VHS vol. 9, 1983)
o Live In Birmingham (VHS vol. 10, 1985)
o Allah Ditta Hall (VHS vol. 11, 1985)
o Harrow Leisure Centre (VHS vol. 12)
o University Of Aston (VHS vol. 13, 1988)
o Aston University (VHS vol. 14, 1988)
o WOMAD Festival Bracknell (VHS vol. 15, 1988)
o Live In Paris (VHS vol. 16, 1988)
o Poplar Civic Centre London (VHS vol. 17)
o Imperial Hotel Birmingham (VHS vol. 18, 1985)
o Slough Gurdawara (SHABADS) (VHS vol. 19)
o Imran Khan Cancer Appeal (VHS vol. 20)
o Town Hall Birmingham (VHS vol. 21, 1993)
Nusrat Fateh Ali Khan Pictures
| | | | |
| --- | --- | --- | --- |
| Khudi Ka Sare Nihan – … | Nusrat Fateh Ali Khan … | … | … |
| | | The late Pakistani cla … | |
Nusrat Fateh Ali Khan Videos