Abdul Qadir Pakistan Cricket Players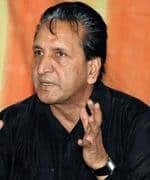 Abdul Qadir Khan born September 15, 1955 is a former Pakistani international cricketer, later commentator and was recently the Chief Selector of Pakistan Cricket Board. He resigned from the post because of his differences with the top brass of Pakistan cricket board. His main role was as a leg spin bowler.
Playing career
Abdul Qadir made his first-class debut in the Pakistan local competition during the 1975/76 season and, within two years, his Test debut on his home ground in Lahore against England in December 1977.
Natural talent combined with aggression and passion made Qadir one of the most successful spinners of his era. He had a distinct run-up, bounding in to the crease, and a great variety of deliveries: there was the orthodox leg-break, the topspinner, two googlies and the flipper. He was unique for bowling leg spin at a time when it was not only rare but considered obsolete, and he kept the torch alight for a generation of leg spinners. His fervent appeals made him a great favourite with the spectators but sometimes got him into trouble with umpires.
Qadir's second Test series, in England in 1978, was an injury-plagued let-down, but he was a strong and established force by his return in 1982, when his six wickets in the Lord's Test played a major role in a historic Pakistani victory.
In 1982/83, Qadir picked up 22 wickets in just three Tests as Pakistan made a clean sweep of its home rubber against Australia. Qadir became the first bowler to take 100 wickets in a Pakistani season. He was enormously popular with Australian crowds.
Qadir took nineteen wickets in three Tests the following season as Pakistan cruised to its first-ever series triumph over England. At the Kennington Oval in 1987, his ten-wicket haul ensured another series win, this time in England.
Three months later, Qadir brought his art to an all new level, taking nine for 56 (an innings record for a Pakistani bowler in Test cricket) and four for 45 in a Test against England at Lahore. During this crusade, he moved past the 200-wicket mark, becoming the first man from his country ever to do so.
Qadir played first-class cricket for twenty years, finishing with 960 wickets at the bowling average of 23.24. He was not shy of authority and frequently rebelled against it. His bowling and character are among the most zealous ever known in Test cricket.
Career highlights
Tests
Test Debut: vs England, Lahore, 1977/78
Last Test: vs West Indies, Lahore, 1990/91
Qadir's best Test batting score of 61 was made against England, Karachi, 1987/88
His best Test bowling figures of 9 for 56 came against England, Lahore, 1987/88
One-day internationals
ODI Debut: vs New Zealand, Birmingham, 1983 World Cup
Last ODI: vs Sri Lanka, Sharjah, 1993/94
Qadir's best ODI batting score of 41 not out was made against New Zealand, Birmingham, 1983 World Cup
His best ODI bowling figures of 7 for 14 came against Sri Lanka, Leeds, 1983 World Cup
His ODI captaincy record: 5 matches, 5 win, 0 losses

First-class
Qadir's best first-class batting score was 61
His best first-class bowling figures were 17 for 91

List A Limited Overs
Qadir's best List A batting score was 41 not out
His best List A bowling figures were 5 for 31
Abdul Qadir Khan Pictures
Abdul Qadir Khan Videos