Aamer Sohail Pakistani Cricket Player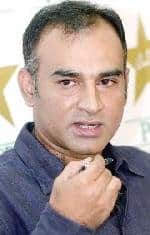 Aamer Sohail was born on 14 September 1966 in Lahore, Punjab, Pakistan. He is a former professional Pakistani cricketer and PCB Chief Selector. With Saeed Anwar, he formed one of the best opening combinations Pakistan has ever had.
Career
Sohail made his first-class debut in 1983, a left-handed opening batsman and occasional left-arm spin bowler. In a playing career that spanned eighteen years, Sohail played in 195 first-class and 261 List A Limited Overs matches, including 47 Test matches and 156 One Day Internationals for Pakistani.A combative left-hand opener, Aamer Sohail was a predominantly back-foot player whose forte was improvisation. He loved to attack, and almost found it impossible to control his aggression. He showed no fear, epitomised by his baiting of Venkatesh Prasad in a 1996 World Cup quarter-final in front of a hostile Bangalore crowd. He was an effective left-arm spinner, more a one-day bowler than a Test wicket-taker. Aamir played a big part in Pakistan's World Cup triumph in 1992, and famously told Ian Botham that he might want to send his mother-in-law in to bat after Botham was controversially given out for 0 in the final. He captained Pakistan at the height of the match-fixing controversy, and was one of the whistle-blowers. His career suffered as a result, and he left the international scene early to work in broadcasting, where he might have tried harder to suppress his personal prejudices.
Debut
An aggressive batsman, Sohail's first appeared for the national team in a 1990 one-day International against Sri Lanka and enjoyed a successful international career. He was an important member of the team that won the 1992 Cricket World Cup in Australia and New Zealand.
Sohail captained Pakistan in six Tests in 1998, becoming the first Pakistani captain to defeat South Africa in a Test Match. He led Pakistan through 22 one-day internationals from 1996 to 1998, winning nine and averaging 41.5 with the bat.
Career highlights and controversies
Sohail played a big role in Pakistan's World-Cup triumph in 1992, famously telling Ian Botham that he might want to send his mother-in-law in to bat after Botham was controversially given out for nought in the final. Sohail's most infamous moment on the cricket field, however, was in the 1996 World Cup Quarter Final against arch rival India in Bangalore. Sohail was captaining the side in pursuit of a relatively large target of 287 in 50 overs. With opening partner Saeed Anwar, he got Pakistan off to a flying start. With the score at 109 for one, and Saeed Anwar (4Cool back in the pavilion, Sohail smashed a delivery from Indian seamer Venkatesh Prasad through the covers for four. Both players exchanged words, and Sohail unnecessarily pointed his finger aggressively at Prasad. The next delivery clean-bowled him and triggered a batting collapse which ultimately lost the game and eliminated Pakistan from the competition.
The loss had other causes, however, which included captain Wasim Akram withdrawing from the match for mysterious reasons on the morning of the quarterfinals. The five batsmen following Sohail, Inzamam, Ijaz, Saleem and Javed all played poorly. This match remains a controversial one, for Aamir Sohail blew the whistle about players involved in match-fixing.
Sohail was at the heart of the match-fixing scandal that rocked cricket in the 1990s: as captain of the national team, his whistle-blowing may have negatively affected his international career.
Broadcasting career
After retiring from cricket in 2001, Sohail became chief selector for the national team, his tenure ending in January 2004 when he was replaced by former national team wicketkeeper Wasim Bari. He continues to work as a cricket broadcaster.
Interview
I was not a serious cricketer before college. Once, I was playing a house tournament in college and the captain saw me play. I had scored quite a few runs and had a few wickets. He asked why I was not playing for them. I said, "I am doing my pre-engineering and I don't have the time. I have to take practicals and everything." He literally followed me around, insisting I play. So I played one tournament, and then I went for the Lahore Under-19 trials and was picked. That's when I thought, "If I got picked, there must be something good about my cricket."
He scored 2,823 runs at 35.28 in 47 Tests while he amassed 4,780 runs at 31.86 in 156 One-day Internationals, hammering five centuries each in both formats of the game. He picked up 25 Test wickets while his tally in ODIs stood at 85 that reflected his all-round abilities. The total span of his career was exactly a decade (1999-2000) during which he also captained Pakistan.
Aamir Sohail has been the chairman of the national selection committee besides having been associated with the Pakistan Cricket Board in the role of Director Media and Marketing. He earned instant recognition in the role of a commentator and analyst primarily because of his courage to call a spade a spade on air.
The name of the game is the same. Even in Twenty20, if you are a technically correct batsman you have more opportunities to manoeuvre the bowling rather than if you play expansive shots. Twenty20 teams are realising that it's not just wham-bam. There has to be thinking involved. You might succeed without it in one or two games, but eventually you will get figured out.
The attitude and aggression I used to use in my cricket, are the two things I miss the most. I can't use them anymore.
Wasim Raja was my captain at Lahore and he asked me to open. When I hesitated, he said, "Do it. Pakistan won't be needing middle-order batsmen in the next four or five years. There is Saleem Malik, there is Javed Miandad; it will be hard for you to get in. Start opening the innings, you will play for Pakistan."
There is nothing wrong with the religiosity in the Pakistan team; that's their personal choice. As long as they are delivering 100% on the ground, they can do whatever they want to.
I was very lucky to have Saeed Anwar and Ramiz Raja as opening partners. We developed a good understanding because we became good friends.
Eventually reverse the alternative did not help Pakistan cricket at all. Number of new ball bowlers Did you see who are very good? This has helped Pakistan to achieve reverse swing things temporarily, but when I look at it in the long term, it actually hindered the Pakistan cricket. You do not get a good new ball bowlers. If you do not get a good new ball bowlers in the structure of the first degree or a cricket club or at a higher level, and how you think actually get good openers?
The Courtney Walsh and Glenn McGrath on the most difficult bowlers to open against. They were wonderful. They had to clean the line and length, at the same time what they can and bowl on the pace and do something with the ball. Play against them you have always to be hard to focus, and you had to show good technique. He was otherwise difficult to survive against them.
If you have a solid defense and awareness of where your torso is, you can always work on improving as the first match.
Saeed and I used to spend a lot of time together. We had this passion for buying music systems. We used to buy the latest stuff in the market, enjoy music together; train together, play squash together. That friendship off the field was a great help, and that relationship is still there.
From Wasim Raja I learned how to deal with youngsters: how to actually sit down and talk to them, how to instill confidence in them. From him I learned that it is an obligation for a cricketer to pass on what he has learned.
Prior to the World Cup in 1992, 18 or 19 probables went to Australia. For three weeks I never got a hit, even in the nets. I was tagging along. One day I came back to the dressing room after a workout and I was told I was playing the next day in place of Saleem Malik, who had got injured. I played that game and made a few runs. I was batting along with Imran [Khan], hitting the ball nicely towards the covers, and he said to me: "It seems like you have been playing in Australia for a long time." That gave me a lot of confidence. Finally, after the warm-up matches, I was at the hotel reception one day when Imran came and said, "You are playing the World Cup." Just like that. "The way you have been batting, I will play you in all ten games, and if you score nine ducks, I will still play you in the final." I can't forget that.
As an opener, you also had to consider the mindset of the players to follow. If Nos. 3 and 4 were in good form, we would attack from the beginning; if they were struggling, we tried to be cautious. At times, if we thought the rest of the batsmen were nervous and the pitch difficult, just to ease the pressure we deliberately used to take the attack to the bowlers. Different mindsets had to come out for different games.
My favourite innings came in Perth in the World Cup. We had not been getting the right results in the tournament, and it was a crunch game, against Australia. Imran said, "I'm banking on you. Not many batsmen have been successful playing at Perth – not only Pakistani batsmen but from all over. But I think you have the talent." I got 76 runs, and when I got out he was the next man in. He waited for me to cross the boundary and he patted me on the back and then entered the ground. I really enjoyed that.
My opening partners and I, we used to discuss cricket, we used to discuss oppositions, and we were open and honest about it. " I might struggle against this bowler. Can you face him for some time?" We used to look at the other batsman for technical deficiencies. After the innings, or sometimes during an innings, we used to say: "Okay, you are not moving this foot well and you have to be careful."
I was never a temperamental person. I just played my cricket with passion and aggression – people may have taken it wrongly. Everybody loses his temper once in a while; it's the same with me.
Imran, Miandad and Malik really knew their cricket, and they were exceptional captains. I didn't play a lot of cricket with Imran but he was the sort of person who knew how to manage people, how to get the best out of them. Miandad was a great help technically, and tactically it was Miandad who used to really help Imran. But the guy I really enjoyed playing under was Malik.
Aamir Sohail Pictures
| | | | |
| --- | --- | --- | --- |
| Aamer Sohail … | | Aamer Sohail with inti … | Aamir Sohail with his … |
| | Amir sohail with wasee … | amirr sohail … | Amir Sohail with nawaz … |
| | | | |
Aamir Sohail Videos