Saeed Anwar Pakistan Cricket Player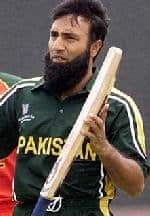 Saeed Anwar was born on September 6th, 1968 in Karachi, Pakistan. He is a former Pakistani opening batsman. A left-hander, Anwar is most notable for scoring 194 runs against India in Chennai in 1997, the previous highest and now the second highest joint individual score in a One Day International. India's Sachin Tendulkar overtook Anwar's record, when he scored 200* against South Africa on February 24, 2010.
Majestic timing and placement were Saeed Anwar's hallmarks. He was an opener capable of electrifying starts in all cricket through graceful strokeplay rather than brute force. He loved driving through the off side with minimal footwork. He annihilated any bowler offering width outside off stump although he too regularly guided the ball straight into the hands of fourth slip or gully. He first came to prominence as a one-day player but soon achieved equal success in Test cricket. Anwar's fielding was weak, he was injury prone, and his footwork became less assured as his career drew to a close. Opting to take a break from the game after the death of his daughter in August 2001, he was a lesser force when he came back, though he still managed a hundred against India in the 2003 World Cup. His batting prowess on the wane, Anwar finally announced his retirement just before Pakistan's home series against Bangladesh. He held the record for the highest ODI score till Sachin Tendulkar upstaged him, and on his day he was one of the most gracefully compelling players on the international stage.
Career
An opening batsman capable of annihilating any bowling attack on his day, Anwar was an attacking batsman in one-day matches and once settled in Test matches, scored quickly and all over the field. His success came from good timing and wrist flicks rather than physical power, and Anwar became famous for his trademark flick. He was able to lift a ball that had pitched outside off stump for six over midwicket. Anwar's timing and ability to score quick runs made him a crowd favourite. He was named as a Wisden Cricketer of the Year in 1997.
Anwar was the first Pakistani batsman to score a century against India on Indian soil in a match-day one. Has experience beating the highest rate (59.06) of any Pakistani against Australia, scoring one goal from three consecutive centuries against them. He scored a century against South Africa classic in Durban, which allowed Pakistan to win the test match for the first time in South Africa.
On May 21, 1997 in Chennai, Anwar scored 194 against India in a match ODI. Charles Coventry tied the feat on August 16, 2009, against Bangladesh. This was the highest score by an individual batsman in the world until Sachin Tendulkar scored a goal in 200 unbeaten against South Africa on February 24, 2010.
Saeed turned to devote most of his time to religion after his daughter's death in 2001. Not many players leave the cricketing arena at their peak, but Saeed was one such player. Not only did he score a century in his last Test innings against Bangladesh in 2001, but in his second-last ODI innings, he produced an exquisite century against his most favourite opponent (India) in the 2003 World Cup.
Anwar, a member of the exclusive club of batsmen who have scored three successive hundreds in ODIs, with hundreds against Sri Lanka and the West Indies and Sri Lanka during the 1993-1994 European Champions Cup in Sharjah. The record is two consecutive hundreds in three other occasions in his life, and was the first batsman to complete this feat in ODIs
Records
Anwar (194) and Charles Coventry (194*) shared the record for highest individual score in an ODI match until it was overtaken by India's Sachin Tendulkar (200*) against South Africa on February 24, 2010. Anwar has scored two or more successive hundreds on four occasions. He holds the highest Test batting average (59.06) of any Pakistani against Australia in Test matches, and made 20 hundreds in one day internationals as a Pakistan opening batsman.
Personal life
Saeed Anwar graduated from NED University, Karachi in 1989 and is an engineer by profession. He was planning to go to the United States for his Master's studies before becoming a professional test Cricketer.
Experienced great personal tragedy in 2001, when he was three years old daughter died after an illness for a long time. He said that after his return to cricket after a long hiatus, and was one of the Pakistani batsmen the most consistent in the World Cup in 2003.
On August 15, 2003, announced his retirement from cricket after he was dropped from the squad in the tournament the next day international in Sharjah. He devoted his life to the Islamic call in different parts of Pakistan with the Tablighi Jamaat. Led the funeral prayers of the husband and his former colleague Akram Wasim and Huma Akram, in Lahore.
Interview
Saeed Anwar, the world-class Pakistani batsman who dropped out at the peak of his cricketing career to commit himself to propagating Islam, is busy visiting various tents here to lecture on Islam.
On Sunday night he chose tent 4/68 at the Mina-Muzdalifa boundry to address around 300 Indians and Pakistanis.
"A day or night spent in the way of Allah is better than any other worldly activity," said Anwar, now sporting a long beard and hardly
recognizable as the face that made the front pages for heroic cricketing deeds for his century in his key day [though he did not make a brief appearance on the world stage when he returned to serve his country at the World Cup in South Africa last year].
Dressed in the Pakistani Shalwar Kameez outfit, Anwar captivated his audience with a narration on how he was able to attract his Pakistani team co-player Saqlain Mushtaq to the light of spiritual guidance.
For the past couple of years, Saeed Anwar has associated himself with Tabligh Jamat (an Islamic propagation party) whose religious scholars goaround Pakistan and abroad to attend various Islamic conclaves.
Anwar said his talk that he was able to convince Saqlain Mushtaq to spend half a day with the Jamat, offering prayers in mosque and taking a round of one's own residential area and calling the people to prayers (which is called gasht in Tabligh parlance). Saqlain joined us after Friday prayers. We had food and after a session of religious teachings we asked Saqlain to do the gasht in his residential area and call people to offer prayers.
In the company of religious scholars later, Saqlain offered obligatory prayers, listened to the sermons, had dinner with group, offered Isha prayers and went to sleep. "The next morning Saqlain came to me and said, 'What was this dose that you gave me last night?' Earlier I used
to toss in bed all night and would not be able to sleep till 8 in the morning. I needed sleeping pills. What dose did you give me? I slept after Isha prayers and just woke up. And I feel damn hungry, get me some food…."
Saqlain's life changed that morning. He took that course for three days. Ten days later, he came back and asked to spend three more days in the Jamat, Anwar said.
Tabligh Jamat has been their job for the last 40 years. The jamat exhorts non-practicing Muslims to reckon the importance of worshipping Allah, understand the teachings of Islam, implement them in one's life and propagate Islam among non-muslims.
He explained how Anwar was met with a tendency toward Saqlain sensation with his faith in his family, especially his wife. But things have changed at a later date …. Now the wife wears a headscarf and Saqlain. My father, who was a practicing Muslim, but used to listen music and so on, and now it has changed is the other. My mother, which was initially angry about my father attended Jamats (religious gatherings), turned in later the same God and guided her to the right path …. Now wearing the full veil …. And three sisters, brother-in-law, said Anwar, and two maternal uncles and uncles 5 returned to the straight path as well.
Before my travel for the Hajj, and visited Saqlain told me he and his wife will attend a religious seminar together. Anwar said if people are working for the cause of God, and he makes way for them to acquire the land and the public. Quoting one of his acquaintances who had returned to Pakistan from England recently, Anwar said he saw the famous Indian film actor and actress Dilip Kumar and Saira Banu in
Group for 15 days in London. It was amazing to see Saira Banu full veil. Anwar was quoted as saying his friend.
Anwar went on to explain the experience of the group. "When you are sick, and the doctor gives you the right kind of medicine and tells you what to eat and what not to eat .. This is what we are doing to the people," he said of the spiritual treatment. But noted that questions from the audience about how the ordinary man can attend than ever before to the group when he has to work
Every day to make ends meet, in contrast to Anwar Saeed, who is already rich in the success of his cricket.
Ninety-nine percent of the people working for the Jamat are not well-to-do financially. There are very few well-heeled people attached to the Jamat, Anwar replied. He said that even people with meager incomes, once they understand the purpose of their life, have undertaken local as well as foreign tours in Jamats.
Have you tried to preach Islam to Imran Khan? One pilgrim asked. Anwar replied: Imran is a nice person. He is very sincere in whatever he does and always keeps Allah as his witness. And the proof of that is he has retired from International Cricket in honor unlike what happens to most of the cricketers who don't quit the team until we are
disgracefully turned out. But problem with Imran was that he had been brainwashed by someone into believing that since he has built a charitable hospital, he did not require
to observe other injunctions of Islam, Anwar said. But after Imran spoke to Maualana Saad of India, he committed himself to attending Jamat and, Insha-Allah I am expecting Imran's participation in a Jamat in April this year. One pilgrim sent a written question. Anwar did not read it out
aloud but replied, "I am not an Aalim (scholar) or a Mufti (Jurisprudent) to give my edict on it".
Saeed Anwar Pictures
| | | | |
| --- | --- | --- | --- |
| Atta Ur Rehman with Sa … | Former captain Saeed A … | Saeed Anwar … | |
| Saeed Anwar And Sourav … | | | |
Saeed Anwar Videos