Popular Pakistani Model, Actress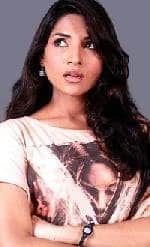 Zhalay Sarhadi is a very popular Pakistani model, actress and a VJ. Zhalay Sarhadi is also the niece of Khayam Sarhadi, a popular Pakistani actor himself. Initially, she started acting, but then switched over to modeling. She gained widespread success with modeling, and she quickly became the cover girl of several popular magazines, such as Libaas.
Zhalay has earned her plaudits for acting as well, and her beautiful looks have made her a real fan favorite. She is mostly remembered as a hostess for the popular Pakistani reality show, Shaadi Online. She has never worked in any film.
Notable works: Uraan, Barzakh, Chanp Tayyar Hai, Mutthi Bhar Mitti, Dar-ling Liar, Madham Madham, etc.
Zhalay Sarhadi Pictures
Zhalay Sarhadi Videos