Zaheer Abbas Pakistani Cricket Player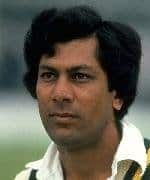 Syed Zaheer Abbas Kirmani was born on 24 July 1947, Sialkot. He is popularly known as Zaheer Abbas is a former Pakistani cricketer, regarded as one of the finest batsman produced by that country. He is widely known as the "Asian Bradman", a reference to former Australian great Sir Donald Bradman. He is among few professional cricketers who used to wear spectacles.Zaheer Abbas was a stylish, elegant batsman. In full flow, he was a sight for sore eyes. His avarice for runs matched that of the Australian legend, and that was why he was dubbed the Asian Bradman. As well as playing test cricket for Pakistan, Zaheer Abbas had a long stint playing for Gloucestershire.A great batsman, he scored 5,062 runs from 78 Tests and 2,572 from 62 one-day internationals. Zaheer Abbas is the only Asian to have made a century of centuries in first class cricket to date.
Career
Abbas made his Test match debut in 1969, and in his second Test he scored 274 against England, still the fourth ever highest score by a Pakistani batsman. This was the first of four double-centuries Abbas made; only ten men have scored more.[1] The last of his four Test double-centuries was an innings of 215 against India in 1983, the first of three centuries in consecutive Tests, and his hundredth first-class century; Abbas and Geoffrey Boycott are the only two batsmen to have scored their hundredth first-class century in a Test match.
Abbas, fondly called the 'Run Machine', also had great success in first-class cricket, and is the only Asian batsman to have scored one hundred first class centuries. He had a long stint with Gloucestershire county club; joining the county in 1972, he remained there for thirteen years. During that time he scored over a thousand runs in the majority of his thirteen seasons. He also made over two thousand runs in a single season on two occasions for the club (1976 and 1981). During those thirteen years at Gloucestershire, he played 206 First Class games, scoring over 16,000 runs. He averaged 49.79, hitting 49 hundreds and 76 fifties.
Gavaskar Sunil, and former Captain of the experiences of India, said once in a while commenting that players of India and often says Zuhair, "Zuhair AB-BAS Caro," which means "visible, stop it now" in Urdu, Hindi, referring to free Abbas record . He is still second on the list of all time rankings of the International Criminal Court, beating ODI.
Abbas has two commander of the national team in 1981 and 1984. He retired from international cricket in 1985, and officially as a referee in one test and a three-match ODI. He also served as director of the national team
Interview
Those fortunate enough to watch him bat will not forget the experience. He had an easy mastery and it left you enthralled, no matter what side you were on.
Javed Miandad has called him the most naturally talented batsman ever produced by Pakistan. In a country that boasts the likes of Salim Malik, Inzamamul Haq, Saeed Anwar, Mohammad Yousuf, and Miandad himself, that is saying an awful lot.
Such as the best batsmen the game naturally, and was strong in the off side, especially in the area between the grooves on a large scale outside the middle. In full flow, with a high backlift and the position of the languid, rolling his wrists to square the campaign, and after it is through in the taste of sweet, Zahir was simply a recipe for ecstasy.
Sialkot is the birthplace of his head, so now is the apparent all-purpose product Karachi, where he received his formal education and attended the University of Karachi. He cut his teeth in the world play cricket in Karachi, highly competitive in the early 1960s, and prepared himself as the heir to the beating Mohammad Hanif. Seek is a game of cricket against the wishes of his family, who were aware of the economic risks involved in the process of sports, but also flourished in the interest of talent and talent exploded in the genius, the family relented. Zahir's father and once said in an interview with Pakistan Television that gifts after beating his son, it became clear that he fully supports the visible and encouraged him to aim for the stratosphere of test cricket.
The opportunity came in the 1969-1970 season included apparent when the first test against New Zealand in Karachi. It proves that the symbolic moment of the first test Zaher Mohammed Hanif was also in the past. But if there was a torch passed, it was not clear. Zuhair managed only 12 and 27, and dropped on the spot for the remainder of the season.
It was his exploits on the local circuit, which was formed initially reputation. In 1970-71, he was 5 hundreds in six games, including the first career double-centuries from 10 (202 PIA against the Blues in Karachi, Karachi) and earned a point in the tour of Pakistan in 1971 to England. Level found in the games side and never looked back.
Deified by the passage of time, Zaheer's knock of 274 at Edgbaston has taken on an almost mythical life. He would go on to play many other remarkable innings but this one remains possibly the most special of his glittering career.
After the success of the inaugural Test years, Pakistan cricket endured a serious talent drought in the 1960s. Two previous tours to England had resulted in embarrassing losses by 4-0 in 1962 and 2-0 in 1967. Promising youngsters like Asif Iqbal, Majid Khan, Mushtaq Mohammad and Wasim Bari came into the national side as the decade wore on, and the nucleus of a fresh team began taking shape. In this climate, Zaheer's innings at Edgbaston delivered clear notice that a renaissance was underway.
June 3, 1971, was a clear day over the English midlands, and Edgbaston was bathed in sunshine. Pakistan won the toss and batted. Zaheer, playing only his second Test match, was due to come in at the fall of the first wicket, yet he found himself effectively in the role of an opener as Aftab Gul had to retire hurt on the third ball of the match. It was a good pitch that encouraged stroke-making. Zaheer started cautiously. He cut an assuming figure thin, bespectacled, with a shock of wavy hair, and wearing a shirt at least one size too big that flapped behind him as he ran between the wickets.
One by one, the bowlers tried their skills: Ward and Lever, then Underwood and Illingworth, and then Shuttleworth and D'Oliveira. And one by one they were sent to the boundary as Zaheer, settling into fluent strokeplay, went about amassing runs. Radio Pakistan had not sent a commentary team on this tour, so instead BBC's Test Match Special was relayed to Pakistani listeners. The British inflection made Zaheer sound like Zahiya and for two days the airwaves were filled with Zahiya Zahiya
He became an overnight celebrity, a superstar. The myth grew when he returned to England in 1974 and scored 240 at the Oval. The press nicknamed him the Asian Bradman. He also found great form in the English season with Gloucestershire and achieved the unmatched feat of scoring a double-century and a century in the same match four times twice in 1976, once in 1977 and once more in 1981.
Yet Zaheer's record in Test matches at home remained sketchy. By the time he left to join Kerry Packer's World Series Cricket in 1977, he had played 14 Test innings within Pakistan, managing only a tail-ender's average of 15.71 with a highest score of 33. In the autumn of 1978, that was to change forever. When the Indian Test side visited Pakistan to resume cricketing relations that had been suspended for nearly 18 years, the Packer dispute was quickly resolved and the team was full strength. Much was expected of Zaheer, and he did not disappoint. With scores of 176, 96, 235 not out, 34 not out, and 42 in the three Tests, he was virtually unstoppable. With a near-perfect eye, he played audacious and punishing shots against the turn to India's world-class slow bowlers, finishing off the famed quartet of Bedi, Prasanna, Chandrashekhar and Venkatraghavan almost single-handedly.
Accolades started piling up but the superlatives were soon exhausted. Omar Kureshi said it all when he wrote in Dawn that Zaheer Abbas was playing like Zaheer Abbas, implying that Zaheer was so good he could only be compared to himself.
Zaheer eventually made 5,062 Test runs for Pakistan at the very respectable average of 44.79. His 12 Test hundreds include four double-hundreds. For a while, he was Pakistan's leading run-scorer in Tests, before being overtaken by Javed Miandad. In first-class cricket, Zaheer remains Pakistan's number one batsman. In a career spanning 1965 through 1986, he made 34,843 runs averaging 51.54; only Mushtaq Mohammad and Javed Miandad come close. The crowning achievement is his century of first-class centuries, 108 in all an accomplishment that places Zaheer in highly select company. The feat has not been equaled by another Asian and, indeed, by only three other non-Englishmen Donald Bradman, Glenn Turner and Vivian Richards.
Zaheer's natural flair was also well suited to the pace of One-Day Cricket and he emerged as one of its leading exponents. It is a testimony to his brilliance that Zaheer's limited-overs batting average of 47.62 still remains the fourth highest ever (exceeded only by Australia's Michael Hussey and Michael Bevan, and England's Kevin Pietersen). In the annals of One-Day Cricket, this places Zaheer not just ahead of any Pakistani, but also ahead of such legends as Viv Richards, Gordon Greenidge, Sachin Tendulkar, and Brian Lara.
Like the game's best natural batsmen, he was strong on the off-side, especially in the area between gully and wide mid-off. In full flow, with high backlift and languid stance, rolling his wrists for a square-drive and the bat following through in sweet aftertaste, Zaheer was simply a recipe for ecstasy.
His most memorable One-Day innings came in the 1979 World Cup semifinal at the Oval, a classic David-Goliath match-up against a West Indian side considered by many to be the greatest ever. Zaheer walked in at 10 for 1, with Pakistan chasing 294. The fast-bowling artillery of Holding, Roberts, Croft and Garner was firing all guns, backed up by Collis King as an accomplished fifth bowler. On a hard, bouncy surface Zaheer was greeted by a menacing second-ball bouncer from Michael Holding that flattened him. Yet he fought back with skill and verve, making 93 and putting on 166 for the second wicket with Majid Khan. Pakistan lost the game after the rest of the batting collapsed, but despite the tragedy or perhaps because of it the memory of Zaheer's innings is undiminished.
Zaheer Abbas had many special gifts, but perhaps the most special was his almost supernatural sense of timing. He had an astonishing innate spatial sense of bat and body position. In his best moments, he combined this with a laser-accurate eye and a graceful economy of effort to write poetry with masterstrokes. It places him at the vanguard of an artistic genre in Asian batting that is set stylistically apart, and which includes such gifted practitioners as Salim Malik and Mohammad Azharuddin and, more recently, VVS Laxman, Marvan Attapatu, and Mohammad Yousuf.
Zaheer Abbas Pictures
| | | | |
| --- | --- | --- | --- |
| Zaheer Abbas … | Zaheer Abbas willing t … | | |
Zaheer Abbas Videos