Most Talented Anchors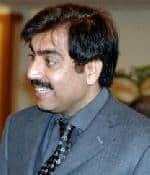 Tauseeq Haider is one of the most talented anchors of the present generation. He also holds the honour of being the first voice to be broadcasted on FM. These days Tauseeq is experimenting with his own production house called Black Box. He resides in Islamabad.
Interview
How would you describe yourself as a kid and as a teen?
I was very naughty, never interested in course studies but very fond of reading, purely outdoor person, adventurous, and sporty. I loved camping and cooking food.
My teen years were filled with adventures and fun. Each day brought a different event. I was very accident prone. In fact, there's no part of my body which has not been broken till today. I even had head injury; rib cage was also affected once.
The most unforgettable moment of your childhood?
Everyday was eventful. I loved pets, I would take in cats or dogs and then we would raise them. I loved cycling and often hurt myself but never stopped. I remember playing badminton with a broken leg. My childhood was very unusual and my youth was also eventful. I never thought that I would join the radio at a very young age; or become a star.
What were your aspirations when you were a kid?
Well, I always aspired to become a banker or economist but destiny brought me into this profession. I never thought of joining this profession and was never fond of watching TV or listening to the radio. I used to watch just two programmes. One was Kaliyan and a show named Chips.
Tell us how you entered this profession.
By chance. Actually in college we did theatre and I was invited to broadcast a youth-show on radio. They liked my voice and invited me to read the news. My sister who was affiliated with the radio at that time encouraged me to do it. Initially I did not take it seriously but when I started listening to my voice I began to realise that it was something important. And since then I have never looked back. I really cherish the fact that my voice was the first that was aired on FM radio. The year was 1993 and FM Special aired from Islamabad which later became FM-101. And after two years, regular FM channels started.
Did your parents support you when you joined this profession?
They were very supportive because I belong to a broadcasters family. My uncle, my father and my sister are also attached with the media. My uncle (Syed Akhtar Jaffery) has also received pride of performance in broadcasting.
The atmosphere of our house was very literary; we were encouraged to read; and my cousins and I would have poetry, elocution and speech competitions amongst us.
How much do you prepare for a show?
Not much, it depends. The most popular segments of my shows are the interviews. While conducting interviews I represent the viewers who nothing about the person. Keeping that in view i try to delve deep into their lives and work.
How did you began conducting interviews when you joined as a newscaster?
In 1995, I switched from news to a new project started by Jamshed Farshori and Irfan Ahmed Urfi who invited me to go live with the show Kabhi mein soochta hun. I have to handle four celebrities in one show; they wanted me to utilise my FM experience.
You prefer live shows or recorded ones?
I don't know I always feel more in command in live shows. Maybe it's because I have gone live since the beginning.
The most unforgettable moment of your career?
I am also a trainer and conduct trainings in political communication. I am attached with the International Academy for Leadership (IAF) of Germany, where I have being going the past for six years and when I went there in 2000 I trained 25 young leaders from different countries. It was truly a great sense of pride for me and for Pakistan as they have a complete German faculty and invite very few people froman International faculty, yet they invited me. That was really an emotional moment for me.
Count your achievements.
Well, my real achievement I feel is when I teach people. The participants are very different when they step into the venue in the morning and are very different when they empower themselves and go away. And this is not all, imagine what happens in those residential programmes when you live with them for 20 days and in those 20 days you revamp the whole personality. And obviously media is also very helpful in putting across your message. But in media I am more close to radio, which I think is more genuine as a tool of communication as compared to TV which I feel is more pretentious.
Do you believe in destiny?
Yes, a lot and I believe you get in life what is destined for you. You will get what is meant for you at all cost, and will never get which is not for you.
How do you visualise your future?
I never plan life. But one should plan and set goals and keep a focus on your goal.
Your message for the youth?
To be different is to be alive. I believe one should try new things; it's a dilemma that we are now leading our lives in set patterns and sometimes I feel our youth is following a very boring lifestyle. If I take a look at my life it was full of adventures but I feel that today's youth is leading a dull kind of mechanical life. Monotony is death. Each day should be different!
Prime recipe of success?
What is success first of all? Focus, plan but don't expect much from life.
Tauseeq Haider Pictures