Pakistani TV Drama Actors Tauqeer Nasir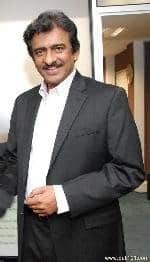 Tauqeer Nasir's style of acting can only be termed as top notch. The way he immerses himself in any role is a feat that perhaps only few can claim to master. Initially it was the ever-sulking 'angry young man' image that shot him to stardom. But, over the years, he has matured and has given fine performances in a variety of roles.
From an angry young man of Parwaz to a rustic village Robin Hood of the blockbuster Rahein, Tauqeer Nasir has been able to dish out hit serials every once in a while. In a nutshell, he has proved his mettle as an outstanding actor with a remarkable versatility.
• Born in Dera Ghazi Khan, he got his early schooling from D.G Khan and Multan. Later he joined the Mass Communication Department of the Punjab University and did his masters in 1981. But journalism was not his cup of tea at the time as the army uniform used to fascinate him. "The army khaki always attracted me. So joining the army was my dream. I did try to translate my dream into a reality but to no avail," he states animatedly.
• Arif Waqar took the audition and luckily I was later selected for the main role of that serial. I was to perform the role of a son while the late Saleem Nasir played the role of my father.
• The rest, as they say, is history. He performed wonderfully in Panah, Aik Haqeeqat Aik Afsana, Samundar, Dehleez, Dard Aur Darman and of course, Parwaz. However, initially he considered acting as only a hobby. "At first it was only a hobby for me. And gradually it became a passion for me," he describes.
Period 1975-90 is in his opinion "golden period" of the PTV is also used to put everyone in a great effort to produce something special. But is not disappointed about the current state of affairs of PTV, as he still believed that it produces standard stuff.
He preferred softness, as well as melody in music. He has developed ear for music icons such as Mehdi Hassan, Lata, Noor Jehan, Ghulam Ali, Nusrat Fateh Ali, and also a unique Khanum. As for pop music, and he had little praise for it."Pop music is nothing but noise and hangama. You can dance on it or perform bhangra while listening to pop music. Other than this, it is nothing. It does not touch the inner chords of your heart at all," he remarks casually.
Recipient of both the Pride of Performance and Tamgha-e-Imtiaz, as a matter of fact he was the youngest to have pocketed Tamgha-e-Imtiaz.

Interview
He was born in the fifties in Khan Director-General, and studied at first in Multan, and did his bachelors from Muzaffargarh School of Government since his father was doing business in South Punjab at the time. He then moved to Lahore, where his career began as an actor in the same year took admission to the Mass Communication Department at the University of Punjab, which really helped him in the same building and knowledge that is still benefiting from it.
After finishing his studies, and has gained experience in advertising. Then after doing CSS, was appointed to the Export Promotion Bureau, at the same time used to write columns in newspapers regularly. At that time did not have any idea he was about to become such a great artist in life. As his family always supported him in everything he wants to do, so it was not difficult for him to choose acting as a career. I worked in different places, such as the flow of water in the river, and I probably flowed towards my destiny, and that he was acting and.
When he entered into this field, there was a single television channel, which had to cover everything from the country, so it was like a magic box, which always used to create masterpieces, In 1979 I got attached with this magic box, says Tauqeer Nasir.
I had never thought that I would be selected for the lead role in my first play, I was just expecting a good role but when I was told about my role, I was really shocked.
He got an opportunity in the play called Parwaaz which was directed by Arif Waqar. Though I got 800 rupees for doing my first play but it was my passion and I got spiritual satisfaction, it was a pleasure doing it, says Tauqeer Nasir with a smile on his face.
When he entered into this field it used to be very hard for actors to make their mark, though PTV was the sole television channel but at that time, we had competition, to produce quality work. PTV was like a magic box and it used to be a trend setter, ten families used to sit together and watch television, PTV was creating masterpieces, at eight PM everyone used to stick to the television and no one wanted to be disturbed till the end.
Though everybody at that time were amateurs, Naseem Abbas and many other companions were studying at that time but they had the passion to create masterpieces, they worked so hard and it was their team work which promoted the channel a lot. commented Tauqeer Nasir, when he was asked about his experience of PTV.
He has spent thirty years in this field, so we asked him about the expansion which is coming in our local media these days, he said, Team work and passion for work was visible in their performance in the past, despite the media boom now directors and actors hardly converse with each other. Without coordination between the whole team, how can we expect quality from them? That is why you do not see me on television that much anymore, stated Tauqeer Nasir, I have worked in five movies and none of them had any script, even then we sustained. Then how can people expect the Pakistani industry to compete with the Indian industry? The stars in India are living like princes, we do not have that resources, that we have survived in such restricted circumstances is more than enough.
Tauqeer Nasir is a man of principles, he never compromised on his values, and he always did quality work with an intention to work for the betterment and motivation of youth. The quality of his dramas and his role as an artist are reflected in his positive approach towards drama as a medium of instruction through many of his plays. He did those plays not just for the sake of fame but for the counselling and motivation of youth and society. We did not work for money or entertainment, we did not use girls or vulgarity for coming up and getting popularity, the trend which our current television media is following these days, opined Tauqeer Nasir.
Commenting on the concept of Indian dramas that are being run on Pakistani channels and Star Plus, he says, Joint production is good for both the countries but compromising on moral and social values is not a practical decision at all; new channels are just showing substandard concepts of dramas and this increase of low quality work will let them down.
I would advise them to set up textile mills and but do not sacrifice your values
Channels follow their marketing policies. The marketing departments finalise the dramas, and they are not picking quality and thus broadcasting the inferior kind of dramas that they are currently doing is affecting society badly.
Actors and directors making new dramas are just busy in the race for making lots of productions, but what they lack is enthusiasm for making masterpieces. Their motive is just to earn fame and money, that is why, there are lots of actors who are working in many plays but people hardly know them by their names.
Actors of our generation did wonderful jobs, that's why they are still well known, like Firdous Jamal and Tauqeer Nasir himself. When people recognise me, I feel really great. When fans call me from far flung areas it boosts up my passion, says Tauqeer Nasir. We had an impact on the viewers, he added.
Acting is not my achievement, I put passion in youth.
Under training by Ashfaq Ahmad, a well groomed Tauqeer Nasir worked a lot for the promotion of social values and against social evils to shape the youth. He also worked as a director and producer but did not continue with this as he never thought of compromising his values. He introduced almost 40 percent of the new faces through his productions. He neither supported favouritism, nor used it for himself. Favouritism and lobbyism is another drawback. Directors opt for their favourite actors, this miscasting leads to poor quality work, which is damaging our dramas.
Telling more about his teacher Ashfaq Ahmad, he commented with a smile that he was very warm-hearted and a loving personality.
Telling us about his favourite television personalities, he named Roohi Bano and Qavi.
Regarding his personal interests he told us that he likes to read books and enjoys listening to music.
He gave a message to all the newcomers in this field: that they should always work for the good of nation; never compromises on their moral values and to always try to do something for the motivation of the people not for spoiling them.
Tauqeer Nasir Pictures
| | | | |
| --- | --- | --- | --- |
| Lady Gynacologist Rece … | | | Tauqeer Nasir in smili … |
| Tauqeer Nasir … | | | |
Tauqeer Nasir Videos