Syed Noor Pakistani Film Director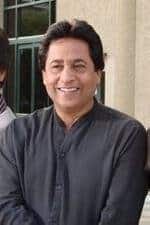 Syed Noor full name Syed Ghulam Mohyuddin Noor born on February 21, 1951 is a Pakistani film director based in Lahore. He is considered as one of the best filmmaker of Pakistan and is famous for making issue-based films wrapped in entertainment. He has to his credit some of Lollywood's biggest hits like Choorian, Jeeva and Deewane Tere Pyar Ke.
Noor is often credited for re-vitalizing the Lollywood industry during the mid-90s, a period during which he directed hits such as Jeeva, Chor Machaye Shor and Ghoongat. In recent years Noor has often faced criticism for his casting choices and his reliance on outdated technology. Noor countered his critics with his last flick Larki Panjaban where he used some of the best gadgets to make the film. He has the credit of bringing the first Avid machine to Pakistan, a software used for film editing. His latest Punjabi release Majajan is doing very well at the box office.
Noor, the 60 year old filmmaker suffered a paralysis stroke early on Dec 31, 2011 and was brought to Sheikh Zayad Hospital. According to doctors, he suffered with mild stroke and he is out of danger. However, the doctors suggested him to remain in hospital for some days.
Early life
Syed Noor achieved a bachelors degree in journalism from Dayal Singh College in Lahore. Syed Noor wasn't going to wait for success, he went looking for it. As a freelance reporter he was ever where looking for that one break, which soon enough came in the form of Mr S. Suliman who having seen Syed Noor's work picked him to be his assistant. This was the turning point for Noor sahib as this opened a lot of doors for him. As Syed was a talented writer he was asked to write some thing which was new, something which would make people see a different side of lollywood. Soon Syed Noor wrote a film called, Society Girl, the film was directed by none other than the famous actress Sangeeta,the film was a super hit at the box office. So far Syed Noor has written over 400 scripts and stories earning him numerous awards such as, The Nigar award and the National Award just to mention afew.
Personal life
Syed Noor lives in Lahore,Pakistan.On 20 April 1984 he married Rukhsana Noor, they have 4 children. Syed Noor was first romantically linked to the Pakistani actress, Saima in the late nineties. On 1 May 2007, Saima in a press conference said that she married Syed Noor in July 2005. and he is her husband
Direction

Syed Noor's directorial debut was Qasam, released in 1992, at the time when the Pakistani FIlm Industry also known as Lollywood at its low point. Violent Punjabi blockbusters had taken over the Cinema of Pakistan. Syed Noor's Qasam, came as a breath of fresh air and induced new life and energy into the ailing film industry.The phenomenal success of Qasam was followed by other hits like, Jeeva,Sargam,Sangam.Hawaein,Ghoonghat and Deewanay Tere Pyaar Kay. Syed Noor achieved new levels of success with his major blockbuster,Choorian,Larki Punjaban and the most recent Majajan, which is still playing in around Pakistan for years later.
Current projects
Currently, Mr. Noor is working in partnership with the British company, the best M.Khan, which is already funded, and the Production of 2 successful films. M.Khan bought the best out of young former studio, occupying approximately 12 acres, more than 100 kanals. Has established the best and the light of Mr. Khan's first film too, and the Academy Theatre in Pakistan by the name of the ideals of the Academy of Performing Arts (PAPA), in the hope that we offer creativity and interest 1 for the film industry and work among the youth of Pakistan. Afzal Khan plans to develop young people and to revive the studio previous to its former glory. And state of the art studio on the floor of the photographic film and television projects. The studio has state of the art dubbing, music recording and editing facilities.
Syed Noor is currently working on a movie waiting for most of his life, called Price of Honor, a film based on honor killings in Pakistan. Completion of the film, was supposed to be released on Eid al-Adha, but was delayed as a condition of the country is in a critical condition because of the floods. Was released last Syed Noor project called Wohti if AEY Jani Kay, Eid al-Fitr in 2010, making eight million rupees in just 2 days. The cinematography, editing and capture camera is top nosh, she finally got out of the use of cameras, cheap old rusty.
Syed Noor Pictures
| | | | |
| --- | --- | --- | --- |
| film director Syed Noo … | | | SAUD MOMI ARBAZ dancin … |
| | | Syed Noor has done it … | |
| | | | |
Syed Noor Videos