Member Of National Assembly MNA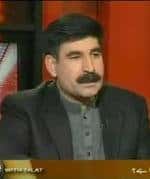 Having affiliated with the Pakistan People's Party (PPP) since student life, Syed Akhunzada alias Chattan is proud of contesting the February 18, 2008 election in NA-44 (Bajaur Agency) constituency on the PPP ticket.
His main opponents were former Member National Assembly Shahabuddin Khan, Maulvi Fazil of the Jamiat Ulema-e-Islam-Fazl and Guldad Khan of the Awami National Party.
Born on January 20, 1968 in Amankot, Bajaur Agency, Akhunzada after graduation from the Bajaur Degree College, Khar, got admission in the Fine Arts Department of the University of Peshawar in 1990 and at the same time remained active leader of the People's Students Federation (PSF). He was the president of PSF Malakand division in 1985 and was elevated to the position of PSF provincial chairman in 1993.
His father was one of the senior leaders of the PPP but he is now spending most of his time in 'tableegh' (preaching). Chattan, an amateur painter and artist, has also spent 40 days in preaching.
MNA-elect from the troubled Bajaur Agency, has offered help to broker a truce with the Taliban through an independent jirga if the government pledges to accept its recommendations.
Zadeh wants to betray the political parties law extends to the tribal areas run by the federal government and the recommendations of the Border Crimes Regulation (FCR) Reforms Committee implemented immediately. He says that in the era of British laws and the administrative system in the tribal areas was one of the causes of unrest in the tribal areas. So unless you are given the tribesmen their constitutional rights, legal, and sense of deprivation among them will prevail, he thought.
The real factor of the PPP, he says, he will support the party even if he would prefer to sit in the opposition benches.
Syed Akhunzada Chattan Pictures
| | | | |
| --- | --- | --- | --- |
| … | n Session 7th July 201 … | … | |
Syed Akhunzada Chattan Videos