Federal Minister for Textiles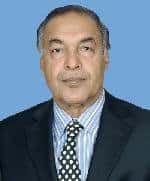 Makhdoom Shahabuddin is a Pakistani politician and a member of the National Assembly of Pakistan (February 2008-present) and has held the Federal Ministerial portfolios of finance, health and textiles. He belongs to Rahim Yar Khan, Punjab, Pakistan and his political affiliation is with the Pakistan Peoples Party (PPP).
On 19 June 2012, in the aftermath of Yusuf Raza Gilani's conviction and disqualification (Watch Video) by the Pakistan Supreme Court on contempt of court charges, Makhdoom Shahubuddin is being considered for nomination by the PPP as its candidate for the office of Prime Minister of Pakistan along with Hina Rabani Khar and Ahmed Mukhtar as other nominees.
Makhdoom Shahabuddin is the man named by the governing Pakistan People's Party (PPP) as its preferred candidate to succeed Yousuf Raza Gilani as the country's next PM after Mr Gilani was abruptly disqualified from office by the Supreme Court.
Such is the unpredictable nature of Pakistani politics that almost as soon as Mr Shahabuddin was nominated for the post, a judge ordered his arrest because of his alleged links to imports of an illegal drug while he was health minister.
Although it is a charge he denies, the allegations may yet impede his progress to one of the country's top political jobs.
In every other aspect, Mr Shahabuddin has the ideal political pedigree to become prime minister. His family have long links to the PPP and are considered to be among its political elite.
Family strength
Mr Shahabuddin's father was a leading member of the PPP and a close aide of former President Zulfiqar Ali Bhutto.
Such is the family's political strength in their homeland of southern Punjab, members have contested elections for both the PPP and its rival, the Pakistan Muslim League (PML).Mr Shahabuddin – who initially began his career as a member of the PML – has in the course of his career found himself as a PPP candidate contesting at least one election against an uncle standing for the PML.
He joined the PPP under the leadership of Mr Bhutto's daughter, Benazir, and served as her junior finance minister from 1993 to 1996 after winning a National Assembly seat. More recently he served as textiles minister in Mr Gilani's cabinet.
Pakistan's Express Tribune paper says that despite his background as a law student, Mr Shahabuddin made a name for himself primarily as a politician and agriculturalist.
His portfolios at various times throughout his career include the treasury, planning and development departments in addition to health – and more latterly – textiles.Mr Shahabuddin's political pedigree and his lengthy experience all work in his favour when it comes to choosing a new prime minister.
He is a long-standing member of the PPP central executive committee and heads the party in his native South Punjab. Furthermore, he has sat in parliament on and off for more than 20 years.Against him is the consideration that Mr Gilani might not want a fellow South Punjab landlord to succeed him, as Mr Shahabuddin would further undermine the former prime minister's position of influence.
Another problem, according to Pakistan daily The Frontier Post, is that the 65-year-old may be arrested by the Anti-Narcotics Force (ANF) on the orders of the Supreme Court after it was alleged that Mr Shahabuddin issued a quota for the drug ephedrine illegally.
Even if he becomes PM, he may find himself again to be at loggerheads with the judiciary over whether or not to pursue corruption allegations against President Zardari.It was for this reason that his predecessor came to grief.Mr Shahabuddin is, no doubt, only too aware that being nominated for prime minister in a country like Pakistan is something of a poisoned chalice.
Makhdoom Shahabuddin Pictures
| | | | |
| --- | --- | --- | --- |
| | Arrest warrant issued … | Makhdoom Shahabuddin … | MAKHDOOM SHAHABUDDIN F … |
| Makhdoom Shahabuddin g … | | PHC grants 7-day bail … | |
Makhdoom Shahabuddin Videos