Hina Rabbani Khar National Assembly of Pakistan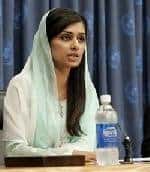 Hina Rabbani Khar was born on January 19, 1977 in Multan. She has been elected for her first term as MNA. She is politically affiliated with PML(Q). She is currently serving as Minister of State for Economic Affairs Division, and was previously the Parliamentary Secretary for Economic Affairs and Statistics.
Personal life
She is married to Firoze Gulzar, with whom she has two daughters, Annaya and Dina. She is the co-owner of the Polo Lounge restaurant on the Lahore Polo Grounds.
Businesswoman by profession
A businesswoman by profession, she graduated with a B.Sc. (Hons.) from Lahore University of Management Sciences in 1999, and received her M.Sc. degree in management from University of Massachusetts, U.S.A in 2001.
Political career
In the 2002 general elections, as a candidate with the Pakistan Muslim League (Q) (PML-Q)—the party of President Pervez Musharraf—Khar was elected to the National Assembly, representing the NA-177 Muzaffargarh-II constituency in Punjab, a position her father had held previously, but a new law requiring all candidates to hold a university degree meant he could not run that year.The Guardian wrote, "In deference to local sensibilities about the place of women, her landlord father Noor addressed rallies and glad-handed voters; Hina stayed largely at home, with not even her photo appearing on the posters." After the PML-Q denied her a ticket for re-election in 2008, she joined the Pakistan Peoples Party (PPP) and was elected for a second time. The PPP won the majority of the votes and formed an alliance with the Pakistan Muslim League (N). They nominated and elected Yousaf Raza Gillani as Prime Minister.
Hina Rabbani Khar has travelled to USA, UK, Germany, Netherlands, U.A.E, Saudi Arabia and Singapore. She is single and enjoys riding, reading and travelling.She is also a member of the Young Parliamentarians Forum (YPF) Pakistan.
She has her roots in Village 'Khar Gharbi' located in Tehsil Kot Addu, and politically affiliated now with PPPP. She got elected as Member of National Assembly (MNA) in 2008 elections from NA-177, Muzaffargarh-II for the second time. Earlier, she won the elections in 2002 from the platform of PML-Q and was the Parliamentary Secretary for Economic Affairs and Statistics.
State Minister for Economic Affairs
Hina Rabbani Khar remained Pakistan's State Minister for Economic Affairs. The State Ministers report directly to the Prime Minister and hold specific portfolios. In Hina's case, she was responsible for international (multilateral and bilateral) grants and loans. Her Ministry's the official signatory for any project that is launched in Pakistan with foreign financial assistance. Her father, Ghulam Rabbani Khar, drove Hina into politics, setting her on a different path from the hotel management career she had been pursuing with great zeal. She is a co-owner of the Polo Lounge, an upscale, popular restaurant located on the Lahore Polo Grounds.
She feels that being in the Federal Government is as good as it can get. She has no issues, whatsoever, with being a woman. In fact, she feels that it is more positive than negative as one gets a lot more recognition and opportunities, and a lot of it has to do with how professional the person is. Her age did matter at times, because by any standard, she is quite very young to be in such a position. However her rich work experience and on-the-job training helped her and above all she took herself seriously; so did everyone else. She regards President Musharraf and Ex-Prime Minister Shaukat Aziz as leaders of great worth. To her both these leaders are highly educated and professional and they surely made a difference.
Elaborating on the policies of President Musharraf, she expressed her regard for President Musharraf as a visionary leader. She acknowledged the people of Pakistan as resilient and strong but detested few segments of our society: who adopt a western culture and regard it as something good. She feels that there has been a huge revolution in the last few years. She graduated in 1999 from LUMS and then left for USA. In these six years, she feels that there has been a paradigm shift. The society has moved towards modernization and westernization. Hina Khar feels that today it is hard to distinguish Pakistan's urban citizens from the Westerners. However, she opined that it can be done with sophistication, if at all it's necessary. She cannot stand people who are not proud to be Pakistanis, whether they are here in Pakistan or settled abroad. She hates people changing their names to be 'vilayati' (foreign) and acquired accents and other things of the sort. She believes we have to understand and accept the culture we're living in and be proud of it to really stand out on our own. Emulating selective aspects of another culture doesn't really translate into true social progress.
She is a proud Pakistani and regards this very feeling as her most treasured asset. She really feels proud of whatever God has given her: her family, her village, her background, and everything. She feels that Pakistan has a great deal to offer. She loves trekking. She recollected her visit to Nanga Parbat and K2 (with the 'LUMS Adventure Society') with joyfulness; nostalgia gripped her and she appreciated the diversity of the landscape and the hospitality of people as enough to warm one's heart towards this country. In Pakistan, people and places make you feel welcome. Freedom of expression is also a thing, unique to Pakistan. She said that even in the remotest areas, one can sit at a railway station to have tea with the porters and have a real conversation with them. Then, during the elections process, when she visited her constituents, she found them to be hospitable in spite of their limited means. A guy earning Rs.3000 a month will lay out a feast for his guests. It all speaks to the generous and warm nature of our culture, which is definitely something we should be proud of!
They consider themselves very lucky. She was happy for the way in which they are constantly challenged her mind in terms of working hours, and the changes that she can make it, and a huge room for innovation only. She was able to make some changes that are not very popular, but in the long run They are great for Pakistan, for example, in telecommunications and banking. However, I felt that on the other side, there are no guarantees in politics, so they did not comment on how much control has more than make a career for life. It is working with Prime Minister Shaukat Aziz and President Musharraf as one of the biggest factors in the sense of pride for Pakistan.
Hina Rabbani Khar has traveled to the United States and the United Kingdom, Germany, Netherlands, United Arab Emirates, Saudi Arabia and Singapore. Are one and enjoy the ride, and reading and travel. It is also a member of the Young Parliamentarians Pakistan (YPF) Forum.
It is clear, bright, enterprising, and very far-sighted, even in such a young age. Moreover, they are modest, friendly, professional, and knows her job very well. At the end of the day, if we had more people like her in our government, and perhaps will be a positive image of Pakistan do not need any marketing behind simply to enter the world!
Hina Rabbani Khar Pictures
| | | | |
| --- | --- | --- | --- |
| Foreign Minister Hina … | Hina Rabbani Khar and … | Hina Rabbani Khar Excl … | Hina Rabbani Khar in M … |
| Meet Hina Rabbani Khar … | | | Hina Rabbani Khar with … |
| Hina Rabbani Khar with … | Hina Rabbani Khar WITH … | Hina Rabbani Khar will … | Hina Rabbani Khar visi … |
| | | | |
Hina Rabbani Khar Videos