PML N – Javed Hashmi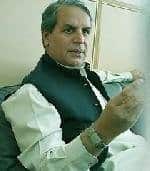 Javed Hashmi (born January 1, 1948) is a key opposition leader in Pakistan. He is the leader of the Alliance for Restoration of Democracy which campaigns for the return on civilian democracy. He is also the leader of the PML-N (Pakistan Muslim League) which is loyal to former Prime Minister Nawaz Sharif who was ousted in the 1999 military coup by General Pervez Musharraf. Hashmi once served as Pakistan's Health Minister.
Introduction
Javed Hashmi (born January 1, 1948) is a key opposition leader in Pakistan. He is the leader of the Alliance for Restoration of Democracy which campaigns for the return on civilian democracy. He is also the leader of the PML-N (Pakistan Muslim League) which is loyal to former Prime Minister Nawaz Sharif who was ousted in the 1999 military coup by General Pervez Musharraf. Hashmi once served as Pakistan's Health Minister.
An agriculturist by profession, he completed his M.A in Political Science and M.A in Philosophy from University of the Punjab. He was previously elected to the National Assembly for the terms of 1985-1988, 1990-1993, 1993-1997, and 1997-1999. He has also served as Federal Minister for Health in 1997. Earlier he served as a Minister of State for Youth Affairs.
Married with six daughters, Makhdoom Javed Hashmi has traveled to the Middle East, U.S.A, and Europe. His hobbies include reading, walking and following news and current affairs.
History and Background
On 12 April 2004 he was sentenced to 23 years in prison for inciting mutiny in the army, forgery and defamation. He had circulated a letter written by military officers calling for an investigation into alleged corruption in the armed forces and that criticised president Pervez Musharraf and his relationship with US president George W. Bush.
All opposition parties in Pakistan, including Pakistan People's Party of former Prime Minister Benazir Bhutto, 6 party-alliance Muttahida Majlis-e-Amal, call the above case to be politically motivated by the ruling junta, and entitle him to be a political prisoner.
Javed Hashmi Leaves PMLN & Joins PTI
MULTAN: Pakistan Muslim League-Nawaz (PML-N) firebrand leader Makhdoom Javed Hashmi has reached the Multan airport and announced that he is joining Pakistan Tehreek-eInsaf (PTI) Saturday, Geo News reported.
Before leaving for Multan airport, PML-N workers blocked the road outside his house to prevent him reaching the airport. Workers were chanting slogans and expressed their solidarity with the party and the senior leader.
However, Hashmi was successful in reaching the airport to catch his flight for Karachi where PTI chief Imran Khan is likely to receive him at the Karachi airport.
While talking exclusively to Geo News earlier on Friday, Hashmi said that he would decide about joining PTI after consulting with his comrades here in his constituency. He told that he and Imran Khan were in talks on the same.
To a question regarding his party's reaction on this development, a disillusioned Hashmi said that he had conveyed his reservations to the party leadership.
He told Geo News that he had talked to Mian Nawaz Sharif on the phone and Kulsoom Nawaz in person to discus his change of mind.
He said that PTI could bring about a big change in the country, but how big a change would it be was hard to comment on beforehand.
"I also long for a change, and that's exactly what I was up to now", said he.
He said he never practised the 'politics of/for power', rather 'politics of/for people', adding he was not considering joining PTI for securing a 'commanding position' or a 'prominent portfolio'.
Commenting on Shah Mehmood Qureshi, he said that if he and Qureshi were on the same side they could work miracles.
Javed Hashmi of the Pakistan Muslim League Nawaz (PML-N), announced joining the Pakistan Tehreek-e-Insaf at a joint news conference held at the residence of PTI General Secretary Dr Arif Alvi here on Saturday.
The PTI chairman Imran Khan, Vice Chairman Makhdoom Shah Mahmood Qureshi, Jehangir Tareen and local leaders of the PTI attended. Addressing on the occasion, Hashmi said the policies of Imran Khan motivated him to join his party and save Pakistan from turbulence.
"Today the common man feels insecure and economic situation of the country is worse. Together we would wipe out all corrupt policies of the present rulers," he said. He declared Imran Khan as the champion of politics.
Makhdoom Javed Hashmi denied any pressure from any quarter on him to join the PTI adding it was his sole decision and he did not enter into any deal in this regard. Hashmi said people wanted peace and justice and they are fed up with status quo.
He disclosed that Imran Khan came to him and appealed to support his party for the sake of Pakistan adding no backdoor discussions were held. It was purely for Pakistan and I have always struggle for politics of principles, he said.
He however said that he was a little bit sad for leaving a party with which he remained associated for about 33 years. In reply to a question, Hashmi said he was tired as he did not sleep for two whole nights as his former colleagues tried to persuade him not to leave the PML-N.
He disclosed that very soon his daughter Maimoona Hashmi will resign from her assembly seat and join the PTI. Imran Khan while welcoming Hashmi said, "We want a new Pakistan. We want new people in our party from whom we will take guidance. Hashmi is the right person who will help us in bringing a positive change in the country".
The PTI chief said Hashmi was with him in the opposition against the dictator and expressed the hope that his joining will augur well for the PTI. He said an ideological warfare has started in the country that would culminate in bringing a revolution for a positive change.
When asked that it has been the tradition that after every two years a popular government faces ouster, Imran Khan said if his party did not perform well he would himself resign and all conspiracies would itself die down.
He said if elections were held on old electoral lists it would be a mere farce and fraud. PTI would take to the street and would not let elections held on old electoral lists. He also categorically stated that he is not a candidate for prime minister adding it all depended on the party decision. People, he said, are disappointed with the present rulers and wanted a change through constitutional means. He strongly refuted that establishment was helping the PTI to become a national party. Everyone, he said, joined his party for his own reasons adding many who were in the power corridors joined a party that does not have a single seat in the Parliament.
Speaking on the occasion, Shah Mahmood Qureshi said everyone is joining the PTI for a stable and viable Pakistan. "We are not conspiring to derail the democratic process in the country but conveying a message of positive politics," he said.
Earlier on arrival at Karachi airport, Javed Hashmi was received by Chairman PTI Imran Khan and hundreds of party activists carrying party flags. He was warmly received and garlanded on the occasion. Agencies add: Celebrations and protests marked Makhdoom Javed Hashmi's joining of the PTI.
Moving scenes were witnessed at the residence of Javed Hashmi in Multan when he left for Karachi as PML-N workers begged him not to stab Nawaz Sharif in the back. Several PML-N workers even threw themselves before the vehicle of Hashmi and others wept. Workers pleaded for almost four days with Hashmi to revoke his decision of quitting the PML-N. Several PML-N leaders said they did not believe Hashmi would desert the PML-N.
However, supporters of Hashmi celebrated the decision. They distributed sweets and resorted to firing into the air. PML-N workers in Multan held a protest at Hussain Agahi Chowk against Hashmi's decision and expressed strong resentment.
Punjab Law Minister Rana Sanaullah blamed the establishment for Hashm's resignation from the PML-N. He said former Senator Tariq Chaudhry was acting on behalf of the establishment who had been staying at Hashmi's residence in Multan for last several days and convinced him to quit the PML-N.
"Hashmi was unhappy when the party leadership did not make him parliamentary leader in the National Assembly. He will not be able to garner affection in the PTI like that he found in the PML-N," he added. The Punjab law minister said Hashmi left the PML-N due to personal differences.
MNA Hamza Shahbaz Sharif said it was Hashmi's personal decision. "The PML-N is a popular party and it does not matter if some one joins or leaves it. We have a relationship of love with Hashmi which would last," he added.
Senator Pervez Rashid said he was saddened over Hashmi's decision. "Javed Hashmi is a great leader, but he is a bit emotional," he added. He said difference always existed in big political parties, but it did not mean that one left the party.
Makhodoon Muhammad Javed Hashmi Pictures
| | | | |
| --- | --- | --- | --- |
| Javaid Hashmi Intervie … | Javaid Hashmi … | Multan PTI Javaid Hash … | Javaid Hashmi … |
| Javed_Hashmi_at_PTI_Ka … | Javed Hashmi formally … | | Javed Hashmi's resig … |
| Parliamentarian to the … | Javed Hashmi joins PTI … | | |
Makhodoon Muhammad Javed Hashmi Videos